Youth survey shows strong respect for elderly for Double Ninth Festival
By Zhao Xinying | chinadaily.com.cn | Updated: 2021-10-14 19:30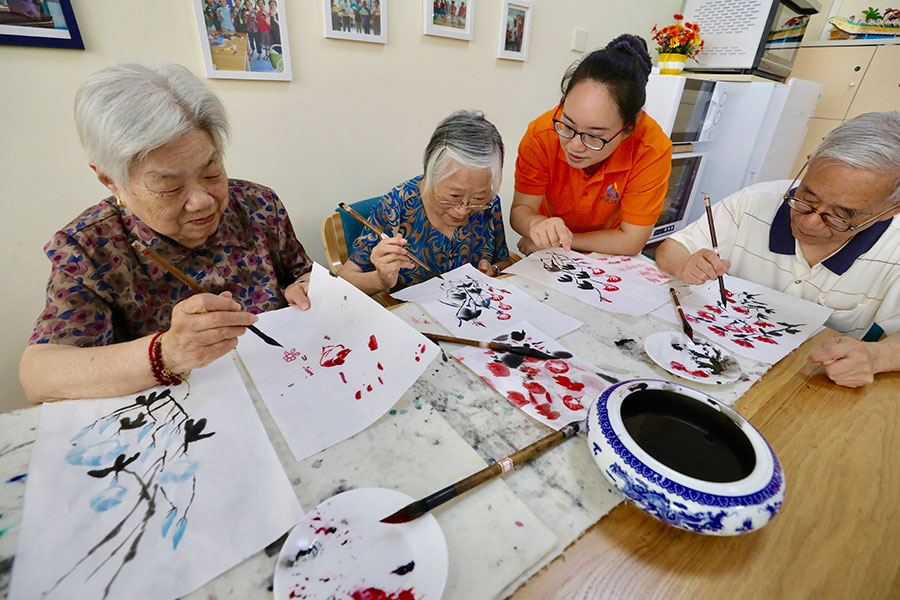 Respecting and caring for elderly people is considered a traditional Chinese virtue, and that virtue is maintained even in the younger generations today, a survey has found.
The survey, conducted online by China Youth Daily, polled 1,527 people nationwide under 40.
It showed 76.7 percent of people polled would spend Double Ninth Festival, which fell on Thursday this year, with their aging parents, and 37.5 percent said they would stay with their grandparents.
Seven out of 10 people polled agreed the elderly should be respected and taken care of.
About 60 percent of them said they think the festival is a time for people to "stand high and see far", as it has been a tradition since ancient times for people to go somewhere high and express gratitude to heaven and their ancestors.
The festival falls on the ninth day of the ninth month on the Chinese lunar calendar each year. As nine is the biggest one-digit number, and its pronunciation sounds the same as "long" in Mandarin, the cultural connotation of the Double Ninth Festival has gradually included people's wishes for old people's longevity.
The revision of the Law of the People's Republic of China on the Protection of the Rights and Interests of Elderly People in 2012 stipulated the day is China's Seniors' Day.
According to the China Youth Daily survey, there are seven people in every 10 who now treat the day as an opportunity to do something to show respect and love to older citizens.
More than 70 percent of people polled said they believed a way to express respectful and loving feelings to the elderly is to care about their health; 69 percent thought they should keep old people company; 43 percent said old people should be supported financially and more than 30 percent suggested seniors should be taught to better use smart phones.
Yang Yiwei, a student at a college in Rizhao, Shandong province, said before she left home for college three years ago, she spent the festival with her grandparents almost every year.
"My parents said my grandparents have gone through so much to raise us, and we should celebrate the festival with them to keep them company and make them happy," the 21-year-old said.
This year, the junior student is taking an internship in Hebei province and can't be by her grandparents' side. "But I made a video call to them via WeChat on the day, saying 'Happy Double Ninth Festival', which made my grandparents excited and content."