Visitors, locals revel in patriotic sites of Shanxi
By YUAN SHENGGAO | CHINA DAILY | Updated: 2021-10-15 09:24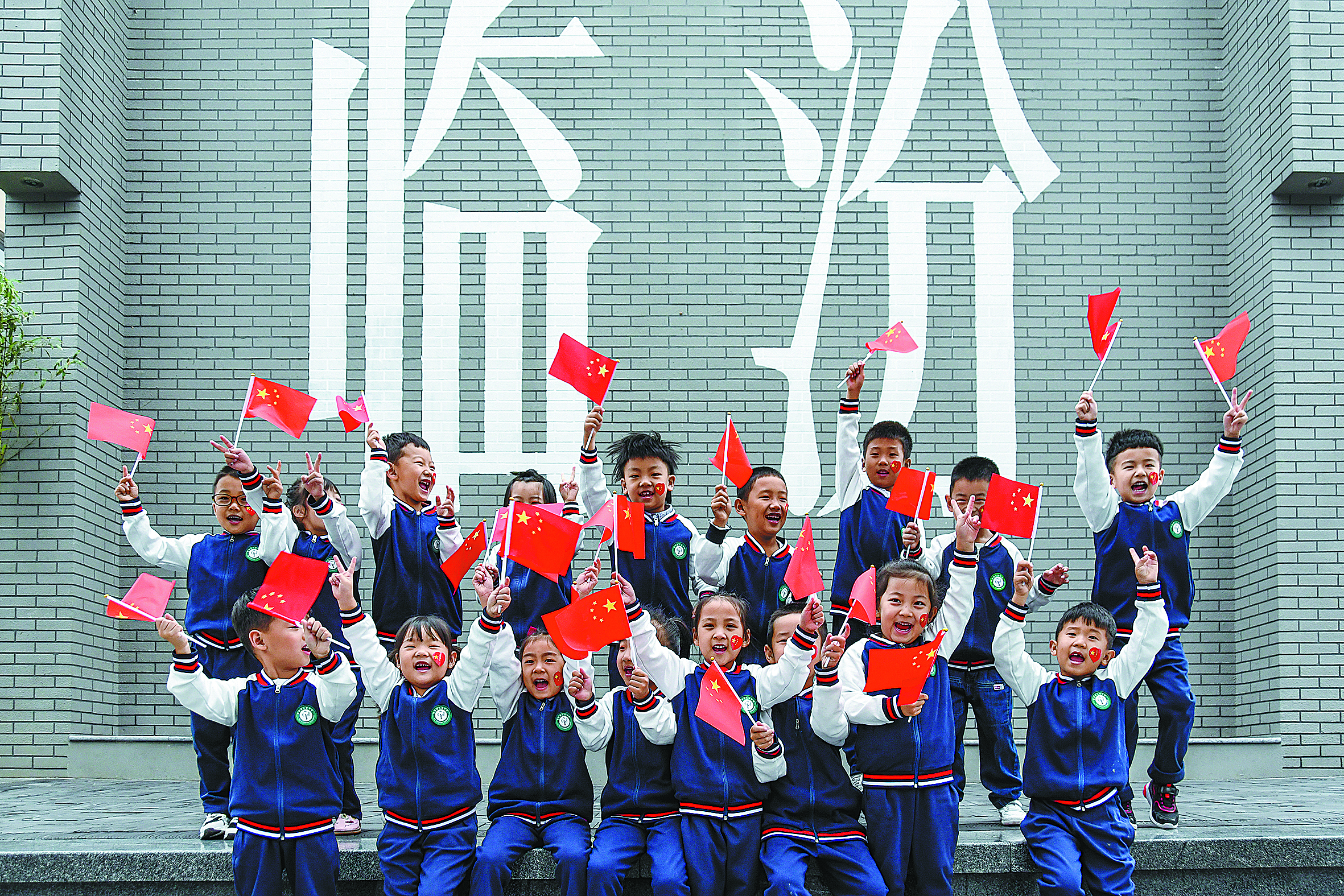 For residents in and tourists to Shanxi, early October was a time to relax, to travel and to reunite with their families, thanks to a seven-day holiday starting from Oct 1.
As Oct 1 is the National Day, this was also a time to give their best wishes to the country and their hometowns.
In the early morning of Oct 1, the Wuyi Square in Taiyuan was already crowded with visitors. They were there to see the national flag-raising ceremony, which was scheduled for 7 am.
When three flag-bearing soldiers approached the flagpole, visitors held up their cameras or smartphones to take pictures. They later stood still to the national anthem and saluted with their eyes fixed on the rising flag.
Feng Jingliang, a resident in Taiyuan, took his two twin daughters to the square at about 5 am.
"I have attended the national flag-raising ceremony every Oct 1 over the past decade," Feng said. "Every time I came here, I was overwhelmed with a sense of pride when thinking about the great changes taking place in China and in Taiyuan."
He said Taiyuan is becoming a better place to live in thanks to the local government's efforts to improve the environment and urban facilities.
At many historical sites in Shanxi, tourists said they were proud of not only what has happened over the past seven decades, but also the long history and brilliant culture of Shanxi.
Zhang Yong, a tourist from Henan province, visited the famed Yungang Grottoes in Datong.
On that site, Zhang learned that Yungang is one of the top three ancient grottoes in China. It represents a high level of Buddhist cave art of the Northern Wei Dynasty (386-534), when the grottoes were created.
"Relic sites like Yungang Grottoes are the silent witnesses to China's long history and brilliant culture over the past millennia," Zhang said. "A visit to such destinations can enhance people's confidence in the nation."
The Mausoleum of Emperor Shun in Yuncheng city welcomed thousands of visitors during the holiday.
A leader of the country some 3,000 years ago, Shun was one of the forefathers of the nation that also included the famed Yellow Emperor and Red Emperor.
Shun was known for his abilities in managing state affairs, especially those related to agriculture, as well as his quality of moral integrity and filial piety.
Wang Zezhi, a tourist from the city of Sanmenxia in Henan province, and his family, were among the visitors to the mausoleum.
"We came here to pay homage to this great figure in ancient China,"Wang said.
Along the roads outside the mausoleum, there were a variety of activities to entertain tourists, including shows of local intangible cultural heritage items like paper-cutting and shadow puppetry, as well as local dishes and snacks made on the site.
"My child was amazed at the charm of colorful folk cultures,"Wang said. "This was a tour both enlightening and entertaining."
Wu Jia contributed to this story.