China Railway Construction to ramp up infrastructure in Africa
By ZHONG NAN | China Daily | Updated: 2021-10-15 09:25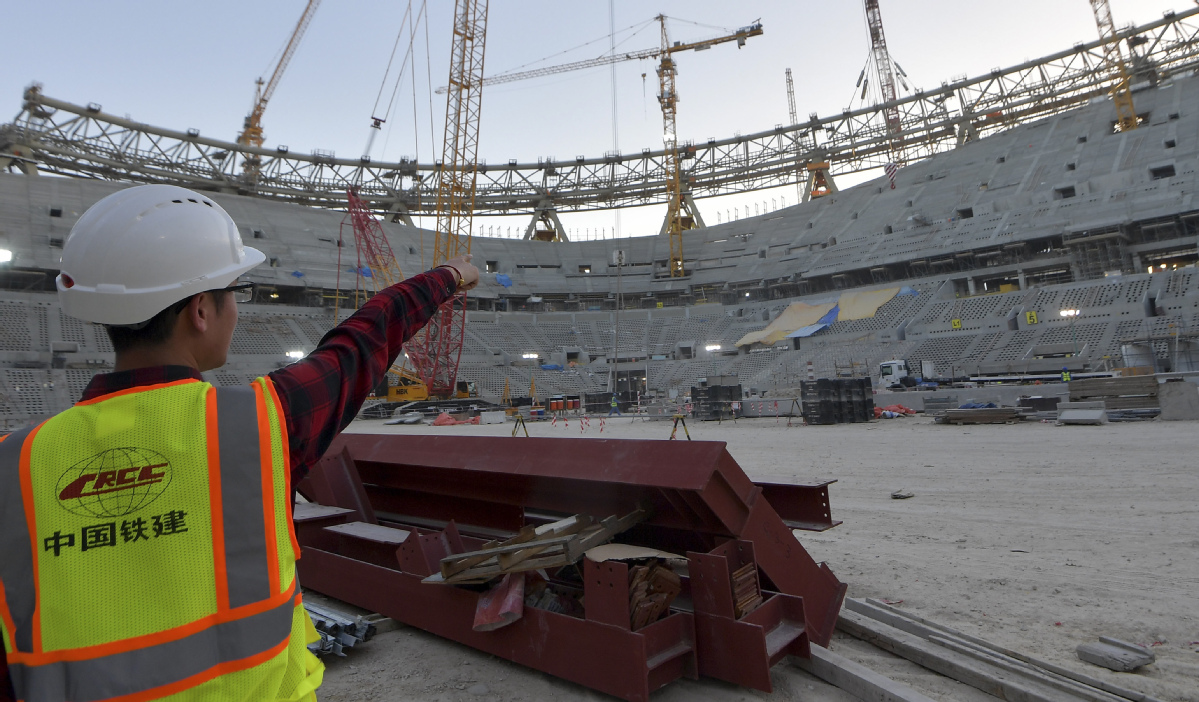 More projects by the SOE in pipeline to improve local livelihoods amid COVID
With sport stadiums, highways and other projects completed and being operated in Papua New Guinea, Qatar and the Federated States of Micronesia in the third quarter, China Railway Construction Corp Ltd, a centrally-administered State-owned enterprise, is planning projects in Africa to help improve local livelihoods in the coming years, its executives said.
In addition to sealing a deal worth $3.02 billion for the rehabilitation and reconstruction of the Nigerian Eastern Railway from Port Harcourt to Maiduguri in the West African country in April, the Chinese mega construction service provider said it successfully completed 2,200 square meters of concrete pouring within 24 hours for the Iyana Iba Overpass of the Badagry Highway Project in Nigeria in early September.
The project, conducted by China Civil Engineering Construction Corp (CCECC), one of CRCC's subsidiaries, created a new level of continuous pouring of large quantities of concrete for Nigerian bridges, said the Beijing-headquartered parent company. The Iana Iba Overpass of the Badagry Highway is located at the Iana Iba Farmers Market in Lagos State, Nigeria.
"Our team had efficiently managed all procedures for the pouring work, from concrete production, traffic diversion and equipment support to on-site pouring and logistics support, to complete this key part of the project within 24 hours," said Jiang Yigao, executive director for CCECC's Nigeria branch.
The Iyana Iba Overpass is a subproject of the Badagry Expressway, and the Badagry Expressway project is a big-ticket infrastructure project planned by the Nigerian government. After completion, the expressway will become a key high-speed road in West Africa.
The high-speed road is key to boosting trade and people-to-people exchanges within the West African region, helping Nigeria in particular mitigate the impact caused by the disruption of the COVID-19 pandemic, Jiang said.
The Chinese company also helped to build the Lagos-Ibadan railway in Nigeria, the first modern standard gauge double track railway in West Africa and the longest on the continent. It had been put into operation in June this year.
Contracted by CCECC and financed by the Export-Import Bank of China, the 157-kilometer railway links Lagos, Africa's largest city, with Ibadan, Nigeria's industrial capital. Supported by modern railway standards, it has a designed speed of 150 kilometers per hour.
Jiang said this is a major part of Nigeria's national trunk railway network planning and the connectivity among the Economic Community of West African States rail network. The railroad can improve traffic conditions in southern Nigeria and provide residents a convenient and comfortable way to travel.
"As the railroad has a station at Apapa Quays, the largest port in the country, it will play a role in boosting development of the port and promote export-oriented economic development in the region," he added.
While building more hard-infrastructure facilities such as roads, railways and bridges in Nigeria, CRCC has also been pushing its subsidiaries to transform themselves from simply being construction project contractors to industry chain builders in markets involved in other African economies.
China Railway 20th Bureau Group Corp, or CR20G, a Xi'an, Shaanxi province-based CRCC unit, has helped farmers in its markets in Mozambique and other African nations achieve stable and high yields by introducing China's practical agricultural technologies, conducting related services and applying modern machinery to assist them in ensuring grain security.
Supported by the China-Africa Development Fund, CR20G built a rice processing plant in Xai-Xai, capital of Gaza province in Mozambique, in 2017. The company has been running this project, which is also China's largest rice planting project in Africa, for more than four years.
By the end of June, the project completed the harvesting of rice for the 2020-21 planting season, with a harvested area of 36,000 mu (2,400 hectares) and 16,600 metric tons of rice. All of the rice from the harvest were sold in local markets, said Guo Wei, CR20G's country head for Mozambique operations.
As many countries are building economic development zones and service hubs amid the global fight against the resurgence of COVID-19, building sound infrastructure and agriculture-related projects such as ports, power stations and grain processing plants will help host countries in Africa create jobs and commercial opportunities while also improving people's living standards, said Wei Xiaoquan, a researcher specializing in regional economic development at the University of International Business and Economics in Beijing.