Power plays seek desert dynamos
By ZHENG XIN | China Daily | Updated: 2021-10-19 07:33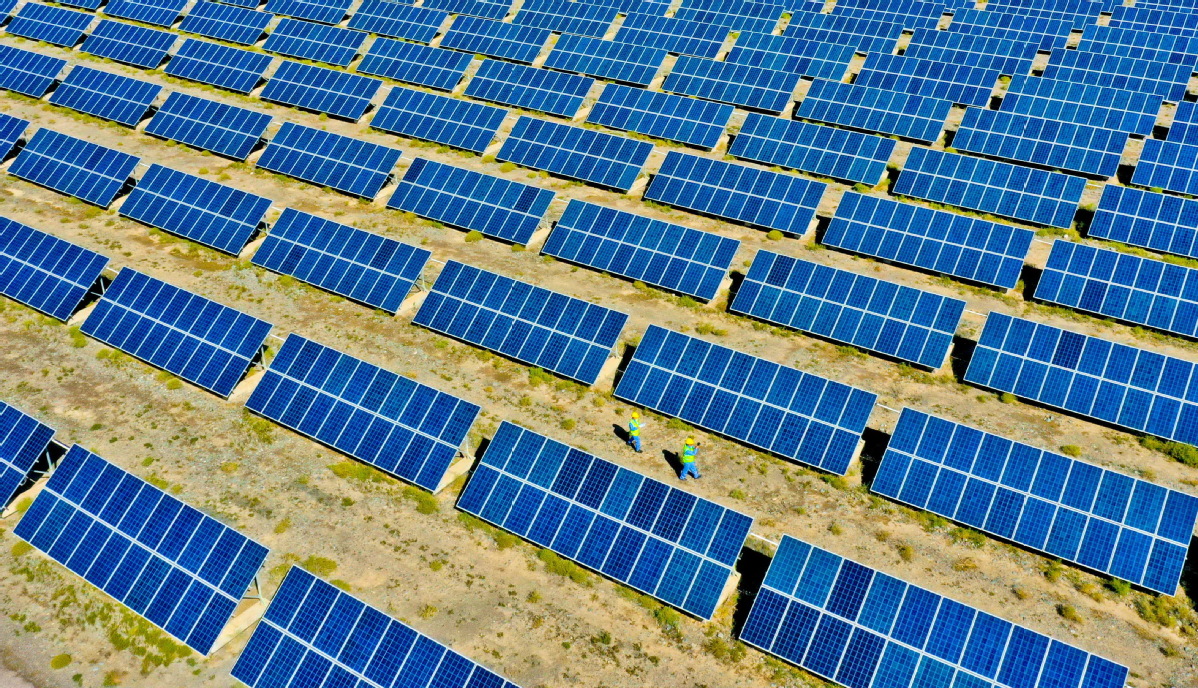 Nation to optimize energy mix via use of wind and solar in more arid areas
Energy companies in China are eyeing the country's arid wind-swept regions to further develop abundant solar and wind resources as the government vows to speed up construction of large-scale wind and solar power bases in the country's deserts.
China announced last week that it planned to further optimize its energy mix by building massive wind and solar power facilities in the country's Gobi Desert and other arid areas. The first phase comprising 100 gigawatts of wind and solar in the desert has recently launched operations amid ongoing efforts to accelerate the planning and construction of large-scale wind and solar projects while simultaneously promoting the adjustment of the country's industrial and energy structure. Companies like oil giant China National Petroleum Corp, top five domestic power producer State Power Investment Corp and the world's largest refiner China Petrochemical Corp are all drawing up plans to develop clean energy projects in the Gobi and other arid regions of China.
State Power Investment Corp said on Friday that it has commenced construction of a photovoltaic project in Qinghai province, which sees a total installed capacity of almost 1 million kilowatts-also part of the Qinghai-Henan ultrahigh-voltage direct current project, a 1,587 kilometer 800 kilovolt DC line to transmit renewable energy from the country's western regions to central areas.
Expected to be operational by the end of the 14th Five-Year Plan period (2021-25), the project will fully take advantage of the massive desert areas and the hydropower resources in the upper reaches of the Yellow River while tapping the potential of hydro, wind and solar resources in the western parts, said the company.
The company is also actively involved in clean energy construction in the Inner Mongolia autonomous region. A solar project with installed capacity of 4 million kW has finished feasibility evaluations while a wind project with an installed capacity of 2.4 million kW is to start construction soon, it said.
CNPC has also been stepping up utilization of wind and solar resources in the Xinjiang Uygur autonomous region, as well as experimental projects including green hydrogen and carbon capture, utilization and storage, or CCUS, technologies.
An analyst said building a gigantic renewable energy complex in the country's desert regions will step up the pace of the country's energy transition while facilitating the country's ambition of reaching more than 1,200 GW of installed solar and wind capacity by 2030.
"China is building a new power system with renewable energy as the major player and government plans will ensure the massive solar and wind resources in the country's northwestern region are well taken advantage of," said Luo Zuoxian, head of intelligence and research at the Sinopec Economics and Development Research Institute.
"Areas including Qinghai and the Inner Mongolia autonomous region have abundant solar and wind resources, which also see a higher proportion of installed renewable power capacity across the nation. The northwestern parts of China will better benefit from the policy," Luo said.