Britain invests in antiviral flu pills to combat expected surge of virus
By ANGUS McNEICE in London | China Daily Global | Updated: 2021-10-22 09:23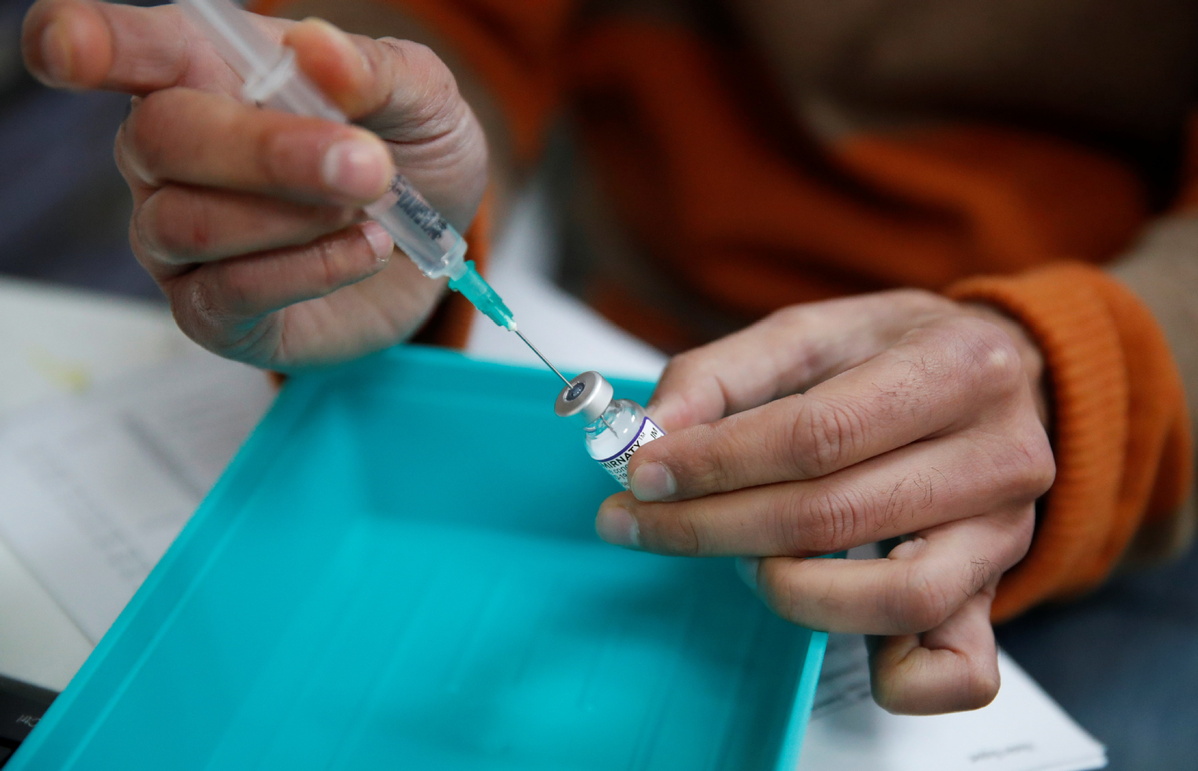 The United Kingdom is stocking up on hundreds of thousands of experimental antiviral pills as it prepares for a potential surge in COVID-19 cases this winter.
The British government announced a pair of deals with major pharmaceutical companies for as-yet-unauthorized antiviral treatments that have shown promise in reducing the risk of death and serious illness among people who are infected.
One deal struck with Merck Sharp and Dohme, or MSD, involves 480,000 courses of molnupiravir, an experimental antiviral initially developed to treat influenza. This month, a clinical trial reported that the drug lowered the risk of hospitalization or death in adults with mild to moderate COVID-19 by 50 percent.
The government has also ordered 250,000 courses of ritonavir from Pfizer. Phase 2 and 3 COVID-19 clinical trials are ongoing to test efficacy of the drug, which is most commonly used to treat HIV/AIDS.
Distribution of the treatments in the UK will be subject to approval from the nation's drug regulator, the Medicines and Healthcare Products Regulatory Agency.
"Should they be approved by the medicines regulator, we could see these treatments rolled out to patients this winter, providing them with vital protection," said Eddie Gray, who is chairman of the UK Antivirals Taskforce. "This is a very important development in our mission to find antivirals for those exposed to COVID-19, supporting the renowned vaccination program and the National Health Service over the coming months."
COVID-19 cases are on the rise in the UK, with 49,156 new cases reported on Monday, the highest level since July this year. In England, almost all COVID-19 restrictions have been relaxed. Health bodies including the British Medical Association and the NHS Confederation have called on the government to reinstate measures including masking, social distancing and remote working in order to prevent further strain on health services over the coming months. However, this week, the Health Secretary Sajid Javid said that no such action will be taken at this time.
The UK government is loath to revisit lockdowns, and its strategy to prevent hospitalizations from spiraling appears focused on medicinal interventions, including antivirals and vaccinations.
"Since the beginning of this pandemic, we have been building an armory of life-saving measures to tackle the virus and protect the country-including our phenomenal vaccination program and therapeutics," Javid said on Wednesday. "I am delighted to confirm we may soon have a new defense in our arsenal with two new antiviral drugs that we have secured."
UK Deputy Chief Medical Officer Jonathan Van-Tam said that antivirals "bring another key intervention to the table".
"They will be particularly vital in protecting those who may not get the same antibody response to the vaccines as the majority of the population," he said.