Xinjiang an apt example of human rights champion
By Shangguan Yaoting | China Daily | Updated: 2021-10-23 08:51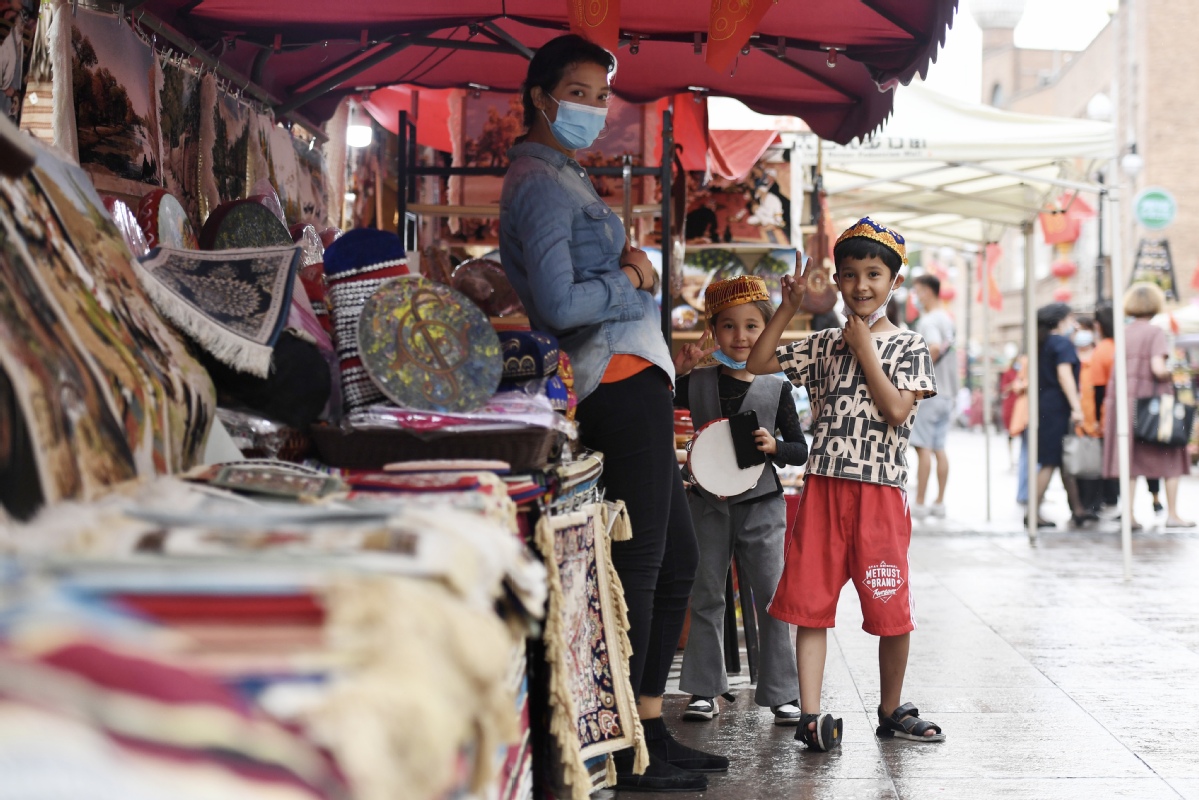 The health and development level of a population is generally evaluated by its human development index. A high human development index, among other things, means that people have the ability to understand national and global developments and the reasons behind them, and enjoy a high level of economic and social development.
The indicators for measuring the quality of a population may differ, although the international community uses the human development index and quality of life index for the purpose. The infant mortality rate, life expectancy at birth, expected and mean years of schooling, and per capita gross national income are some of the important sets of data used to measure the quality of a population.
The State Council Information Office recently released a white paper,"Xinjiang Population Dynamics and Data", which shows the Xinjiang Uygur autonomous region has not only maintained a steady population growth but also improved the quality of its residents' lives.
Since the founding of the People's Republic of China in 1949, Xinjiang, adhering to the people-centered human rights policy of the Communist Party of China and the central government, has strengthened human rights protection, helped improve people's health and raised their level of education and income.
Before 1949, Xinjiang lacked proper sanitation and healthcare facilities, and medicines. But since the founding of New China and its rapid socioeconomic development after the launch of reform and opening-up, Xinjiang has consistently increased investments in public health, thereby improving the healthcare system and sanitation facilities in both urban and rural areas.
Another significant improvement has been the increase in life expectancy. In 1949, the average life expectancy in Xinjiang was only 30 years, but in 2019 it had risen to 74.7 years. Xinjiang has also taken measures to better protect the right to health of women and children, and implemented special health programs for women, including prenatal and postnatal medical care, and drastically reduced infant mortality.
In 1949, the infant mortality rate in Xinjiang was as high as 40 percent. But by 2020, it had been reduced to 6.75 percent because of the high rates of prenatal examination (98.53 percent) and delivery in hospital (99.82 percent).
Xinjiang also guarantees people's right to education; as a result, the education level of Xinjiang residents has significantly improved. Before 1949, more than 90 percent of the population was illiterate. But following the launch of reform and opening-up, the central government has vigorously implemented the compulsory education program and expedited the modernization of education across the country, including Xinjiang, benefiting children across the social divide.
On their part, the Xinjiang authorities have taken measures to further develop the education sector, which has specially benefited ethnic minority groups. For instance, in 1949, Xinjiang had only one university, nine middle schools, and 1,355 elementary schools, and an enrollment rate of only 19.8 percent. Today, Xinjiang has 56 universities, 1,211 middle schools and 3,641 primary schools, with an enrollment rate of over 99.9 percent in primary schools.
The average years of education for children aged 15 or below in Xinjiang increased from 9.27 in 2010 to 10.11 last year, 0.2 year more than the national average of 9.91. The illiteracy rate is 2.66 percent, 0.01 percentage points lower than the national average.
Besides, the number of people with university education increased from 10,613 per 100,000 in 2001 to 16,536 per 100,000 in 2020, and the number of people with high school education has risen from 11,669 per 100,000 to 13,208 per 100,000.
Xinjiang has strengthened people's right to economic development, too. For long, Xinjiang's development level was comparatively low, and it was home to a large number of impoverished people. The four prefectures in southern Xinjiang (Hotan, Kashgar, Aksu and Kizilsu Kirgiz autonomous prefecture) are relatively remote areas. In recent years, with the support of the central government and aid from other provinces and regions, Xinjiang has made great achievements in reducing poverty. In fact, by the end of last year, it had lifted 2.73 million rural people, 3,666 villages and 32 counties out of poverty.
Thanks to its steady development, Xinjiang today is a moderately prosperous society in all respects just like other provinces and regions, and people of all ethnic groups are moving toward achieving common prosperity.
Moreover, Xinjiang's GDP increased from 791 million yuan ($123 million) in 1952 to about 1.38 trillion yuan in 2020, and its per capita GDP rose from 166 yuan to 53,591 yuan, while per capita disposable income of urban residents increased from 319 yuan in 1978 to 34,838 yuan in 2020, and that of rural residents from 119 yuan to 14,506 yuan.
These developments are shining examples of how Xinjiang has promoted the cause of human rights.
The author is a research fellow at the China Foundation for Human Rights Development.
The opinions expressed here are those of the writer and do not necessarily represent the views of China Daily and China Daily website.
If you have a specific expertise, or would like to share your thought about our stories, then send us your writings at opinion@chinadaily.com.cn, and comment@chinadaily.com.cn.