EU leaders lock horns over energy
China Daily | Updated: 2021-10-23 08:51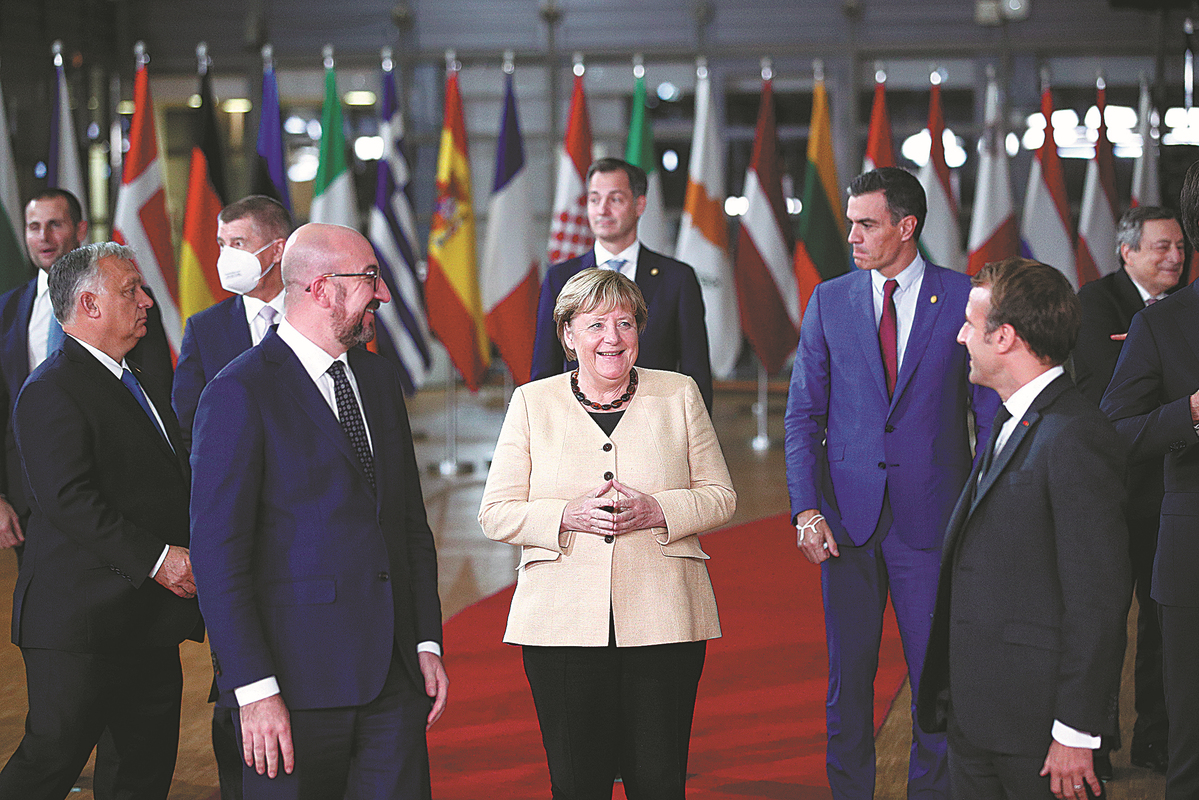 New pipeline could quickly pump more gas, Russian president says
BRUSSELS/MOSCOW-Leaders of the European Union on Thursday struggled to agree on a common response to soaring energy prices, which have exposed familiar rifts over the bloc's climate change goals and divided countries on whether the price crunch warrants an overhaul of EU energy market rules.
This comes as Russian President Vladimir Putin said on Thursday that Russia could quickly boost natural gas supplies to the EU once German regulators allow the new Nord Stream 2 pipeline under the Baltic Sea to start operations.
Speaking on a wide range of international and domestic policy issues during a conference of foreign policy experts, Putin argued that Russia has already increased gas supplies to Europe this year and could send more once the new pipeline is functioning.
He said one of the two links of the new pipeline is already filled with gas as part of preparations for its launch, adding that supplies could start immediately after regulators give their approval.
"If the German regulator gives approval tomorrow, supplies of 17.5 billion cubic meters of gas will start the day after tomorrow," Putin said.
He also said the pipeline's second link will be filled with gas to a total capacity of 55 billion cubic meters by the end of the year.
Putin blamed soaring European gas prices on the past decision of EU officials, who focused on the spot gas market and opposed long-term supply contracts preferred by Russia.
In Brussels, EU leaders met to discuss ways to ease the pain of soaring energy bills for consumers. European Commission President Ursula von der Leyen said on Wednesday that with the 27-nation bloc importing 90 percent of its gas-much of it from "strategic rival" Russia, it has made them "vulnerable".
The European Commission published a "toolbox" last week outlining the national measures that governments can take, and said Brussels would look into longer-term options to address price shocks.
EU leaders debated those options on Thursday. Most EU countries have already drawn up emergency action plans to shield consumers, including energy tax cuts and subsidies for poorer households.
Their final summit conclusion invited countries to urgently use the toolbox "to provide short-term relief to the most vulnerable consumers and to support European companies".
Longer term measures are more contentious, with countries split over what action the EU should take to shield itself against future price spikes.
In what EU diplomats called a response to a push from the Czech Republic, the summit conclusion was updated late on Thursday to invite the European Commission "to study the functioning of the gas and electricity markets, as well as the EU ETS market, with the help of the European Securities and Markets Authority".
The Commission should then assess "whether certain trading behaviors require further regulatory action".
Poland, the Czech Republic and Spain have asked the EU to limit financial speculators' participation in the carbon market, which they said has helped push CO2 prices to record highs. Poland also wants Brussels to investigate whether the behavior of Russia's Gazprom has stoked European gas price rises.
European gas prices have hit record highs as tight supply has collided with economies emerging from the COVID-19 pandemic, amid surging CO2 prices and lower than expected gas deliveries from Russia, Reuters reported.
New system proposed
That has prompted some member states to call for an EU response, with Spain, Italy and Greece proposing a new system of joint gas buying among EU countries to form strategic reserves.
Others, including Germany and the Netherlands, are wary of overhauling EU regulations in response to a short-term crisis. The Commission said gas prices were expected to stabilize at a lower level by April.
The tussle over the EU response to the energy price crunch will be picked up at an emergency meeting of EU energy ministers on Oct 26.
In France, Prime Minister Jean Castex announced on Thursday that millions of lower- and medium-income motorists would each be given 100 euros ($116) in a one-off financial assistance to help them cope with rising gasoline prices.
Castex said on TF1 television that it was "an exceptional response to an exceptional situation".
The measure will help about 36 million people who earn less than 2,000 euros a month, including employees, self-employed workers, job seekers and retired people. The assistance will start being given out in December.
Agencies Via Xinhua