Support UN's leading role, safeguard multilateralism
By Wu Hailong | China Daily | Updated: 2021-10-25 07:26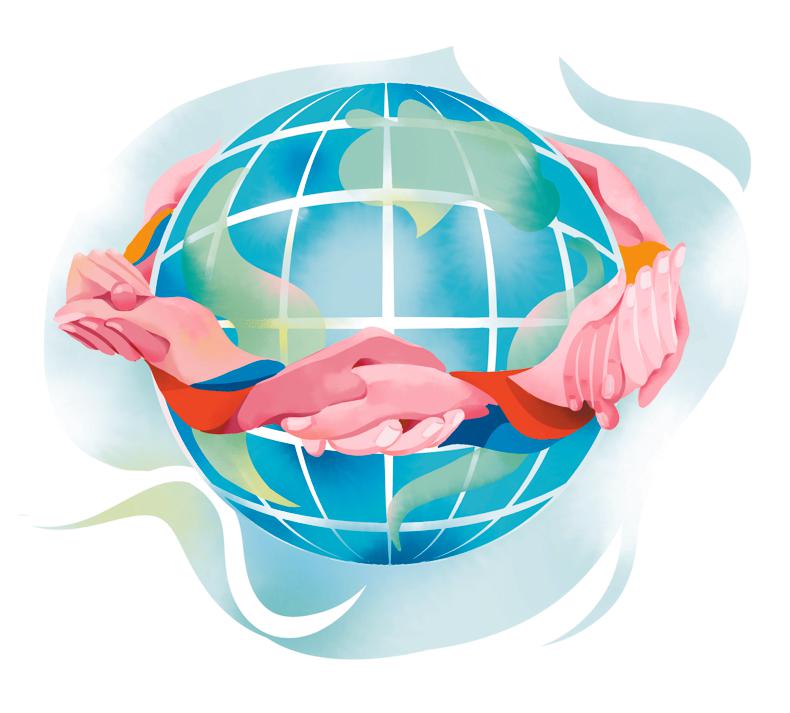 Editor's Note: To mark the 50th anniversary of the People's Republic of China's restoration of its lawful seat in the UN, Wu Hailong, the president of China Public Diplomacy Association, in his commentary, says the world should support the UN-led international order. Several other experts exchanged their views on the opportunities and challenges facing the United Nations and global governance at a recent forum in Beijing.
Over the past 70-odd years, the United Nations and its agencies, and other multilateral organizations have made tremendous efforts to promote peace and development around the world, and despite its failure to fully meet people's expectations on some issues, the UN still has the broadest representation of countries, and enjoys extensive authority and influence.
However, in a fast-changing world and complex international situation, the UN is facing some unprecedented challenges.
First, ignoring the purposes and principles of the UN Charter, some countries have been trying to undermine the basic norms governing international relations by forming cliques, practicing pseudo-multilateralism, triggering ideological confrontation, and trying to suppress other countries by using sanctions.
At the UN meetings and debates, they have resorted to double standard while trying to impose their own values and rules on other countries claiming them to be universal values and rules, often sought the moral high ground and lectured, criticized or attacked other countries, and openly interfered in their internal affairs. They see the UN as a private club which is meant to serve their national interests, and use it when it suits them and ignore it when they realize it won't serve their interest.
These egregious acts have seriously undermined mutual trust and cooperation among UN member states, and weakened the global body's authority and its ability to govern the world.
Second, the COVID-19 pandemic still poses a serious threat to people's lives, health and economic activities around the world. The novel coronavirus has already infected more than 240 million people, and claimed over 4.89 million lives worldwide.
The World Health Organization, a specialized UN agency, initiated COVAX to ensure equitable distribution of COVID-19 vaccines around the world, but the global "vaccination gap" is still very wide, vaccine distribution not fair, and the shortage of vaccines in many developing and least-developed countries has not been addressed. Also, the continuous mutation of the virus has created new challenges for countries' prevention and control measures.
Unfortunately, amid all this, some countries have been trying to pass on their responsibilities to others, undermining the global fight against the pandemic.
Third, the pandemic has dealt a big blow to the global economy, especially to developing economies, resulting in rising unemployment, falling incomes and increasing poverty. And the impacts of the pandemic and human factors have made global industrial and supply chains fragile and unstable.
In order to overcome their economic difficulties, some countries have printed huge amounts of currency notes thus transferring some of their economic problems to other countries. Some have desperately tried to decouple their science and technology sector from that of other countries, seriously hindering the development of science and technology worldwide. As such, it may not be possible for many countries to meet the targets of the UN's 2030 Agenda for Sustainable Development, which is aimed at addressing development issues.
Fourth, extreme weather events caused by climate change have become more frequent and more destructive. If global temperatures continue to rise-due to increasing greenhouse gas emissions-extreme weather events may occur even more frequently, causing greater damage. And if countries don't reduce the use of fossil fuels soon in order to limit temperature rise to below 1.5 or 2 degrees Celsius, the world could face catastrophic consequences.
And fifth, the UN's role has weakened due to the above-mentioned factors, but the UN also suffers from overstaffing, low efficiency, slow action and weak execution. In the fast-changing world, humankind is facing many new problems, and it is becoming increasingly difficult for the UN to adapt and/or to address the new problems.
It's no surprise therefore that UN Secretary-General Antonio Guterres said at the recently concluded 76th Session of the UN General Assembly that if "effective multilateralism" is not practiced, humanity will be in grave danger, and stressed that the world needs a "UN 2.0" to reinvent the values on which it was founded.
To meet these challenges, it is imperative for the international community to uphold the UN-centered world order based on international law and the norms governing international relations.
All countries should respect and treat each other as equals, and oppose those powers that put their interests above common global interests and impose sanctions on other countries. And the international community should make concerted efforts to prevent conflicts between countries, ensure that all countries choose the political system and development path that best suit their national conditions, and respect diversity.
Equally important, all UN member states should fulfill their obligations under the UN Charter, and support the UN to play the leading role in addressing new global challenges. The UN, on its part, should boost its capacity building, deepen reform, improve its efficiency level, and uphold justice for the benefit of all member states.
As for containing the pandemic, the international community needs to take measures to minimize the risk of cross-border infections, and ensure the equitable distribution of vaccines across the world so developing countries and least-developed countries can vaccinate their populations.
Moreover, to promote the recovery of the world economy, all countries should refrain from using economic and financial policies and tools to benefit themselves at the cost of others, maintain the stability of global industrial and supply chains, eliminate all forms of protectionism, and promote regional trade and investment liberalization.
And to address climate change, they should set clear goals for peaking of carbon emissions and achieving carbon neutrality in accordance with the principle of common but differentiated responsibilities, and follow a green and low-carbon development path.
The author is president of China Public Diplomacy Association.
The views don't necessarily reflect those of China Daily.
If you have a specific expertise, or would like to share your thought about our stories, then send us your writings at opinion@chinadaily.com.cn, and comment@chinadaily.com.cn.