New law sets parents' role in children's upbringing
By ZOU SHUO | China Daily | Updated: 2021-10-25 08:22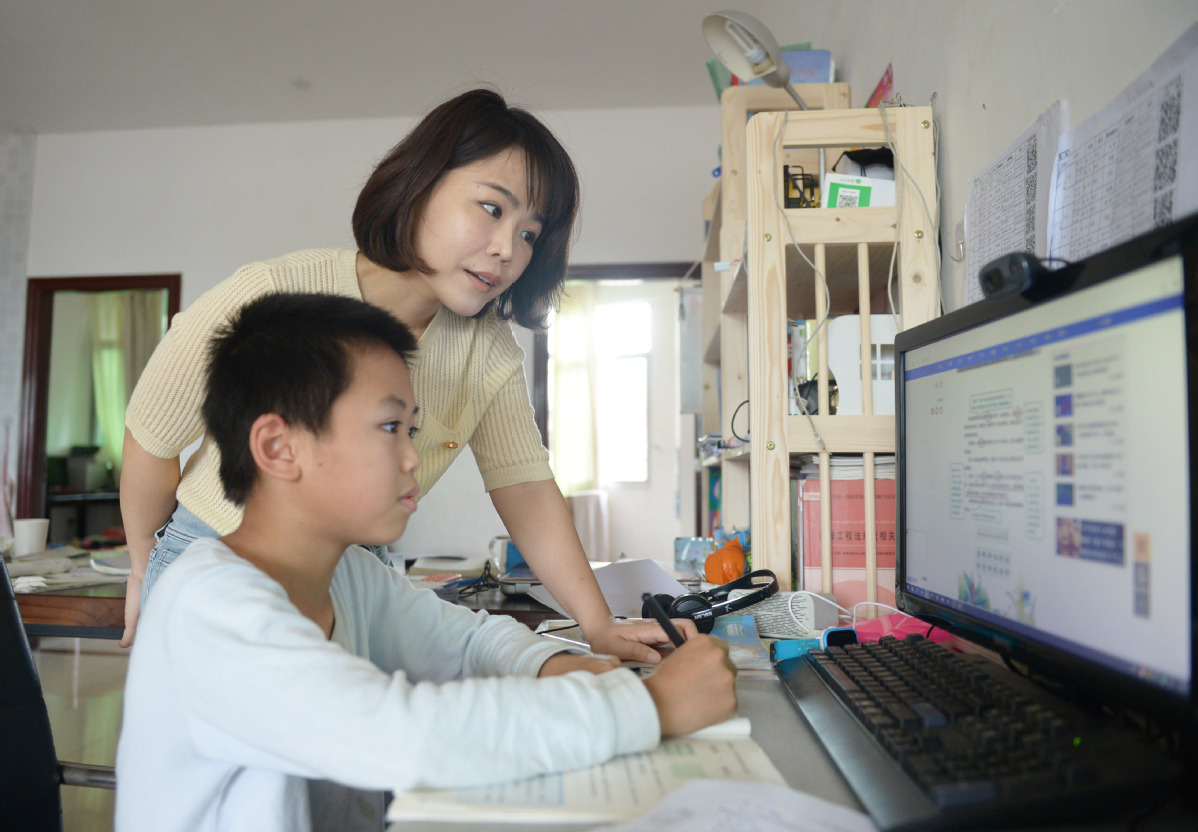 A new law has been issued prohibiting Chinese parents from putting too much academic pressure on young children.
The Law on Family Education Promotion stipulates that parents and guardians should carefully apportion time for minors to study, rest, play and engage in physical exercise.
The Standing Committee of the National People's Congress, China's top legislature, adopted the law as it wrapped up a session on Saturday.
When it takes effect on Jan 1, the law will place responsibility for overseeing family education on parents and guardians, while the state, schools and society provide guidance, support and other services to that end.
It also asks parents to ensure children do not develop an addiction to the internet.
Local governments are tasked with taking measures to reduce the homework and after-school tutoring workload of students in primary and middle schools, and with facilitating communication between schools and families to promote coordination between family and school education.
The new law comes amid a major national overhaul of education to alleviate the excessive academic burden placed on students.
A central guideline issued in late July by the general offices of the Communist Party of China Central Committee and the State Council, China's Cabinet, included a number of strict measures to reduce the excessive burden of homework and after-school tutoring for primary and middle school students.
It required schools to reduce the amount and difficulty of homework, improve the quality of classroom teaching and offer after-school services that met students' needs.
It also banned approval of new curriculum-based tutoring institutions for primary and middle school students, while existing institutions were forbidden from tutoring on weekends, national holidays and during winter and summer vacations, and from raising money from the public.
Meanwhile, a notice issued by the National Press and Publication Administration on Aug 30 stated that online game providers can only offer one hour of service to minors between 8 and 9 pm on Fridays, Saturdays, Sundays and public holidays.
Guo Linmao, an official with the Legislative Affairs Commission of the NPC Standing Committee, said a child's education starts with family education, which is vital to the healthy development of children, family happiness, national development and social stability.
The Chinese have long respected family education and traditional family values, as evinced by deeply ingrained sayings such as "Respect the elderly and take good care of the children" and "Harmony at home brings prosperity". Family values are an important source of spiritual strength and wealth, and they support China's advancement, Guo said.
With the rapid development of society, family education has run into severe problems, he said.
Some rural children, whose parents have left home to work in cities, have been badly affected by a lack of parenting. Some parents have put too much academic pressure on their children, while others have even resorted to domestic violence, Guo continued.
The new law is intended as a response to these problems and offers additional and forceful legal protection to ensure children enjoy healthy, all-around development, he added.