Contributions to UN goals widely praised
By LIU HONGJIE/REN QI/LIA ZHU | China Daily | Updated: 2021-10-28 07:37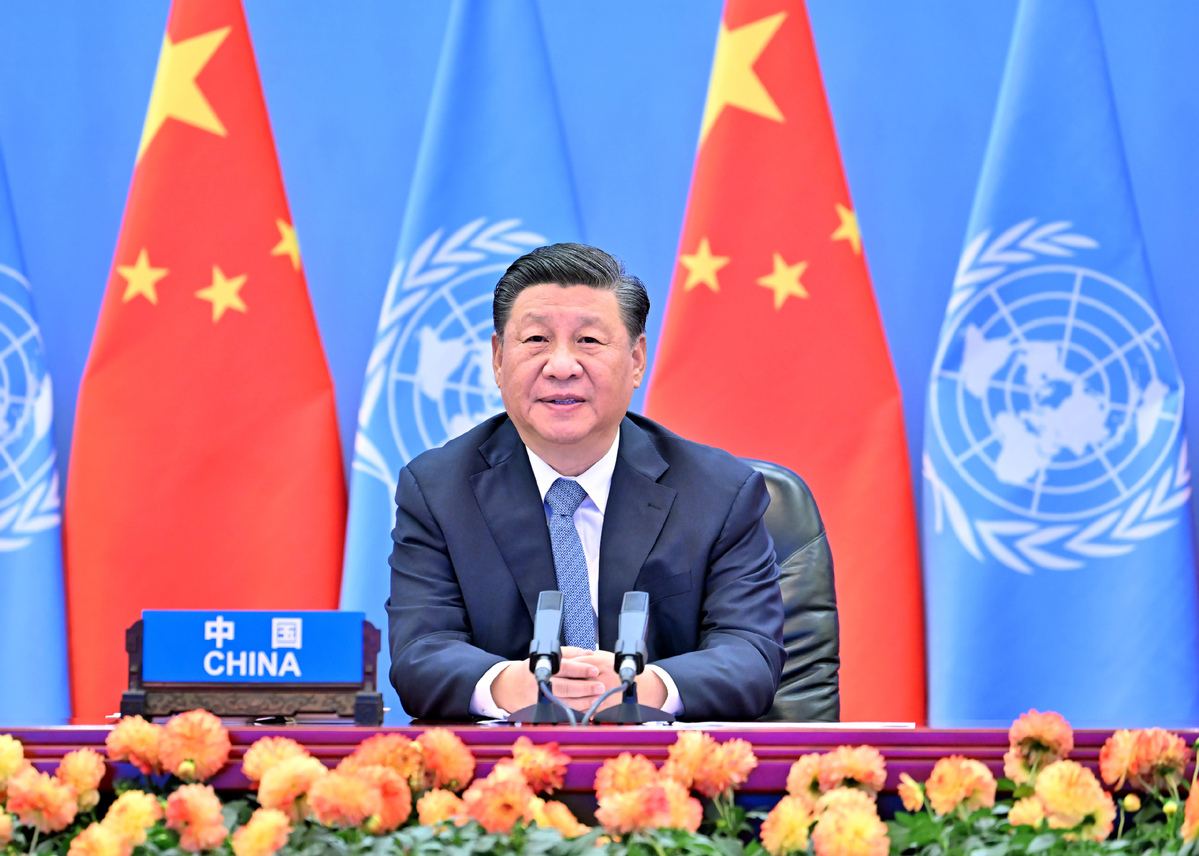 After Xi's call to world, experts point to China's role in building shared future
China has acted in accordance with the purposes and principles of the United Nations Charter and built an image of a responsible country widely recognized for its contributions, global experts said.
President Xi Jinping on Monday reaffirmed China's commitment to a path of peaceful development, reform and opening-up, and multilateralism. He also called on countries to jointly build a community with a shared future for mankind.
He made the remarks in a speech marking the 50th anniversary of the restoration of the People's Republic of China's lawful seat in the UN in 1971.
Turganbay Kurbanov, an expert in politics from Uzbekistan, noted that Xi mentioned several proposals in his speech that will encourage all countries to jointly solve the challenges and global issues faced by all human beings.
He said that China, as the largest developing country, has acted in accordance with the purposes and principles of the UN Charter, safeguarded the legitimate rights and interests of developing countries, and cultivated an image of a responsible major country widely praised by the international community.
Dennis Munene, executive director of the China-Africa Center at the Africa Policy Institute, said Xi's speech showed that China sees the global community as a montage of many equal civilizations that desire cooperation over confrontation, openness over seclusion, and mutual benefit over zero-sum games. With this position, Xi, reiterating China's commitment at the UN over five decades ago, promised that China will be firm in opposing all forms of hegemony and power politics, as well as all forms of unilateralism and protectionism.
"China's focus is to advocate for peace, development, equity, justice, democracy, and freedom for humanity," Munene said.
Further, in pursuit of the purposes and principles as stated in Article 1 of the UN Charter, China has actively promoted global cooperation in the health sector, through sharing the experiences from its COVID-19 response with the world, and has sent large quantities of supplies, vaccines, and medicines to other countries, and deeply engaged in science-based cooperation on tracing the origins of COVID-19. The actions have been carried out in a sincere and proactive way to contribute to humanity's final victory over the pandemic, Munene said.
In a similar way, China, holding to its oath of promoting sustainable peace and security, has actively promoted the political settlement of disputes through peaceful means. It has sent more than 50,000 personnel to UN peacekeeping operations, and is now the second-largest financial contributor to the UN and its peacekeeping operations, Munene said.
Rana Mitter, a professor of Chinese studies at the University of Oxford, said China has always sought to play a role in major global organizations during the modern era, including the League of Nations in the pre-World War II era. The country also sent a delegation to talks on the foundation of the UN in 1945, and Dong Biwu, a founding member of the Communist Party of China, was one of the delegates.
Contrasting approach
George Koo, a former international business adviser and a political critic who also comments on Sino-US ties, said the most remarkable part of Xi's speech was his emphasis that China and the Chinese people "are all part of this world", which is very different from the approach taken by the United States.
"The American approach is: We have American values, and if you adopt our American values, you're a good guy-that means you are a democracy; if you do not adopt or you reject our values, then you're a bad guy," he said. "It's a very different approach in terms of what they're trying to convey to the world. So I really think that President Xi is saying that we are happy to become part of the UN and we will always work within the UN."
Koo said Xi is clearly advocating collaboration among all the members of the world society, and promoting the idea of win-win cooperation. "It's certainly an aspirational goal," he said.
Bo Leung in London and Chen Yingqun in Beijing contributed to this story.