Job market on track to meet employment targets
By CHENG SI | China Daily | Updated: 2021-10-28 08:10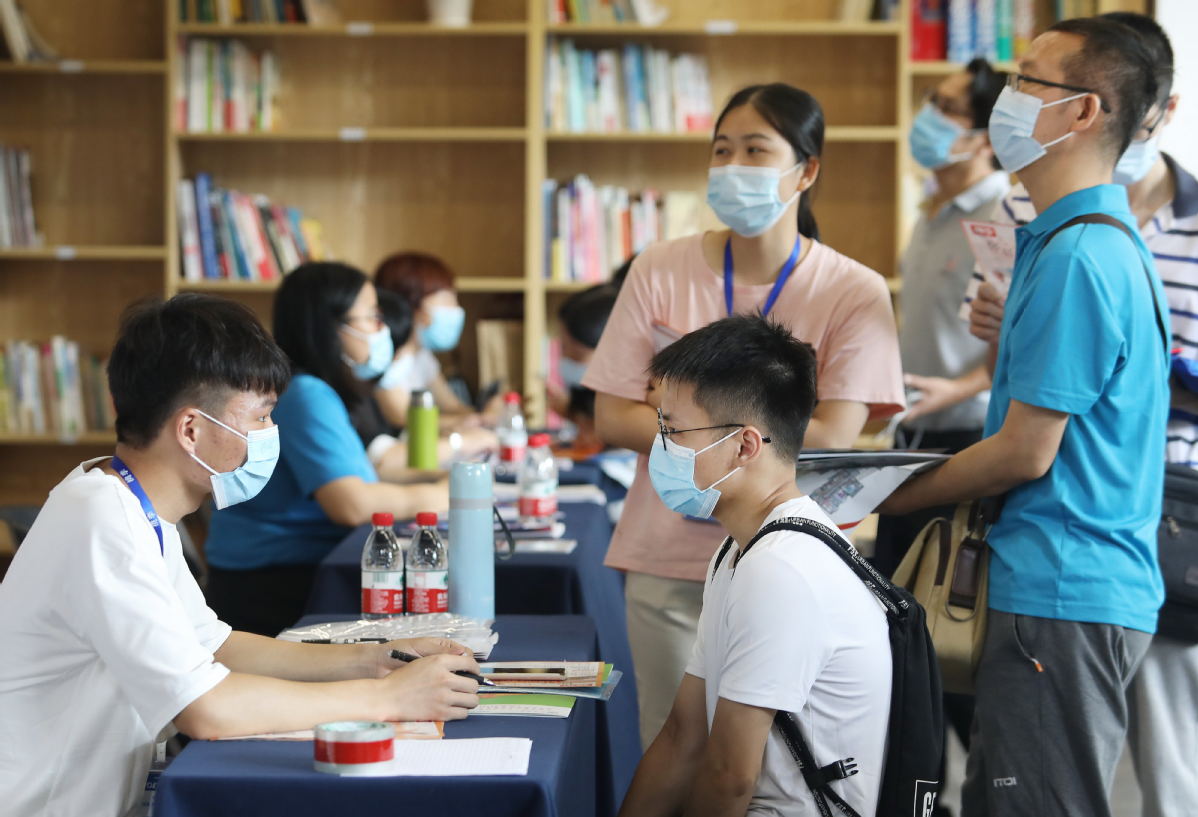 The domestic job market has been running smoothly over the past nine months thanks to government efforts to improve jobseeker's working skills, crack down on companies in arrears of wage payments and implement campaigns to help college graduates land jobs.
The latest figures from the Ministry of Human Resources and Social Security on Wednesday show that around 10.45 million people landed jobs in urban areas from January to September. That figure is 95 percent of the nation's target of creating 11 million new jobs in urban areas this year.
What's heartening is that the average unemployment rate in the third quarter of the year-from July to September-fell below the level that it was before the novel coronavirus pandemic, the ministry said.
It said that in the third quarter, the average surveyed unemployment rate was 5 percent, down 0.2 percentage points from the same period in 2019. Last month's surveyed unemployment rate stood at 4.9 percent, decreasing by 0.5 percentage points from the same period last year.
Lu Aihong, the ministry's spokesman, said at an online news conference on Wednesday that the job market figures indicate stable labor relations, as the ministry has stressed protecting the working rights of flex workers and enhanced supervision over companies illegally defaulting on wages.
"In the past three quarters, social security supervision bureaus at different levels have examined over 771,000 companies nationwide and have investigated 43,000 cases of wage defaults," he said. "About 498,000 workers won their unpaid salaries back, totaling 5.04 billion yuan ($790 million)."
Song Xin, the ministry's deputy director of its employment promotion department, said at the news conference that though the overall picture of employment is projected to remain stable in the near future, the uncertainties from the global landscape and domestic economy may bring risks to the job market.
He said that to maintain the momentum that the job market has so far shown, it's of great importance to make hiring college graduates a priority.
"Securing the employment of college graduates is closely related to helping them realize their personal value," he said.
He added that the ministry has so far helped 1.16 million graduates find jobs this year. To those who had difficulties getting work, the ministry has guided them to register at the official website to offer them job information in a timely manner.
Improving graduates' working skills is also important in helping them land jobs, Song said. He said that the ministry has so far organized internships for about 330,000 college graduates.
"There is still a large number in the group seeking jobs, while the job market will soon embrace more new graduates next year. We'll try our best to help them either find a job or offer them assistance to start their own businesses," Song said.