New power system in pipeline to help achieve green goals
By ZHENG XIN | China Daily | Updated: 2021-10-28 09:04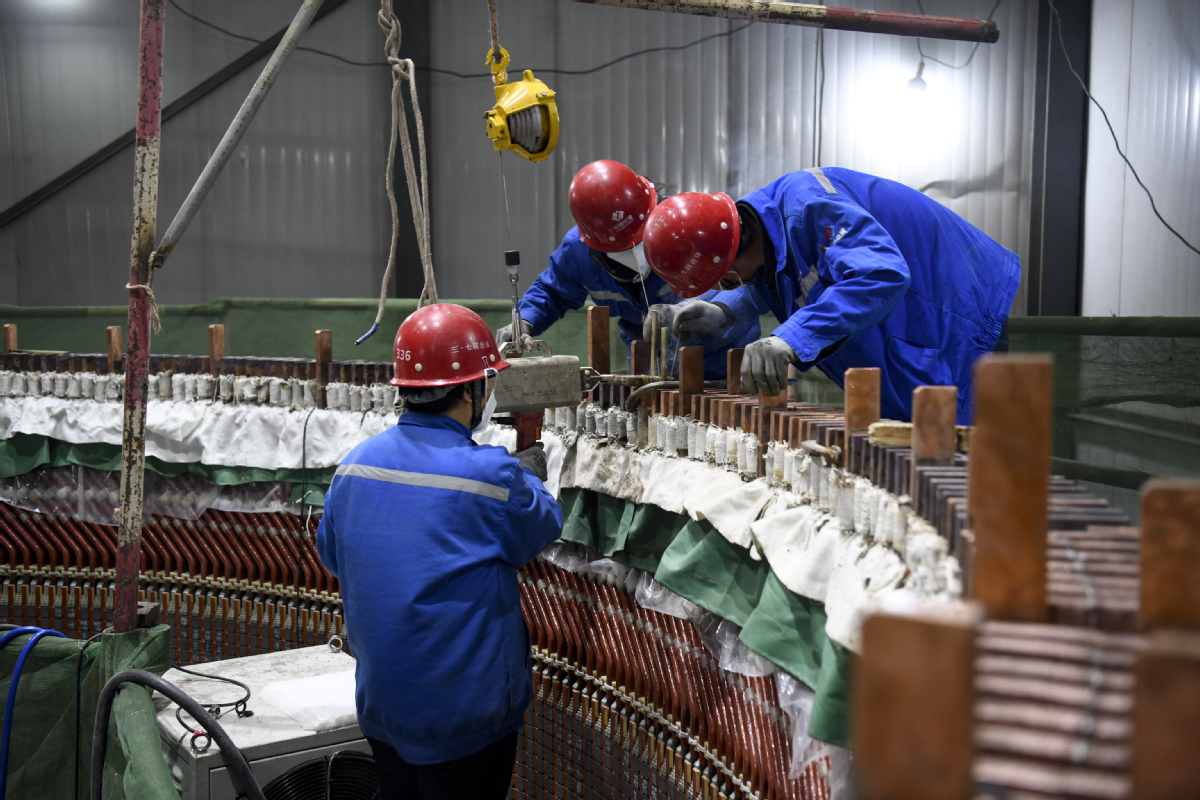 Diversified moves planned to further facilitate large-scale application of clean energy
China's plan to build a new type of power system featuring a gradual increase in the proportion of new energy sources and promoting the large-scale optimization of clean power resources will further facilitate the large-scale application of clean energy nationwide, analysts said.
The State Council, the country's Cabinet, unveiled a plan on Tuesday, highlighting the importance of speeding up construction of a new power system as it forges ahead to reduce coal consumption and increase renewable energy in its power mix.
The government will also strictly control the coal proportion in interprovincial power delivery, and new grid channels shall include at least 50 percent of renewable energy, the action plan said.
"This is a milestone in our development of a high-voltage grid network, as it will gradually clean up the power mix not just in the coastal regions in China but also the western and central parts of China," said Wei Hanyang, a power market analyst at research firm BloombergNEF.
"Previously, many coal power plants are built in the western parts and affiliated to high-voltage channels. While they could serve for less coastal pollution, this strategy could not lower the carbon emissions for the entire country."
"By limiting future coal power on grid networks to less than 50 percent, it will release more room for renewable developments and better secure their dispatching," he added.
Wei said this is the first time that China officially quantifies the target for renewable powers' share in the long-distance transmission network. Its share is only 20 percent to 30 percent in recent years, and is now poised to increase with the policy supports, he said.
The plan said China will vigorously improve the comprehensive regulation capability of the power system, accelerate construction of flexible regulation power, guide self-supplied power plants, traditional high-energy industrial loads, industrial and commercial interruptible loads, electric vehicle charging networks and virtual power plants to participate in system regulation, to build a strong smart grid and improve grid security level.
It will also actively develop the storage system for new energy, including new types of power storage and pumped-storage, source-network-load-storage integration and multi-energy complementarity, and support the rational allocation of energy storage systems for distributed new energy sources.
The country's total installed capacity for new types of power storing is expected to surpass 30 million kW in 2025, about 10 times its present level. The installed capacity of pumped storage power plants will reach about 120 million kilowatts by 2030 and the provincial power grid will basically have a peak load response capability of more than 5 percent, it said.
Renewable energy sources including solar and wind are intermittent and volatile and the new types of power storage will play an increasingly important role to realize the transition to a new type of power system with new energy as the main body, said He Gang, a professor at Xi'an Jiaotong University.
To address the intermittent problem of renewable energy, the document said the country will work out medium- and long-term planning for developing pumped storage and improve the policy mechanisms to boost their development.
To ensure the realization of the target of peaking carbon dioxide emissions by 2030, China will first increase the proportion of nonfossil energy in its energy consumption mix to around 20 percent by 2025 and then to about 25 percent five years later, the plan said.
In addition to encouraging solar and wind energy, the government also calls for promoting the development of hydropower where conditions permit and developing nuclear power in an "active" but "safe and orderly" manner.
The capacity of hydropower station for pumped storage is expected to increase by roughly 40 million kilowatts during the 2020-2025 period and by the same amount during the next five years, it said.