Bright future for vocational education
By XU WEI | CHINA DAILY | Updated: 2021-10-28 09:17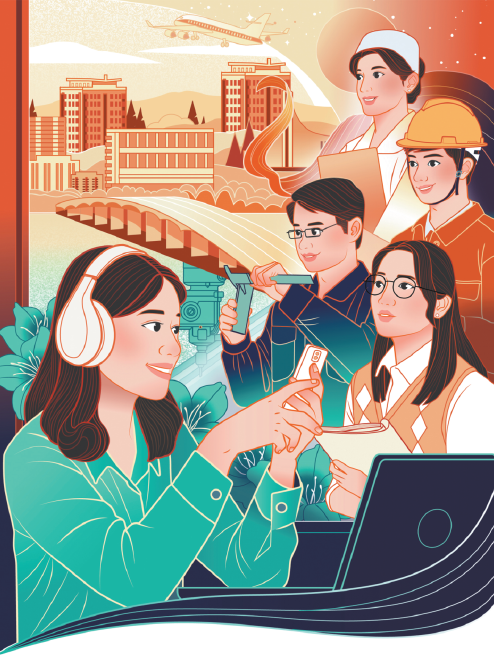 China's latest push to promote the high-quality development of vocational education will help shore up its manufacturing base and meet surging demand for the upgrading of its industries, according to officials and experts.
In a guideline released on Oct 12, the general offices of the Communist Party of China Central Committee and the State Council, China's Cabinet, spelled out a set of policy measures aimed at beefing up support for vocational schools and improving the quality of skill-focused education.
The guideline sets out targets including establishing a modern vocational education system nationwide by 2025, by which time vocational schools are expected to have seen a sharp improvement in schooling conditions, attractiveness to students and quality of training offered.
By 2035, China's vocational education system is expected to be ranked the most competitive globally, with supply matching the demand from social and economic growth, it said.
The policy document came on the heels of a slew of official measures aimed at spurring the development of vocational education in recent years.
Xu Ling, vice-president of Guangdong Polytechnic Normal University and a national political adviser, said the guideline was released because China desperately needs to increase its pool of professionals, especially in the manufacturing sector.
"With manufacturing now becoming the lifeblood of the national economy, it is important that we keep up a steady supply of top-notch professionals, who will be a pillar of growth for the sector," she said.
She noted that the upgrading of China's industrial structure has now become a pressing challenge with the graying of its population.
"A prerequisite of enabling the upgrading of the industrial structure is the upgrading of manufacturing technology, which would ramp up demand for top-notch professionals," she said.
To shore up the manufacturing sector, the guideline pledged to prioritize professions including advanced manufacturing, new energy, new materials, modern information technology and artificial intelligence. The development of professions facing a shortage of workers, including elderly care, nursing, preschool and household services, will be expedited.
Institutions are encouraged to create more majors that will fit market demand and reduce those where graduates face difficulties in finding jobs.
To elevate the quality of education at vocational schools, the document called for bolstering training of professional skills and of academics, saying that eligible vocational schools will be allowed to set up community colleges.
China will prioritize support for a host of high-caliber institutions and professions, and take steps to promote the development of undergraduate education.
An official with the Ministry of Education said in a statement after the release that the latest policy measures are aimed at shoring up the status of vocational education and encouraging more workers, especially among the younger generation, to become skilled professionals.
The official said that a major highlight of the document is that it seeks to coordinate vocational education and general education, and promote the integrated development of different education types.
To promote the popularity of vocational education, the government will encourage schools to offer rudimentary knowledge of vocational education to primary and secondary school students, the official said, adding that the authorities will enable the mutual recognition of academic credits between vocational schools, high schools and application oriented colleges.
China has already developed the world's largest vocational education system, with 11,500 institutions and over 28 million students by the end of 2019, according to the Ministry of Education. Vocational schools offering courses in 1,200 professions train about 10 million professionals each year.
Li Qi, a professor of labor economics at the Beijing Vocational College of Labor and Social Security, said a fundamental way of boosting the attractiveness and adaptability of vocational education lies in greater collaboration with employers during the training process.
"Authorities must explore more pathways that enable greater participation from businesses in the vocational education process to enable better alignment with the industrial chain," he said.
Li also underlined the supply of more high-quality professionals as a key factor in upgrading industry, which is even more important as China grapples with mounting challenges in the form of technological blockades.
"We need our academicians and scholars from top universities to make breakthroughs in original research. We also need craftsmen who can turn their ideas into reality, which is precisely the mission of vocational education," he said.
Another crucial step is to develop a more tiered vocational education system that offers higher levels of degrees so that students can progress through the academic ranks, Li said, adding that he expected that vocational schools could start offering postgraduate degrees in the next five years.
Xu said the reason most parents still see vocational schools as the last option for their children is partly because of the lack of social security benefits offered by the professions they teach.
"Thus it would require effort not only from the supply side, the education system, but also from the demand side, which is workplaces, to initiate a broad-based change," she said.