US has shortage of COVID-19 rapid tests
By MAY ZHOU in Houston | China Daily Global | Updated: 2021-10-28 10:08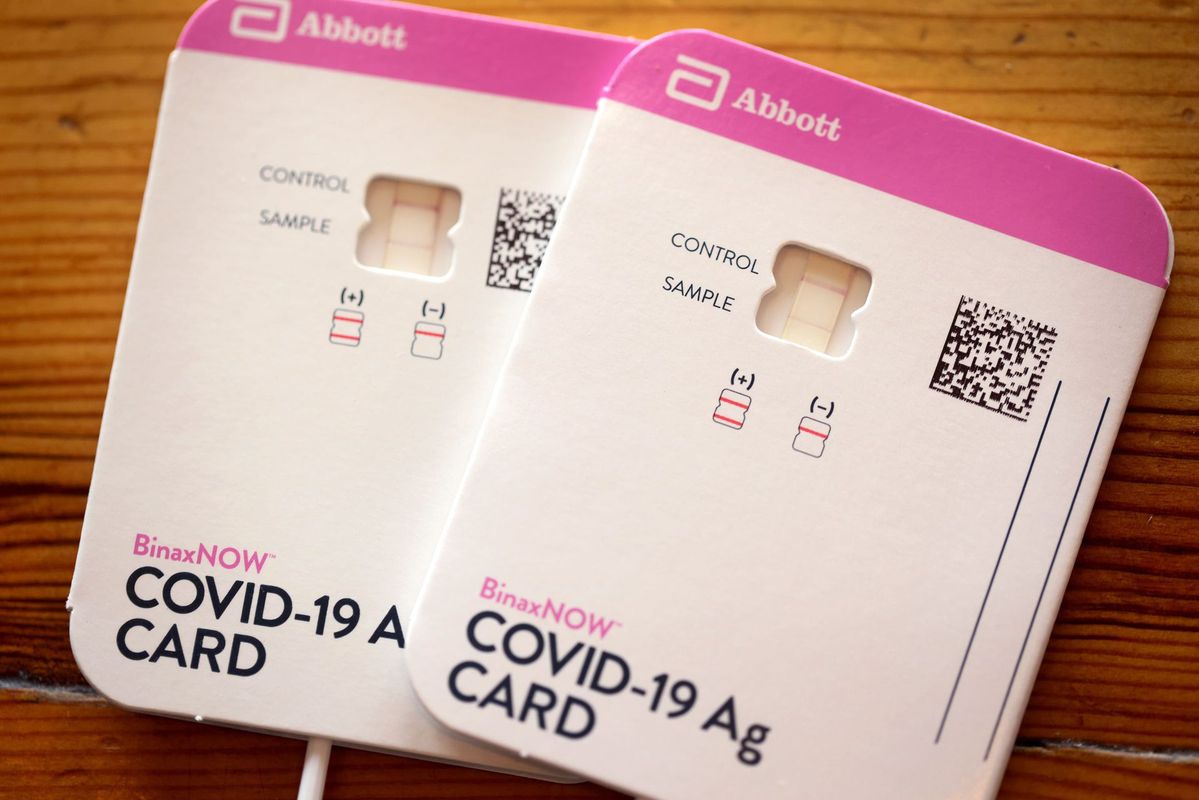 As one of the major COVID-19 antigen rapid-test makers in the US, Abbott lists its at-home kit BinaxNow at $5 apiece.
However, an online search showed that BinaxNow is out of stock on Amazon. A few pharmacies, such as Walgreen's and Rite Aid that do sell the product, list the two-pack home kit at $23.99, plus varying shipping costs up to about $9. That means each test costs about $15, tripling the manufacturer's listed price.
Such is the reality the US faces right now: a serious shortage of rapid COVID-19 antigen tests while companies rush to acquire a large quantity of rapid-test kits to meet a government mandate that workers are required to be vaccinated or subject to weekly testing.
As part of the Biden administration's COVID-19 plan, the Department of Labor's Occupational Safety and Health Administration (OSHA) is requiring all employers with 100 or more employees to ensure their workforce is fully vaccinated, and unvaccinated workers will be required to produce a negative test result at least weekly.
The government estimated that the requirement will affect more than 80 million workers in private sector businesses with 100-plus employees.
To address the rapid-test shortage, which began in late summer as the Delta variant drove up coronavirus infections in the US, the National Institutes of Health announced Monday that it is allocating $70 million to help the Food and Drug Administration (FDA) to accelerate the evaluation process for large-scale manufacturing of over-the-counter coronavirus tests.
There are about 10 manufactures of the rapid antigen tests in the US.
"Access to easy-to-use, affordable and reliable COVID tests is key to bringing peace of mind to our families, especially as we approach winter," US Health and Human Services Secretary Xavier Becerra said Monday.
So far, the Biden administration has pledged a total of $3 billion for rapid testing. Biden's goal is to boost US capacity to provide 200 million rapid tests a month by December.
Stefanie Friedhoff, a professor focusing on the pandemic, at Brown University's School of Public Health, told CBS News that the US government's emphasis on vaccines as a way to attack the virus reduced the incentive for test manufacturers to ramp up production.
"Those companies that had invested in making them did not have a market in the US for so long, so they shipped them to other countries or they stopped making them," she said.
Abbott laid off 400 workers in the beginning of the summer, citing the steep decline in demand for the company's COVID-19 testing products due to vaccines. Some 8.6 million of the testing papers were reportedly shredded while the layoffs were happening.
A couple of months later, Abbott rushed to rehire workers and frantically shore up resources to make hundreds of millions of BinaxNOW kits after getting a federal contract in September to produce between 13.4 million and 168 million of the tests for $44.3 million to $554.4 million.
Mara Aspinall, a faculty member at Arizona State University and a board member at Orasure, which makes an over-the-counter coronavirus test, said that the Biden administration is focused on providing cheaper tests with broader access, and the price would have to go down to no more than $3 per test to encourage more people to regularly test themselves to limit infections.
"The cost for a week for a family of four is still a very large number. And even people who can afford that don't want to pay that much money, and as a result they are saying, 'Do I really need to test?' And they are saving the test they buy for the special event," Aspinall told CBS in a recent interview.
Aspinall said that broader availability of rapid tests, combined with vaccine mandates, could effectively end the pandemic. "If we had a testing regimen that was a regular process for even asymptomatic people who have been vaccinated and we could do this broadly and we had enough tests — many more than we had today — we could end this in a few months," she told CBS.
Even if the US government manages to bring down the cost to $3 per test, that would still underperform the UK and other European countries. The Financial Times reported that the UK government has invested about £15 billion — approximately $20.65 billion — to provide free tests to schools, workplaces and members of the public.
In Germany, the government had provided free rapid antigen tests from March until Oct 11 to encourage the remaining 30 percent of the population to get vaccinations.