Xiong'an residents warmed by area's green transition
By HOU LIQIANG in Xiong'an, Hebei | CHINA DAILY | Updated: 2021-10-29 07:22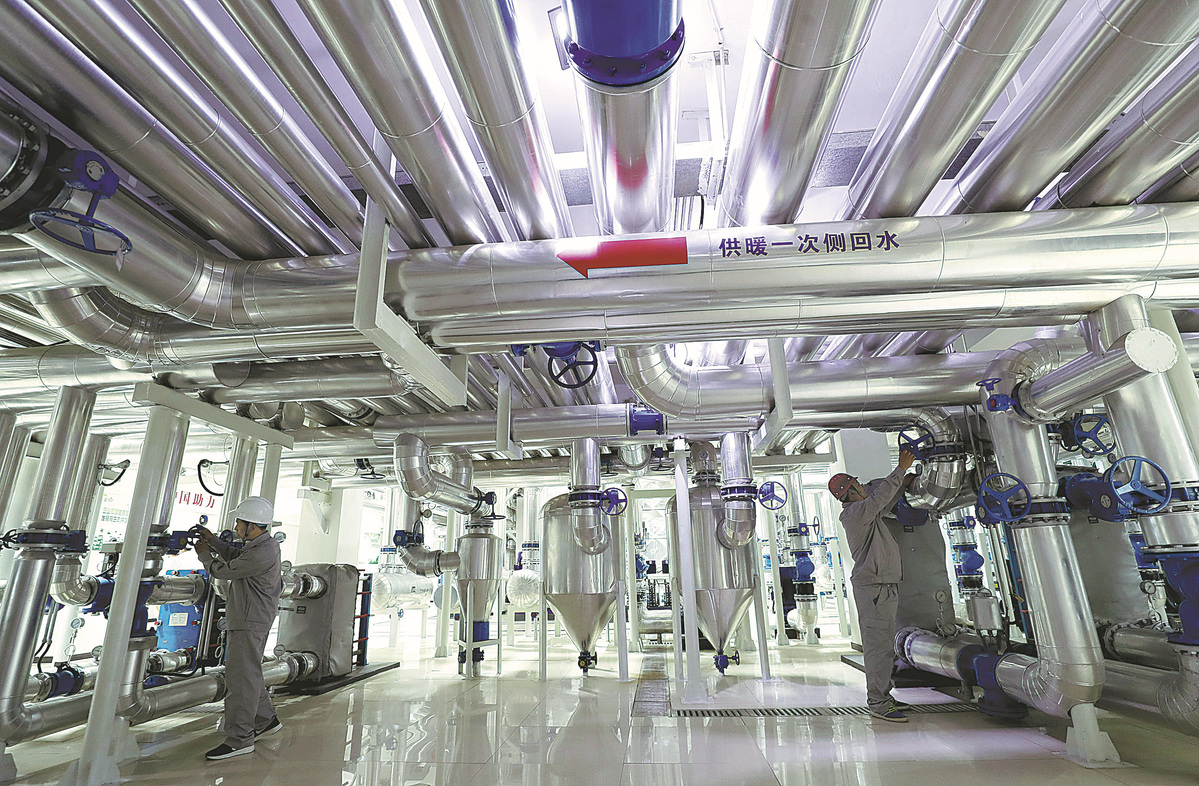 Han Zhongxiang liked the hot springs in the village of Dongzhao in his home county of Xiongxian, Hebei province, so much that he had no qualms about making the 10 kilometer trip to enjoy them.
"I was very jealous of the residents there. Very jealous," he said, recalling his time as a junior high school student when he was a regular visitor to the hot springs, which were found during oil exploitation in the county.
Now the 62-year-old, along with thousands of county residents, enjoys the benefits of geothermal resources that keep his home warm and also benefit the environment.
In April 2017, China announced plans to establish the Xiong'an New Area, located about 100 km southwest of Beijing, aiming to build the 1,770-square-km region into a green city featuring innovation and a national model of high-quality development.
The new area spans Xiongxian, Rongcheng and Anxin counties as well as some adjacent areas.
Xincheng, the community where Han lives, looks no different from other residential blocks in Xiongxian. But it is special because of the eight wells that penetrate 1,500 to 1,900 meters below the ground. Underground water, with a temperature of about 70 C, is pumped up via the wells and warms about 2,800 households in the community.
After heating the homes, the water is pumped back under the ground, said Sun Caixia, chief technology officer of Sinopec Green Energy Geothermal Development Co, which developed and runs the project. "The tap water and underground water don't even meet each other," she said.
This heating method is not only low-carbon, but also cost-effective. To heat 1 square meter of floor area using central heating with fossil fuels costs Hebei residents about 20 yuan ($3.10) per year on average. Xincheng residents, however, pay only 16 yuan per square meter.
Geothermal resources were found in the county in the 1970s when workers were drilling wells during oil exploitation, according to Xiongxian's department of natural resources.
Large-scale utilization of the resources for heating started around 2000 when local governments began promoting renovation of rundown towns. However, exploitation of the resources was not done in a sustainable manner-the geothermally heated groundwater was not put back underground.
This changed after Xiongxian county reached an agreement with Sinopec Green Energy in 2009 to develop the geothermal resources. Previously, the water level of underground hydrothermal reservoirs of Xiongxian would drop over 10 meters a year. With the water now being returned underground, the annual decline has been reduced to 1 to 2 meters.
Gao Xiaorong, Party secretary of the company, said it has accelerated its efforts to further tap the potential of geothermal resources since the Xiong'an New Area was established. The company shifted its headquarters from Xianyang, Shaanxi province, to Xiong'an in late 2018.
Aside from ramping up its capability to supply heating in Xiongxian, the company has also extended its operations to Rongcheng county. Almost 70,000 households in the two counties rely on geothermal heating.
The measures in Xiong'an could contribute greatly to the country's efforts to peak carbon dioxide emissions before 2030 and realize carbon neutrality before 2060.
If it were not for these new facilities, heating would consume the equivalent of over 160,000 metric tons of coal per year. The geothermal facilities can help avoid annual emissions of over 400,000 tons of carbon dioxide, according to the company. The geothermal resources have cut its carbon dioxide emissions by the equivalent of over 2 million tons, the county government said.
Sun, the Sinopec Green Energy chief technology officer, said the company aims to further improve the efficient use of geothermal resources in Xiong'an. One option is to use heat from the hydrothermal reservoirs for power generation before it then warms houses and greenhouses. This would optimize the use of the resource before it is pumped back underground, she said.
The new area is also being delivered clean energy from other areas in the province.
In August 2020, a 1,000-kilovolt power transmission line that links Xiong'an with Zhangbei, a county with abundant wind and solar energy, was put into operation.
With the capacity to deliver more than 7 billion kilowatt-hours of electricity annually, the transmission line can meet all the power needs of Xiong'an with clean energy, according to Xinhua News Agency.
Construction work on a reservoir with a pumped-storage hydroelectricity power station also started near Xiong'an last year, the Ministry of Water Resources said. Apart from providing a stable water supply to Xiong'an, such a reservoir will help guarantee a stable power supply as solar and wind energy could be intermittent, the ministry said.
Han believes geothermal energy can benefit more people in Xiong'an and other areas.
He said he doesn't fully understand the goals of carbon peak and neutrality, but he can see that geothermal resources are "something really good".
Before he moved to Xincheng community, Han had to use a coal-fueled boiler to warm his home in a rural part of Xiongxian. "It was very dirty. After you finished filling the coal, your face was black," he said.
"Now, thanks to the (geothermal) resources, my home is warmer, the air quality is better and the sky looks bluer," he said. "It's very good. We feel very happy."
Zhang Yu in Shijiazhuang contributed to this story.