January-September gold demand outperforms pre-pandemic period
By ZHENG XIN | China Dail | Updated: 2021-10-29 08:55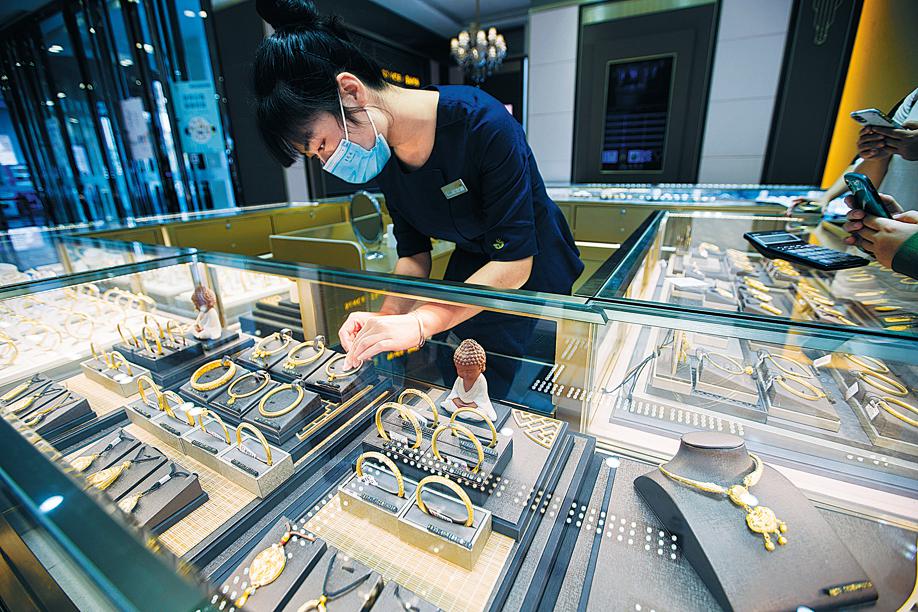 China's gold consumption surged 48.44 percent year-on-year to 813.59 tons during the first three quarters as macroeconomic policies supported demand, an industry report showed on Thursday.
Domestic gold consumption during the first nine months was also 5.89 percent higher than the pre-COVID January-September 2019 level, said the China Gold Association.
Consumption of gold jewelry in China rose 54.21 percent from a year earlier to 529.06 tons during the first three quarters, with the level 1.11 percent higher than that in 2019, it said.
Fluctuation of gold prices and the recovery of the Chinese domestic economy have fueled gold investment demand, while sales promotions have also encouraged purchases of the precious metal, it said.
According to the association, sales of gold bars and coins rose 50.25 percent during the same period to 214.13 tons. Gold purchases for industrial and other uses rose 12.66 percent from a year earlier to 70.4 tons.
An analyst said domestic gold consumption in China was on a recovery course during the first three quarters this year as the pricey commodity finds increasing acceptance as an investment option.
"Gold has a safe haven appeal amid geopolitical tensions due to a low-to-negative interest rate environment and expanding global money supply," said Zhu Yi, a senior analyst for the metals and mining sector at Bloomberg Intelligence.
"While China's gold demand related to jewelry during the January-September period increased 54.21 percent year-on-year, we expect demand will continue to grow in the fourth quarter," Zhu said.
Global demand for gold fell in the third quarter to its lowest level since the last quarter of 2020 as financial investors sold the metal, said the World Gold Council. However, demand from jewelers, central banks and smaller, retail investors buying gold bars and coins was solid.
Global demand for gold in the July-September period was 831 tons, down from 894.4 tons in the same period last year and 1,084.9 tons in the third quarter of 2019, the WGC said in its latest quarterly report.
Exchange traded funds with gold holdings sold the precious metal last year as economic growth revived and again this year as attention turned to interest rate rises that would make gold assets less attractive.
According to Louise Street, WGC's senior markets analyst, jewelry demand is expected to continue exceeding last year's levels, but investment demand in total will be weaker in 2021, despite healthy bar and coin demand.