Climate-threatened islands struggle to have voices heard
By KARL WILSON in Sydney | China Daily | Updated: 2021-11-02 09:11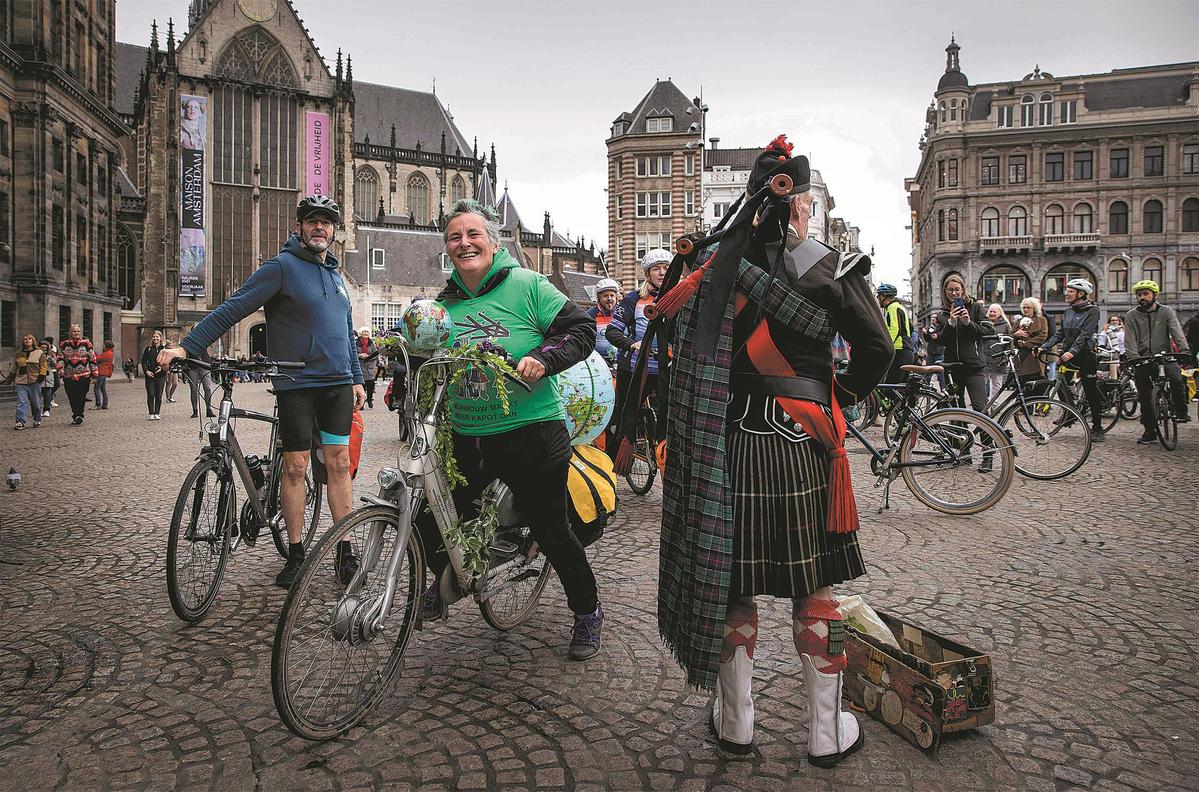 Editor's Note: As delegates meet in the hope for a meaningful agreement at the COP 26 climate summit in Glasgow, Scotland, calls are growing for concrete action to aid nations most at risk from global warming.
Though the COP 26 climate summit in Glasgow is yet to hit full stride, much of the focus has been on what the major polluters will bring to the table in terms of targets for net zero emissions in the coming decades.
But, a world away from the Scottish city, few people fear the consequences of a warming planet as much as do the inhabitants of islands scattered across the Pacific Ocean. And little has been said about what the Pacific island nations stand to lose if no meaningful agreement is reached at the 26th United Nations Climate Change Conference of the Parties.
Many island nations scattered in the Pacific are already feeling the impact of climate change as sea levels rise. Many sit just meters above sea level.
The Pacific Islands Climate Action Network met on Oct 22 and issued a list of demands to world leaders as COP 26 approached, telling them that they must provide "a safe and habitable future for the Pacific islands".
The group called on wealthy countries to provide developing states $100 billion a year until 2025 and increase that sum to $750 billion a year beyond 2025 so they can invest in technologies to help live with a changing climate.
The former president of Kiribati, Anote Tong, told the virtual gathering of Pacific climate-action organizations that the Glasgow meeting would be the last chance to save Pacific island nations from the worst effects of climate change.
Siobhan McDonnell, senior lecturer in the Crawford School of Public Policy at the Australian National University in Canberra, said all governments must work harder to ensure that the urgency of the climate situation facing all Pacific island countries is heard at COP 26.
"There's an urgency around Pacific island countries; this is not just an issue of adaptation. There are issues of material and nonmaterial loss and damage caused by the impact of climate change that are tangible and real," McDonnell said.
"These are actual costs that are borne now and into the future by Pacific island nations and their people in terms of spiritual loss of place, loss of aspects of culture, burial grounds and loss of attachment to place."
Wesley Morgan, adjunct research fellow in the Asia Institute of Griffith University in Queensland, said the Pacific islands are at the front line of climate change.
"Despite their size, these small island nations as a bloc punch well above their weight on the international stage, and they are not prepared to go down without a fight," Morgan said.
Christian Downie, an associate professor in the School of Regulation and Global Governance at the Australian National University, said the Pacific island nations face an existential threat from climate change. "They will be hoping that COP 26 delivers an agreement that is consistent with keeping global warming to 1.5 C."
'Things need to go right'
For the Glasgow summit to be deemed a success, a few things need to go right, he said.
"First of all, countries need to commit not simply to net zero targets by 2050, but stronger targets for 2030. Without them, there's zero chance the world will hold the rise in global temperatures to 2 C. Major emitters will also need to support developing countries with the finance and technologies to enable them to transition to clean energy and adapt to climate change impacts, including severe flooding and prolonged droughts."
Australian Prime Minister Scott Morrison late last month announced a plan for the country to reach net zero emissions by 2050.
The program, which outlines Australia's whole-of-economy plan to achieve net zero emissions by 2050, is based on existing policies but is light on detail.
Joe Fontaine, lecturer in fire ecology at Murdoch University in Western Australia, described the policy as having all the strength of a "wet paper bag".
"All we see is the same rudderless policy vacuum that has been a headwind to investment and innovation to drive decarbonization of the Australian economy," Fontaine said.
Referring to the Kyoto Protocol, a UN-sponsored treaty for action against climate change, the academic said: "Taking such a hollow policy to Glasgow will further solidify Australia's reputation as a climate laggard and cheater dating back to Kyoto in 1997."
The consequences of such a weak climate policy will be felt by all Australians as the country becomes a dumping ground for old technology, he said.
Ian Lowe, an emeritus professor of science, technology and society at Griffith University, said: "It is an extraordinary achievement to use 850 words to make a statement that tells us absolutely nothing about the plan the Australian prime minister says his government has to reach net zero emissions by 2050."