Home is where the tourism is
By Song Rui | CHINA DAILY | Updated: 2021-11-03 07:23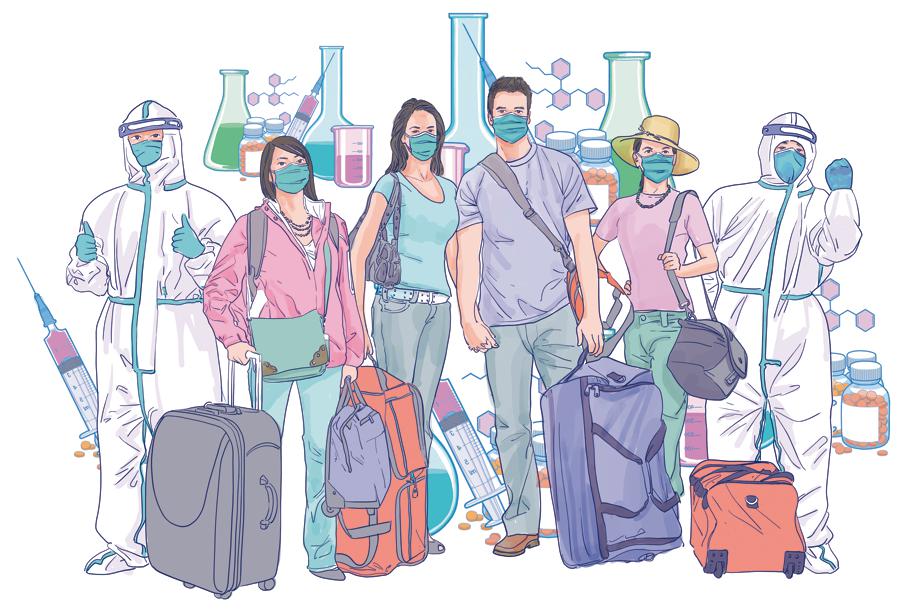 The new wave of coronavirus infections in October following the National Day weeklong holiday has dealt another blow to the tourism industry. Despite the high rate of vaccination and strict prevention and control measures, the COVID-19 pandemic continues to affect the tourism industry.
First, the pandemic situation and control measures will decide when and how the tourism sector will recover. The sector is facing uncertainties because the authorities have urged residents to not leave their provinces unless necessary or organize big events, and asked them to stay where they work during holidays in order to cut the transmission chains.
So whenever the anti-pandemic measures are eased, even if temporarily, people tend to improvise their travel plans, posing a big challenge to tourist sites, tour operators and travel agencies.
Second, domestic travel will dominate the tourism industry in most countries in the near future. According to the UN World Travel Organization, 2021 continues to be a challenging year for global tourism, with international arrivals down 80 percent in January-July compared with the same period in 2019. According to a survey by the organization's panel of experts, about 45 percent of the respondents said international tourism will return to the 2019 level in 2024 or later.
Given these facts, travel agencies in countries such as Japan, Thailand and Canada have started offering stimulus packages to attract domestic tourists. For China, too, domestic travel will be a key factor in boosting the tourism sector. So the authorities should give financial support to the people and create more jobs to encourage consumption and energize the market.
Third, in general, people across the country have been traveling and commuting, visiting restaurants to have dinner, making business trips, commuting from home to workplace and back, which could be possible sources of infection, but cluster infections have rarely broken out. So travelling and modes of transport alone are not the decisive factors for the spread of virus.
Whether driving their own car or traveling in tour groups, as long as tourists strictly follow the anti-pandemic rules, report their itinerary to the authorities in advance and have nucleic acid tests, they should not be blamed for new infections. In this regard, the promptness shown by the local governments of Ejine Banner in the Inner Mongolia autonomous region, and Zhangjiajie in Hunan province in issuing letters to travelers in time during the summer, is indeed praiseworthy.
Since it will take a long time and humongous efforts to bring life back to normal, everyone should adopt a rational attitude toward the anti-pandemic measures. And the tourism industry and related sectors should optimize the industrial structure to boost their development.
Fourth, it is important for travelers, and tour operators and travel agencies and their employees to raise the public's awareness about COVID-19 while complying with the anti-pandemic measures. Submitting the itinerary of tour groups to the authorities in advance can help prevent virus transmission and, in case of a cluster outbreak, help the health authorities to trace the likely infected people.
In addition, following anti-pandemic norms such as wearing a face mask, maintaining social distancing and booking tickets in advance should become normal habits in the future.
Fifth, compared with self-guided tours, group travel has advantages when it comes to long-distance tours, because registered travel agencies can better implement anti-virus measures and shoulder their responsibilities. And strict management helps strengthen industrial supervision, optimize service procedures and improve the service quality of tour operators and their employees.
Sixth, the central and local governments should establish new risk-prevention mechanisms, especially because the existing policies, although highly effective, were introduced at the beginning of the pandemic-and if the pandemic continues longer, it will put more pressure on tourism industry, especially on tour operators and travel agencies.
It is necessary therefore to adjust the policies in terms of business scales and models, and the government should guide the tourism sector to take better prevention and control measures.
The author is director of Tourism Research Center, Chinese Academy of Social Sciences. The views don't necessarily represent those of China Daily.
If you have a specific expertise, or would like to share your thought about our stories, then send us your writings at opinion@chinadaily.com.cn, and comment@chinadaily.com.cn.