Warming up to 2022 Olympic Games
By Xu Fan | China Daily | Updated: 2021-11-03 07:26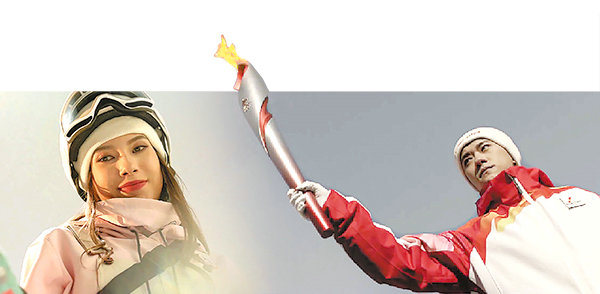 On Oct 22, two days after Beijing welcomed the arrival of the Olympic flame, a short film titled A Date With Snow and Ice was released online, garnering millions of clicks on several popular social media platforms such as Sina Weibo.
The five-minute film-a promotional piece ahead of the 2022 Winter Olympics-features Yi Yangqianxi, currently one of China's most sought-after actors, and freestyle skier Eileen Gu, also known by her Chinese name, Gu Ailing.
In the film, Yi plays the role of an explorer who goes deep into a cave, surprisingly discovering a series of paintings depicting skiing in ancient times. Shortly after he closes his eyes, the next moment twists to an illusion-like scene that features Yi's character meeting a beautiful woman, played by Gu, riding on a white horse on the snowfield.
Seemingly falling for each other at one glimpse, they enjoy the romantic moments with a variety of winter sports like skiing and skating. When the tale comes back to reality, the two youngsters reunite on the iconic Great Wall to run as torchbearers passing the flame for the 2022 Winter Olympic Games.
Director Ding Sheng, who has worked on action blockbusters, including the Jackie Chan-starring Police Story: Lockdown (2013), recalls feeling proud when commissioned to helm the new project, which also contains a two-minute conceptual work aside from the five-minute film. The two sections share the same subject and cast.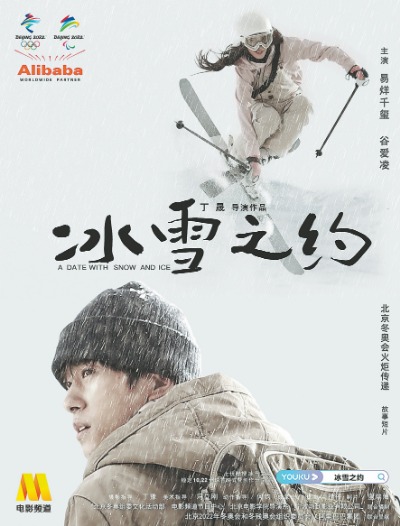 Ding and his team stumbled upon stories about cave paintings depicting Stone Age hunters skiing, discovered in 2005 in the Altay prefecture of the Xinjiang Uygur autonomous region. Then they paid a visit to the locale, forming the idea to use it as the starting scene in the short film.
"The real 'protagonist' of the film is the Olympic torch, but we wanted to give it a romantic rendering," says Ding, adding that he hopes the film showcases China's distinctive landscapes and winter sports culture.
Pitching a tone to show China's picturesque scenery, the crew traveled to five locations-Altay in Xinjiang, Changchun and Jilin in Jilin province, Hulunbuir in the Inner Mongolia autonomous region and the Mutianyu section of the Great Wall in Beijing.
The shooting was mostly conducted between January and February, with the lowest temperature being around -40 C. Besides, a smooth surface 30 meters wide was particularly polished on the frozen Kanas Lake in Altay to ensure cast members were capable of performing skating stunts.
"Though it's a short film, I took the job as seriously as I would have for a feature-length work. Most of the time we got up at around 4 am to snap the breathtaking scenes of sunrise," Ding says.
Yi, whose blockbusters in recent years have earned an overall box office of 8 billion yuan ($1.25 billion), accepted the "special task" to serve as an acting coach for Gu to help her perform better.
"Gu is an excellent athlete, but she hadn't acted in such a film before. I was once worried if she could accurately display layers of emotions in close-up shots. So I asked Yi to express more emotions through his eyes to help Gu find the feeling," Ding explains.
A graduate of fine arts from the Beijing Film Academy, Ding says he had made hundreds of drawings to help his cast and crew members better understand his directorial intentions.
A drawing is also a static representation of a moment. "Most winter sports are fast, so a lot of documentaries and video works try to capture the movements with an attempt to showcase the sense of speed. But we intentionally slow down to help the audience feel the emotions of those engaged in the sports," Ding explains.
"Snow and ice sports are a gift from nature. We really hope audiences will get interested to participate in such activities as skating and skiing, making more friends and enjoying the charm of winter sports," he concludes.