City takes lead in heating with clean energy
By Zhao Ruixue | China Daily | Updated: 2021-11-12 09:08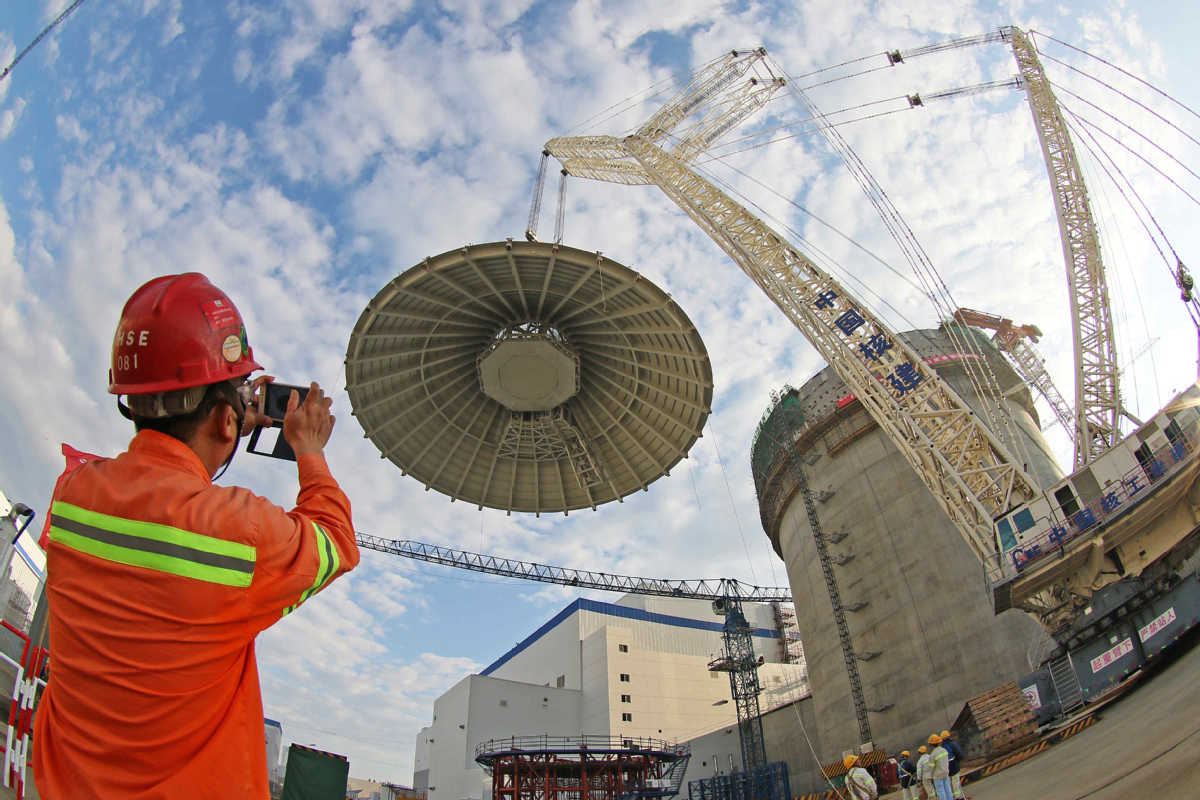 Project based on nuclear power plant benefits residents of Haiyang, Shandong
The urban area of Haiyang, Shandong province, has started using heat generated by a nuclear power plant this winter, making it the first Chinese city to have carbon-free heating, State Power Investment Corp said.
As China's first commercial nuclear heating project, it provides clean energy to more than 200,000 residents of Haiyang, a coastal city under the jurisdiction of Yantai. The new heating was put into operation on Tuesday, six days ahead of the scheduled start of the four-month winter heating period, due to recent cold weather.
Xue Jianlei, 37, said the clean heating is keeping his family warm and contributing to a healthier environment. "The floor got warm and the temperature in our home on Tuesday reached 22 C to 23 C," he said.
Trials to use steam from the nuclear power for winter heating in Haiyang began in 2019, when more than 7,000 households started using the new system.
The heating method extracts nonradioactive steam from the two AP1000 reactors at the nuclear power plant, which is located by the coast. The steam is routed to a multistage heat exchanger in the heat exchange station at the nuclear plant. The heat is then channeled to a thermal power supply company, which pumps hot water through municipal pipes underneath homes.
Unit 1 of the Haiyang Nuclear Plant is the world's largest cogeneration unit, according to the Shandong Nuclear Power Co, a subsidiary of the SPIC and owner of the plant.
It has replaced 12 coal-fired boilers and is expected to cut carbon dioxide emissions by 180,000 metric tons every heating season, sulfur dioxide by 1,188 tons and nitrogen oxide by 1,123 tons, the company said.
Xue, who lives about 1 kilometer from a coal-fired plant that has stopped operations, already sees a dramatic improvement in the environment. "The chimneys have been pulled down. A year ago, when it was still working, when I collected clothes dried on the balcony I saw soot on them," he said.
He also expects his power bill to drop by about 200 yuan this heating season as unit prices are cheaper compared with coal-fired heating costs, he said.
Han Hongcheng, a board member of the Fengyuan Thermal Power Co, which cooperates with the Haiyang Nuclear Plant, said it has less operating costs than coal-fired plants.
"It doesn't need workers to operate furnaces," Han said.
"Nuclear power heating is cleaner and more stable as it won't be suspended due to furnaces breaking down," he added.
Utilization of nuclear energy will play an important part in the Jiaodong Peninsula, in the eastern part of Shandong, reaching zero emissions, Jiang Yi, an academician at the China Academy of Engineering, was quoted as saying by Shandong TV.
Russia, Switzerland and Sweden are among countries that already use nuclear-fueled district heating systems.