Sustainable social innovation expert offers vision of hope to youth
By Ruyuan Zhang | chinadaily.com.cn | Updated: 2021-11-12 10:57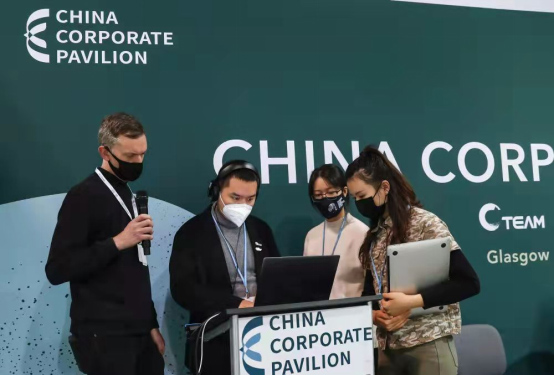 At the 26th UN Climate Change Conference of the Parties, or COP 26, in Glasgow, a fascinating discussion hosted by Chinese environmental NGOs occurred on Nov 1 between Chinese youth and Michael Norton, a British expert in sustainable social innovation who also co-founded the Shenzhen-based Asian Environmental Innovation Forum (AEIF) seven years ago.
Norton, known as the Father of Social Innovation, is the director of the Centre for Innovation Voluntary Action (CIVA) and the 2014 recipient of the UK Charity Award for Outstanding Achievement. His insights into social enterprise and his empathetic approach to innovative philanthropy offered a vision of hope.
Youth representatives from China -- Elena Chen, Shan Liu and Ruyuan Zhang -- went on to interview Norton about the motivation behind his volunteer work and his suggestions for youth who are committed to making the world a better place.
Norton revealed that his interest in social enterprise began at a relatively young age. After studying natural science, he went to work as a banker while devoting his free time to volunteer work in areas such as fundraising, food waste and education inequality. For instance, he set up a night school for those who could not speak English, and also promoted a program which taught street children in South Asia the concept of banking.
When asked about the turning point in starting his social enterprise, he shared a very touching story about how two young girls took an elderly woman out for a walk. "Some of you may think it's not a big deal. ... (But) this old lady hadn't been outside for three years." During these years, many health professionals and social workers had come to visit her, but no one had ever taken her out. These two girls did it because they truly cared about her. With minimal assistance and a little innovation, they created a comfortable hand trolley and made the woman's day.
According to Norton, a very good starting point for action is the food system,which generates over 30 percent of man-made carbon emissions and sees around 40 percent of food wasted from field to table. He was very supportive about the idea of utilizing "ugly food", or produce rejected due to appearance rather than quality, a phenomenon responsible for some 30 percent of all the wasted food from farms. Green Light-Year, an organization focused on education for sustainable development, launched the Ugly Food Party in bid to raise public awareness about how people's actions can make a difference in reversing the shocking amount of food waste. All consumers should appreciate farmers' efforts and consume healthy food, no matter what it looks like, he said.
I was thrilled to see Norton encouraging young Chinese social entrepreneurs to tackle food waste challenges. After all, during my undergraduate study in food science, I had volunteered with a local NGO in Leeds which distributes waste food from restaurants to disadvantaged and low-income households. Ultimately, Norton's insights have inspired me to continue my volunteer work after graduation, and also look for more ways of leveraging social enterprise to make the world a better place for all.
The author is studying for a Master of Science in Epidemiology at Imperial College London.
The opinions expressed here are those of the writer and do not necessarily represent the views of China Daily and China Daily website.
If you have a specific expertise, or would like to share your thought about our stories, then send us your writings at opinion@chinadaily.com.cn, and comment@chinadaily.com.cn.