Ancient fur ski craft revived in Xinjiang
By XING WEN and MAO WEIHUA in Xinjiang | China Daily Global | Updated: 2021-11-15 10:06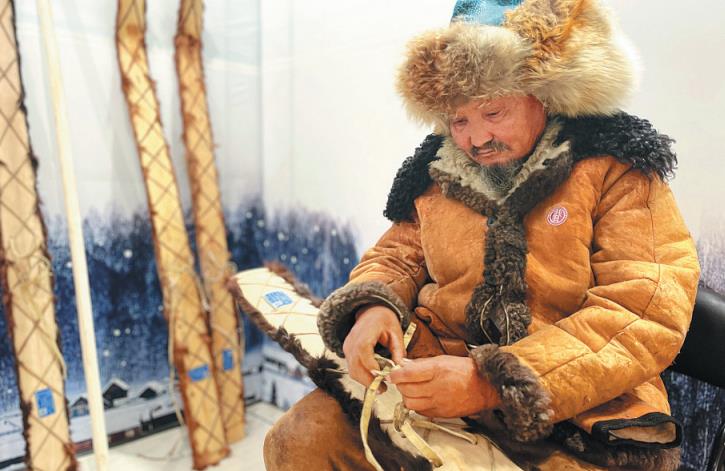 Sakish would first cut high-quality pine into a plank and then bend the plank's front end after the wood was heated in a flame. Wrapping the plank with horsehide was the last step.
"I would wear the newly made fur skis to slide on the snow to test if they were durable and practical," he said.
As the village's basic infrastructure was upgraded and residents' living conditions improved considerably, the traditional mode of transportation lost its appeal. For some time, Sakish's fur ski workshop didn't do much business.
However, the situation took a favorable turn in 2010, when Sakish was honored as an inheritor of the craft of making fur skis, which had been designated as an intangible cultural heritage of Xinjiang.
Supported by the local government, he set up a woodworking studio where he not only produces the traditional handmade fur skis, but also creates wooden souvenirs related to Altay's skiing culture for tourists to purchase.
"A pair of fur skis can sell for 1,500 yuan ($235) or so. Last year, I earned around 60,000 yuan from the business," he said.
His works are exhibited in ski resorts, airports and train stations across Altay and also at an exhibition center for the Beijing 2022 Winter Olympics to promote the prefecture's deep historical connection to skiing.
Last month, he was invited to a six-day intangible cultural heritage exhibition in Urumqi, the capital of Xinjiang, to introduce the ancient craft and the unique nomadic lifestyle it represents to a larger number of people.
More young people have come to him to learn the craft, and his youngest son, who is 31, has followed in his footsteps to carry on the tradition.
Sakish's family members still use the fur skis as a means of transportation during winter. In addition, fur ski competitions have been held annually by the local government, at which the family members display their maneuvers.
Nie Ping, an official from Altay prefecture's Culture, Radio, Television, Sports and Tourism Bureau, said that activities that allow tourists to experience snow sports and local cultures, such as the fur ski competitions, help to generate momentum for the prefecture's economic development. Because of this, tourism is becoming a pillar industry for the prefecture, Nie said.