A key to music of the past
By Chen Nan | China Daily | Updated: 2021-11-17 07:57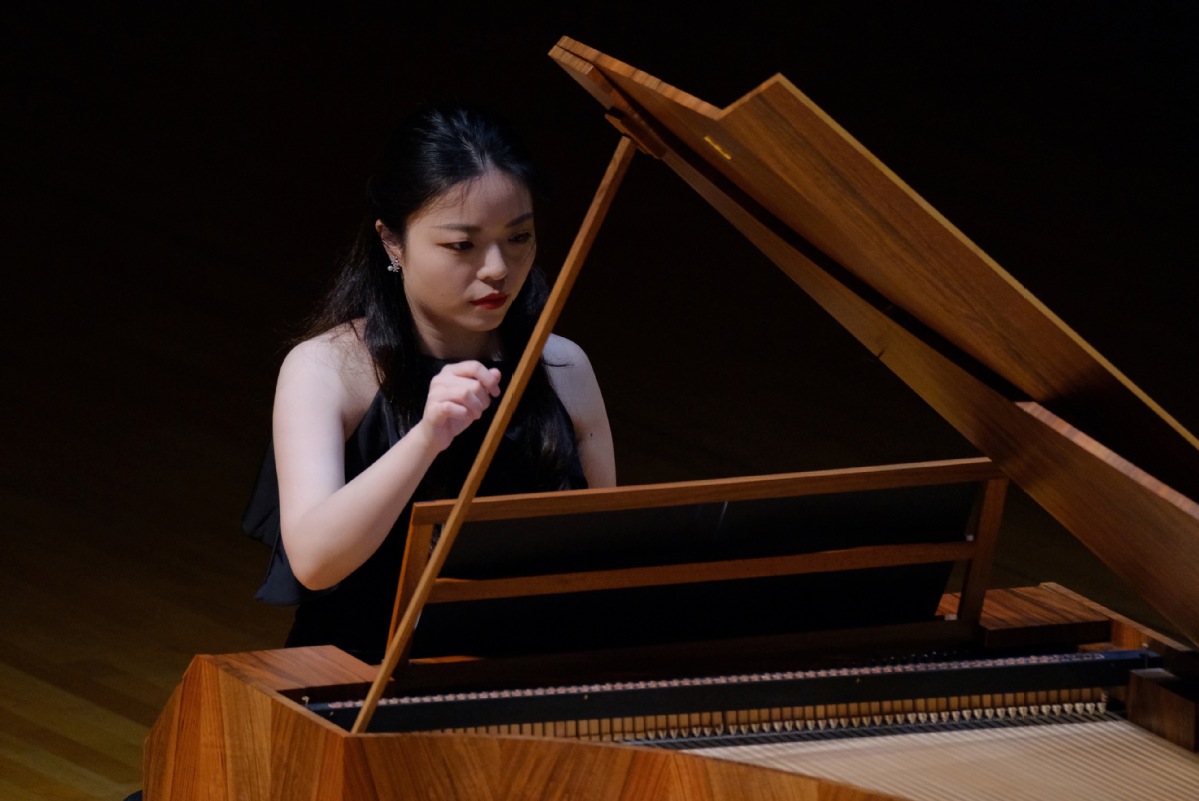 Pianist seeks to revive the soft appeal of the fortepiano, Chen Nan reports.
One day in 2014, Wang Yuehan, then a student at Indiana University's Jacobs School of Music in the United States, met her teacher Elisabeth Wright, a professor of harpsichord and fortepiano at the school's Historical Performance Institute.
The fortepiano was popular in the 18th and early 19th centuries. It has a softer sound and smaller frame.
Wang says Wright asked her if she wanted to take fortepiano as a major. Wang had fortepiano as an elective course for a semester earlier.
"I was excited and nervous," Wang says about meeting Wright, adding that her teacher answered all her questions about learning fortepiano. "That afternoon I made a decision that led to my career."
Wang received her master's degree from Jacobs School of Music, double majoring in piano and fortepiano, in 2017.
One year before her graduation, Wang bought a fortepiano made in the Czech Republic, a faithful replica of a fortepiano made by the Viennese piano maker Anton Walter in 1805.
She returned to China in 2017 and has been promoting fortepiano since then.
On Nov 11, when she turned 31, Wang released an album, titled Mozart Fantasie & Rondo, performing the composer's numbers: Fantasie in C Minor, K 396; Fantasie in D Minor, K 397; Fantasie in C Minor, K 475; Rondo in D Major, K 485; and Rondo in A Minor, K 511.
All pieces were performed on the fortepiano.
Walter's pianos were highly regarded by Mozart, Beethoven and other prominent composers, and historical records show that Mozart bought a Walter piano around 1782, using it for composition of his highly successful piano concertos, according to Wang.
"I played Mozart's music on the fortepiano. It authentically brings back the music of his time," she says.
Fortepiano, an early version of the piano, has changed tremendously since Italian instrument maker Bartolomeo Cristofori invented it. During the 18th and 19th centuries, the instrument itself and keyboard music changed dramatically.
Wang says that compared to modern pianos, fortepianos have a smaller range and softer timbre.
Older musical instruments, like fortepianos, are key to understanding the history of classical music and how those great composers created the classics, Wang says.
When she started to learn the modern piano and fortepiano at the same time, Wang says she felt challenged by the two instruments. She tried to capture the spirit of composers and deliver the essence of music to the audience.
During her days in the US school, Wang played harpsichord in the morning, fortepiano at noon and the piano in the afternoon, in a variety of styles, like jazz.
"I got a sense of how different it is to perform with the instruments-I have to think differently when performing on them," she says.
Born and raised in Wuhan, Hubei province, Wang studied the piano like many children in the country.
From 2006 to 2012, she made trips between Wuhan and Beijing to study piano with veteran pianist Sheng Yuan.
Sheng says there are few pianists willing to devote their time to researching and playing fortepiano in China. Many of his piano students refused to learn the instrument "because it would be hard to find jobs-the fortepiano is not popular anymore and no one listens to it now".
"I really admire Wang's courage and passion for the old instrument, which will inspire more young Chinese pianists to learn," Sheng says. "Besides doing research, Wang plays fortepiano beautifully."
The album, Mozart Fantasie &Rondo, has been produced by a new Chinese record label, Hearing the Silence, founded by Feng Hanying. The name refers to classical music concert etiquette, whereby audiences enjoy silence when music fades at the end of a note.
"When we recorded the album, we tried to capture the most authentic and real sounds of fortepiano," says Feng.
"Wang's performance offers the audience a close feeling about the old instrument."