Changan introduces all-new electric car brand
By LI FUSHENG | China Daily | Updated: 2021-11-17 08:44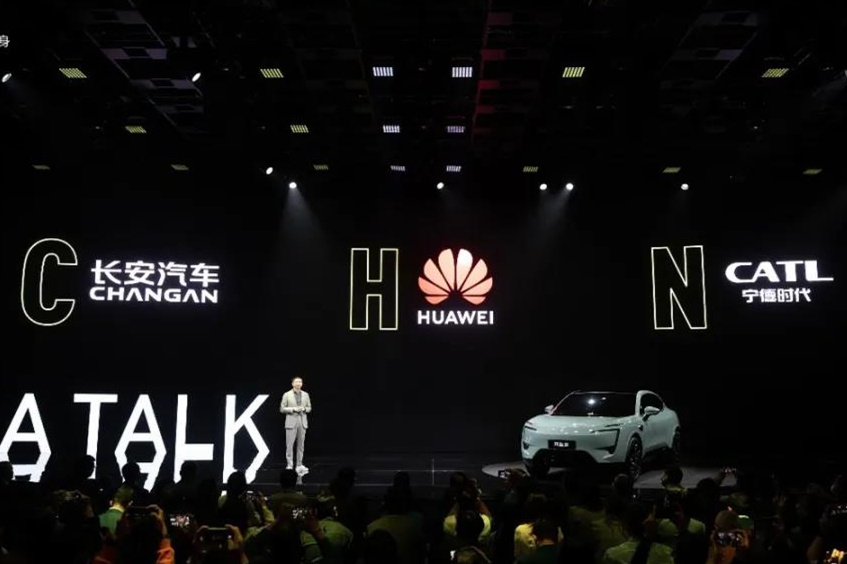 Chinese carmaker Changan has unveiled a new electric car brand in collaboration with technology giant Huawei and battery maker CATL, thereby throwing its hat in the country's increasingly competitive new energy vehicle ring.
The new marque, Avatr, is the latest example that automobile manufacturers and technology companies are teaming up to meet fast-evolving demand from tech-savvy car buyers, analysts said.
Avatr, which made its debut on Monday, said it is integrating the strengths of the three companies, which specialize in vehicle manufacturing, smart solutions and battery making, respectively.
Changan holds roughly 39 percent of the new marque, while CATL, China's largest battery maker, owns about 24 percent as the second largest stakeholder.
Huawei does not hold stakes in the joint venture but it is involved in the development of the brand's vehicle architecture. This has made Avatr the third brand to feature Huawei's operating system and autonomous driving solutions after Arcfox and Seres.
Avatr said its first model, which will hit the market in 2022, will be a crossover. It will have a driving range of at least 700 kilometers on a single charge and be capable of accelerating from zero to 100 km/h in less than four seconds.
"Average electric vehicles won't sell now, and carmakers need to highlight eye-catching and cutting-edge features," said Yale Zhang, managing director of Shanghai-based consulting firm Automotive Foresight.
Changan is not the first carmaker to partner with technology companies. Late last year, China's largest carmaker SAIC established electric car brand IM with Alibaba.
The IM JV with an investment of 10 billion yuan ($1.53 billion) said staff engaged in smart driving and big data account for 75 percent of its research and development team.
IM's first production model, featuring autonomous parking and wireless charging, will be shown at the Guangzhou International Auto Show that opens on Friday.
"Electric car buyers are losing interest in conventional carmakers, but association with such big names as Huawei and Alibaba will help carmakers attract attention," said Roy Lu, an independent auto analyst.
Lu said independent brands of traditional carmakers will find that partnerships with companies such as CATL will facilitate their financing in the future, as vehicle R&D as well as production is expensive.
China is the world's largest market for electric cars and plugin hybrids. Their sales rocketed 134.9 percent year-on-year in October to about 383,000 units, accounting for 16.4 percent of total vehicle deliveries in the month.
Deliveries in the first 10 months totaled 2.54 million, 12 percent of total vehicle sales. The figure was 5.8 percent in 2020.
Zhang Yongwei, a chief expert at Chinese auto think tank EV 100, said electric cars and plug-in hybrids will account for 30 percent of new vehicle sales in the country in 2025.
Smart vehicles with connectivity functions will make up at least half of total deliveries in the same year, he said.