New Oriental closes tutoring services but opens door to new path in agriculture
By Zhou Yu | chinadaily.com.cn | Updated: 2021-11-17 10:23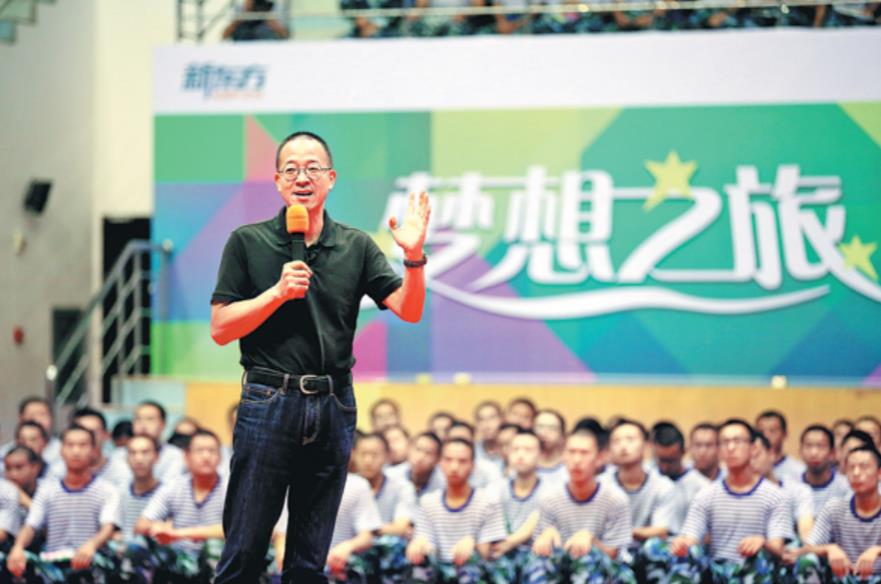 Many extra-curricular tutoring service providers have gone under since China's introduction of the "Double Reduction" policy, aimed at lessening the excessive academic burden on students and financial pressure on parents.
In the latest example of a company to fall victim to "Double Reduction," Xue'ersi, a K12 education service provider whose parent is the US-listed online tutoring giant TAL Group, said on Monday it will close its extra-curricular tutoring service for good by the end of this year.
Within a little more than a year, the fate of China's once-thriving education service sector has gone through a roller-coaster ride. A lot of firms have since shuttered, with countless more teetering on the brink of bankruptcy. No company has escaped the shake-up unscathed, including the most established players.
Some unscrupulous firms, while up to their necks in debt, chose to continue charging parents for their courses. They absconded with their ill-gotten gains once funding dried up, leaving teachers and parents high and dry.
One educator chose another path. Yu Minhong, founder and chairman of New Oriental, one of the country's largest tutoring firms, has drawn wide praises for his sense of responsibility and charitable deeds.
In a WeChat post, Yu, who is revered as the "godfather of overseas study," promised that New Oriental will initiate a refund for the tuition paid by parents and will pay staff on time.
In an announcement that moved many to tears, the self-made billionaire said New Oriental will donate about 80,000 sets of new desks and chairs totaling 50 million yuan ($7.85 million) to village schools across China.
Such an act of generosity appears all the more commendable considering that Yu himself has been struggling following the crackdown on China's red-hot education service industry.
As of this writing, New Oriental's shares slid to slightly over $2 from a peak of $20, sending the company's market cap plunging over 90 percent. Yu's personal wealth also took a drubbing, with him now worth 7.5 billion yuan, or less than 30 percent of the amount from a year ago.
Despite the regulatory headwinds and the financial distress that ensued, Yu held firm to his passion to help students and schools in need. The latest donation is seen as his continuous contribution to education in rural China. He has taught, in person, students from the countryside in the past.
Although his donation was slammed by some cynics as a publicity stunt, it still elicited an outpouring of support and goodwill.
This tidal wave of goodwill will likely boost the fortunes of Yu and the corporation he heads, provided that he can find a way to turn things around.
He is indeed searching for a way out of the current predicament. His solution appears to be shifting to livestreaming and online sale of agricultural products.
For a business that started out in 1993 by teaching English to students applying to study abroad, this shift toward a completely new realm is akin to sailing into uncharted waters.
Yu remains unfazed, though. In a WeChat post in July, he said New Oriental planned to set up a mega agricultural platform, whereby he and hundreds of the company's teachers will turn to livestreaming to market agricultural produce, so as to drive sales and contribute to the rejuvenation of the countryside.
According to him, "(livestreaming) is not only for selling goods, but for helping spur the industry upgrade of agriculture and rural revival."
Moreover, the creation of a streaming platform is also driven by a desire to "help peasants enhance their vocational capabilities," said Yu in the post.
This is an area where New Oriental can make a difference. With its resources, capital and manpower, the company can provide much-needed training and bring hope to a group of people traditionally snubbed by profit-seeking entities. Doing so would also align New Oriental's direction with the national strategy of achieving "common prosperity."
Born in Jiangsu province next to Shanghai to a carpenter father and a mother who was the leader of a women's agricultural production unit, Yu has never been out of touch with the rural population. He knows very well their plight and what it takes to change their and their families' fortune: education.
The era when New Oriental reigned supreme in education service has all but drawn to a close. Although the ills caused by some of its wrongheaded, rote-teaching methods should not be left to go unchallenged, and its role in perpetuating an educational rat race warrants some soul searching, none of our hard-hitting criticisms can belittle the contribution New Oriental has made to China's education scene.
When the wave of "overseas study" swept the country back in the '90s and early 2000s, Yu's effort fulfilled the dreams of many. The so-called "Little Red Book" English textbooks from New Oriental were pored over like the Bible and helped students land better GRE and TOEFL scores. As a result, it was with mixed feelings that many watched the end of New Oriental perhaps not without a hint of nostalgia.
The switch to livestreaming will not be easy, since the fresh produce segment is already saturated. And New Oriental lacks the experience of livestreaming stars like Austin Li and Viya, who sold a whopping combined 19 billion yuan worth of goods during this year's Double Eleven shopping fest.
For Yu, "remaining faithful to why he first started" is not just a catchphrase. Judging from recent media reports, he appears to be fired up by an unrelenting entrepreneurial spirit, enough to sustain him through the tough times and seek a fresh new start.
In agriculture he has come upon such an opportunity. Through serving millions of underserved peasants in China's underdeveloped regions, New Oriental may explore a new path to growth again, and toward an even brighter future.
How well Yu and his co-workers can stand up to the challenge will be a test of their tenacity in the face of adversity – one that is also worth taking for many bogged down in a similar quagmire.
The author is a Shanghai-based English teacher and freelance writer.
The opinions expressed here are those of the writer and do not necessarily represent the views of China Daily and China Daily website.
If you have a specific expertise, or would like to share your thought about our stories, then send us your writings at opinion@chinadaily.com.cn, and comment@chinadaily.com.cn.