The art of songwriting
By Chen Nan | China Daily | Updated: 2021-11-19 08:02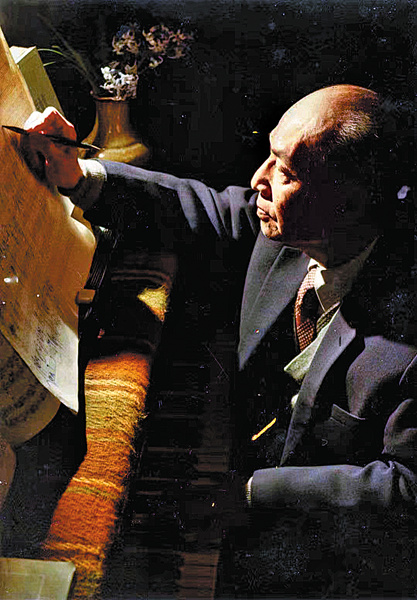 Yu Long, who was classically trained in Germany, led the Shanghai Symphony Orchestra in a performance of art songs by Ding and Gustav Mahler at a concert held on Jan 15 in Shanghai. On Oct 14, a concert featuring the works of both composers was staged in Beijing during the Beijing Music Festival, which was founded by Yu Long in 1998.
"I was a big fan of Mahler when I studied in Germany. My grandfather was born in the year that Mahler died. I want to pay tribute to them by performing their works," says Yu Long.
Ding's other grandson, Yu He, is the producer of the new album.
"This is the first album that I produced. As his grandson, I wanted to express my love for him. It's a very meaningful album for my whole family, especially my mother, who is a big fan of art songs," says Yu He, whose company, launched 15 years ago, has been working with Naxos since the beginning. In 2015, Kuke and Naxos together established Naxos China, which is dedicated to promoting Chinese classical musicians.
Unlike his elder brother Yu Long, who spent his childhood in Shanghai, Yu He moved to Beijing at age 5 and returned to Shanghai at 10.
"When I moved back to Shanghai, my grandfather had already retired from the Shanghai Conservatory of Music. He loved writing music and playing with his cat," recalls Yu He. "He was a very kind and caring grandfather. He let us learn to play the piano but never forced us to practice."
Ding, born in Kunshan, Jiangsu province, learned to play traditional Chinese musical instruments, such as pipa, erhu and the bamboo flute, when he was a child. In 1928, alongside pipa, he began to learn to play the piano at a music school in Shanghai.
In 1934, Ding recorded Chinese composer He Luting's piano solo works: Buffalo Boy's Little Flute and Lullaby, which made Ding the first Chinese pianist to record an album. The next year, Ding held his piano recital in Shanghai, Tianjin and Beijing, making him the first Chinese pianist to hold solo recitals.
In 1947, he entered Conservatoire de Paris, studying composition. After returning to China in 1949, he worked as deputy director of the Shanghai Conservatory of Music and as the dean of its composition department.
Many celebrated musicians, such as pianist Zhou Guangren, composers Chen Gang and Wang Xilin, were his students.
A prolific composer, Ding wrote for symphony orchestras and choirs, as well as producing chamber music and film scores. Some of his best-known works include the first symphonic suite by a Chinese composer, Long March Symphony, portraying the Chinese Red Army's historic military retreat, the symphonic suite New China, marking the founding of the People's Republic of China in 1949, and the piano suite Happy Festival.
He died in Shanghai.
"His art songs are still widely used by music schools to train vocalists and are also performed at concerts," says tenor Zhang, 67, who began to study at the Shanghai Conservatory of Music in 1981 and went to study at the Juilliard School in New York in 1986.
One of Zhang's favorite songs composed by Ding is titled My Love Gives Me a Sunflower, which, composed in 1962, is included in the new album.
"The lyrics are simple, beautiful and romantic. The song is full of color and emotion," says Zhang.
"Art songs are only arranged for a singer and an instrument, like the piano. In the 1950s, art songs were very popular in China," says pianist Wei, a professor at the Shanghai Conservatory of Music. "Now, few Chinese composers write art songs and some don't even know what art songs are. It's valuable to release an album highlighting Ding's art songs-an integral part of the Chinese music repertoire."