BRI boosts Africa ties amid pandemic
By Ehizuelen Michael M.O. | China Daily | Updated: 2021-11-23 08:02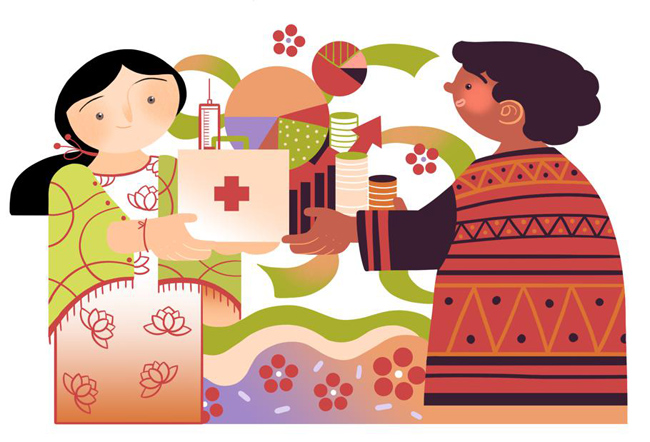 The COVID-19 pandemic has not only changed the world. It has also made us realize that since we are all connected to each other, we need to rise above our nationality, race, ethnicity, religion and level of development to uphold the common cause of humanity.
The pandemic has also highlighted the significance of the China-proposed Belt and Road Initiative in global health and information and communications technology. China has been helping African countries to develop in these two sectors through the Health Silk Road and the Digital Silk Road.
Significance of the Health Silk Road
Despite its late start, in 2016, global cooperation in the health sector through the Health Silk Road has helped African and other countries to combat the pandemic, underlining the significance of Africa-China cooperation on healthcare. Since the outbreak of the pandemic, the Chinese leadership has been promoting the Health Silk Road as part of the Belt and Road Initiative and essential to building a community with a shared future for mankind.
Through the Health Silk Road, China has been supplying medical aid to African countries participating in the Belt and Road Initiative. The Health Silk Road has also helped China to more or less overcome the economic disruptions caused by the pandemic and share its medical experiences and expertise in combating COVID-19. This is a testament to the strength of the Health Silk Road and its farsightedness. No wonder China has been linking measures to combat the pandemic in African countries with post-pandemic cooperation and economic recovery under the Belt and Road framework.
Indeed, the Health Silk Road has been advancing the Belt and Road Initiative's soft infrastructure.
Historically, health cooperation has been one of the most significant areas for strengthening the Africa-China partnership, and is much older than the Belt and Road Initiative. Health cooperation is also paramount in the United Nations Agenda 2030-Sustainable Development Goals, the African Union's Agenda 2063 and the Eight Major Initiatives proposed at the 2018 Forum on China-Africa Cooperation in Beijing, where China promised to strengthen its health cooperation with Africa.
The importance of health cooperation
In fact, health cooperation is seen as a precondition for all-around development of human beings. Due to the importance of Health Silk Road, it has been made a part of the Belt and Road Initiative.
China reiterated its commitment when the pandemic broke out. Some of China's commitments consist of supplying medical equipment and medicines, including vaccines, sharing its medical experiences, sending teams of medical experts, organizing medical training programs, building hospitals, and helping fight infectious diseases such as malaria and Ebola.
Consistency is the key to the success of any initiative, and the Belt and Road Initiative has been consistent in turning its promises into reality. For example, by mid-June this year, China had provided more than 290 billion masks, 3.5 billion pieces of personal protective equipment and 4.5 billion testing kits to the world, and helped many countries, including African countries, build pathology labs.
China is committed to helping build the headquarters of the Africa Centres for Disease Control and Prevention, a key aid program under the FOCAC healthcare initiative. Work on the project in Addis Ababa, Ethiopia, started on Dec 14, 2020. Covering an area of more than 90,000 square meters and containing modern office space, high-end laboratories and other facilities, the building will boost Africa's capability to cope with diseases.
Turning promises into reality
As for vaccine supply, on the May 18, 2020, President Xi Jinping said in a speech to the World Health Organization that China will provide the world with affordable vaccines as a "global public good". Accordingly, China has supplied its vaccines to not only African countries but also other countries.
China has engaged in extensive vaccine collaboration with other countries by joining the COVAX initiative co-led by CEPI, Gavi and the WHO, which aims to ensure fair distribution of vaccines worldwide. It has also donated or supplied more than 400 million doses to over 90 nations, most of which are Belt and Road partners. As for Africa, according to Bridge, a consultancy company that tracks Chinese vaccine distribution in Africa, 46 African countries have received COVID-19 vaccines from China.
Also, in order to make vaccines available to African countries by helping them produce the vaccines locally, on May 21, 2021, Chinese pharmaceutical company Sinovac's first batch of vaccine raw materials arrived in Cairo, Egypt, where they were processed into vaccines by a local company.
China's cooperation with African countries to enable them to produce vaccines locally will not only help the countries concerned, but also the rest of Africa. On Sept 29, 2021, Algeria became the second African country to produce Chinese vaccines locally when its vaccine facility in Constantine city started operations in collaboration with Sinovac.
Efforts to stabilize global economy
China's decision to help African countries to produce vaccines locally under the Health Silk Road framework shows its intention to stabilize the global economy and help build a world where compassion and empathy are the order of the day. But to make the efforts successful, other countries have to meet China halfway and join hands to promote inclusive economic growth.
As for the Digital Silk Road, the pandemic-induced lockdown changed consumer behavior, and social distancing measures led to an expansion of e-commerce transactions.
As promised, China has been taking measures to deepen Digital Silk Road e-commerce cooperation with 22 partner countries. The launch ceremony for the FOCAC's African Products Online Promoting Season and "The World's Specialty" (an African Special Event), both online and offline, were held on Sept 6, the eighth edition of the FOCAC will be held in Dakar, Senegal, on Nov 29-30. The Sept 6 event was important for promoting the China-Africa Partnership Plan on Digital Innovation, in order to deepen Sino-African e-commerce cooperation in the wake of the pandemic. Which once again shows China always translates its promises into deeds.
E-commerce is not only helping the Chinese and African economies to move toward digitalization, but also increasing consumption in Africa and China and enabling African manufacturers to tap the Chinese market. It will also allow Chinese consumers to buy African goods at a better price and boost African exports to China, thus helping African countries to overcome the anti-pandemic hitches to global trade.
Rising trend of Sino-African trade
According to the Ministry of Commerce, trade between China and Africa soared 40.5 percent year-on-year in the first seven months of 2021, hitting a record high of $139.1 billion. Over the past two decades, China's trade with Africa has increased 20-fold, making China Africa's biggest trade partner for 12 consecutive years.
With Belt and Road cooperation entering a phase of high-quality advancement, the Health Silk Road and the Digital Silk Road more clearly reflect the initiative's shared community spirit. The pandemic and the Health Silk Road have created a new opportunity for Africa and China to advance the "digital" component of the Belt and Road Initiative in order to share their experiences and practices in dealing with diseases and monitoring public health. This way the Belt and Road Initiative can continue to bring mutual gains for Africa and China.
The author is an associate professor and founder and executive director of the Center for Nigerian Studies at the Institute of African Studies, Zhejiang Normal University.
The views don't necessarily reflect those of China Daily.