'Extraordinary showcase'
By Zhang Minlu | China Daily | Updated: 2021-11-23 08:34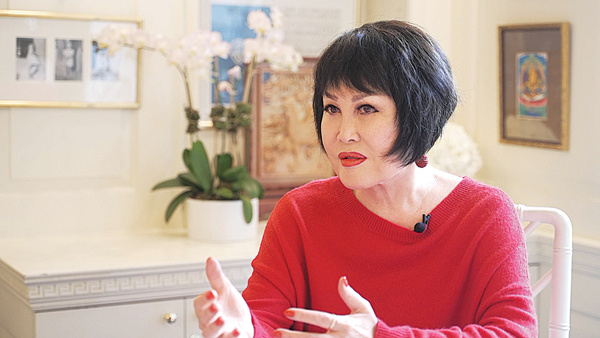 In 1984, PBS invited Kan to host the first live broadcast from China on the occasion of the 35th anniversary of the People's Republic of China. Two years later, a bilingual television series One World produced by Kan aired on CCTV.With an audience of more than 300 million, the program gave many Chinese their first glimpse of the outside world.
Kan says the Olympics are good opportunities to enhance exchanges between peoples and nations. The 2008 Summer Olympics was like an announcement of the Chinese government saying: "Hey, welcome to Beijing. We are ready to receive you. We are ready and open. We are ready to see you."
"I think that the 2022 Winter Olympics are the same thing. The Chinese have been preparing a great deal for a long time for such a wonderful occasion … It would be an extraordinary showcase for what the Chinese accomplished in this area of sports," Kan says.
"And what is great is that on the land of China, they are able to actually see the greatest champions in the world, whether they are Chinese, Japanese or Americans that are from all over the world. Always, by looking at the best in the world, you learn. I think the young people will learn a great deal from these people that are coming to compete. It's going to be a great experience," she says.
Kan has been working on cultural exchanges between China and the United States for a long time. Her ABC documentary China: Walls and Bridge earned her an Emmy Award. The US Congressional Record called Kan a "citizen ambassador". For her, if you have never been to a country, then you cannot understand the country well.
"If you've never been to China, you cannot only talk about the bad in China because you have to see with your own eyes, all the good and the bad about the country. If you haven't been to America, you don't really know America very well, all the good and bad of America. No country is perfect. I believe that we should allow everybody to be so open to everything they want to see," she says.
The 2022 Winter Olympics will be a good opportunity for the world to understand China more. "It is such an extraordinary opportunity for people to really embrace each other, to engage each other in a totally nonpolitical situation," Kan says.
"I always believe in people-to-people exchanges. Sometimes there are things that people can do that the government cannot do," she adds. "I'm very, very confident that a lot of people will leave China with a full understanding of what that country is all about."