XCMG debuts latest all-terrain construction cranes
By YUAN SHENGGAO | chinadaily.com.cn | Updated: 2021-11-23 11:09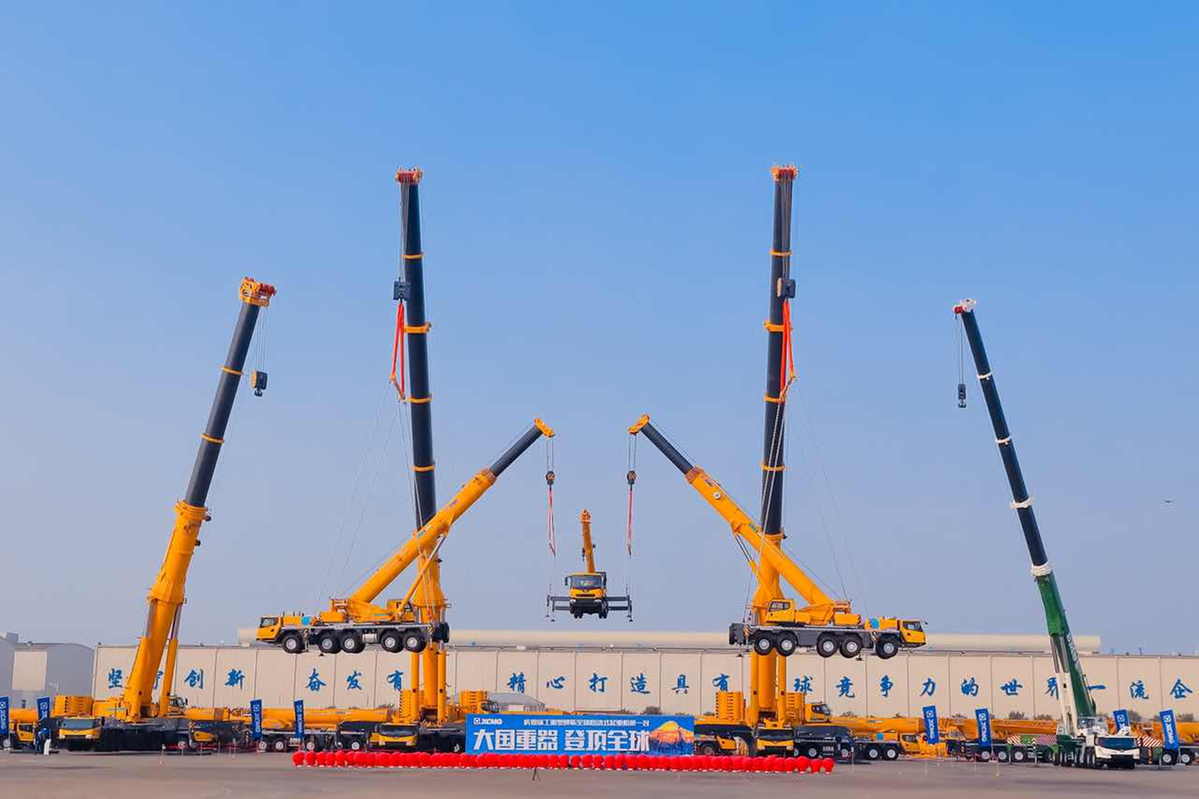 Xuzhou Construction Machinery Group debuted five new all-terrain cranes on Tuesday, marking a milestone in the domestic production of high-end cranes, according to the Chinese heavy machinery developer.
The company said the five C-series cranes, which were more than 90 percent developed in China, can achieve equal performance when compared to similar imported cranes in terms of loading capacity, intelligent design, engine performance and maneuverability.
The debut of the products demonstrate how the Chinese crane maker and its upstream suppliers have mastered core technologies deemed key in supporting the country's high-quality development, according to the company.
XCMG's latest large-tonnage cranes, the XCC 2000 and the XCA 1800, unveiled in early November, feature a 1,800-metric-ton and 2,000 ton handling capacity respectively. XCMG said the large-tonnage cranes will strongly support the construction of wind power farms and global new energy industry development.
In recent years, XCMG has paid greater attention to the development of its crane business and reported outstanding results in 2020 despite the pandemic.
It took the top spot among global crane manufacturers in terms of sales revenue for the first time in 2020, according to rankings released by KHL Group in November. Its global ranking moved up three places from fourth in the previous year.
The total sales revenue of XCMG's crane business was $5.66 billion in 2020, an increase from $3.11 billion in 2019.
XCMG is striving to expand its product portfolio, especially large-tonnage cranes, with the aim of better serving changing market demand.
The company unveiled its XCA 1600 large-tonnage crane in 2018. The model, one of the most powerful cranes in the world at that time, has proved popular among global buyers. So far, more than 60 such cranes have been sold globally. Those cranes have been used to install nearly 5,000 wind turbines around the world.
Looking ahead, efforts will be made to promote innovation, smart manufacturing, internationalization and aftermarket development to sustain the long-term development of XCMG's crane business, according to the company.
XCMG has held the top spot among domestic crane manufacturers in terms of combined sales volume for 18 straight years. It ranked first among Chinese mobile crane producers in terms of total sales volume in 2019 and 2020.
China's efforts to peak carbon emissions by 2030 and attain carbon neutrality by 2060 will spur the growth of the new energy industry, according to XCMG. Demand for cranes is expected to increase significantly because there will be more wind farm construction projects in upcoming years.
Changing government policies will also drive demand for large-tonnage and high-end products. It is expected that the demand for such products will double in the 14th Five-Year Plan (2021-25) compared to the demand during the 13th Five-Year Plan (2016-20).