Grim warning sparks jabs debate
By CHEN WEIHUA in Brussels | China Daily | Updated: 2021-11-24 07:16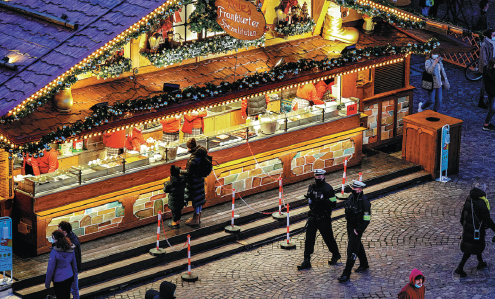 While minister's talk of the 'dead' splits views, COVID-19 marches on in Europe
German Health Minister Jens Spahn has made headlines with a stark warning that people in the country will "be vaccinated, recovered or dead" by the end of winter as Germany battles a new wave of COVID-19 infections.
Spahn made the comment on Monday in a bid to encourage more people to get vaccinated and to tackle a reported reluctance among Germans to get a COVID-19 vaccine from US drugmaker Moderna.
The minister said the Moderna jab, like the homegrown vaccine from BioNTech, is a "good, safe and very effective vaccine".
He said a large quantity of the Moderna doses was stocked in warehouses ready for use, and that 16 million doses could expire in the first quarter of 2022 if they were not used.
Germany reported 45,326 new cases on Tuesday and intensive care units are receiving COVID-19 patients at a rate not seen even last year. So far, less than 68 percent of Germany's population is fully vaccinated, a rate that trails those of some other Western European nations.
"Probably, by the end of this winter, as is sometimes cynically said, pretty much everyone in Germany will be vaccinated, recovered or dead," Spahn told a news conference on Monday.
His words sparked an immediate debate. Hendrik Streeck, one of Germany's top virologists, said he disagreed with the comment.
"While I agree that the situation is serious right now … I don't agree with the sentence that everyone after this fall or winter 'will be either vaccinated, recovered or dead'," Streeck, director of the Institute of Virology at the University of Bonn, told German broadcaster DW.
"That would mean that everyone will come into contact with the virus this winter," he said, adding that was not how it works.
German Chancellor Angela Merkel, who is in a caretaker role, said on Monday that the current measures to curb the spread of COVID-19 were insufficient to tame a vicious fourth wave of infections.
"We have a highly dramatic situation-the current rules are not enough," she told a meeting of leaders of her Christian Democratic Union.
Some German states have ordered closures of the popular Christmas markets to curb the spread of the virus.
"We've come to the conclusion that there will simply be too much person-to-person contact no matter how you try to control it," said Bavaria's state premier Markus Soder, who ordered the closure of the state's markets after a steep rise in infections.
Protests break out
Elsewhere in the continent, an estimated 35,000 people gathered in Brussels on Sunday to protest against the reinforced measures that entered into force over the weekend. These include the mandatory use of the COVID Safe Ticket and the obligation to wear face masks in areas where the pass system for vaccinated residents is required.
On Monday, Dutch Prime Minister Mark Rutte condemned the riots that have broken out over recent days in cities across the Netherlands in opposition to fresh restrictions. He warned that everything possible would be done to punish the rioters.
In Rotterdam, a violent demonstration erupted on Friday evening when several hundred protesters gathered in the city center throwing fireworks and setting cars-among them at least one police vehicle-ablaze.
The worsening situation in Germany and other European countries prompted the US State Department to issue a warning on Monday to US citizens not to travel to Germany due to the "very high level of COVID-19 in the country".
Other European countries on the warning list include Belgium, the Netherlands, Austria, Denmark, Croatia and Hungary.
Belgium reported an average of more than 15,000 new cases each day from Nov 13-19, a 54-percent jump from the previous week, according to figures published on Tuesday by Sciensano, Belgium's public health institute.
Belgian Prime Minister Alexander De Croo and four other ministers began self-isolation on Tuesday after meeting with visiting French Prime Minister Jean Castex in Brussels on Monday. Castex tested positive for COVID-19 just hours after the meeting.
In the United Kingdom, Prime Minister Boris Johnson said the coronavirus situation in Europe is a concern and "you've got to be humble in the face of nature".
Speaking to reporters after his speech at the Confederation of British Industry annual conference, he noted there is "nothing in the data saying we need to move to Plan B" in Britain. "The best single thing you can all do is get your booster. When you are called forward to get it, please do so," Johnson said.
Agencies and Xinhua contributed to this story.