Isolation and online lessons aid the battle
By WANG XIAOYU | CHINA DAILY | Updated: 2021-11-25 09:09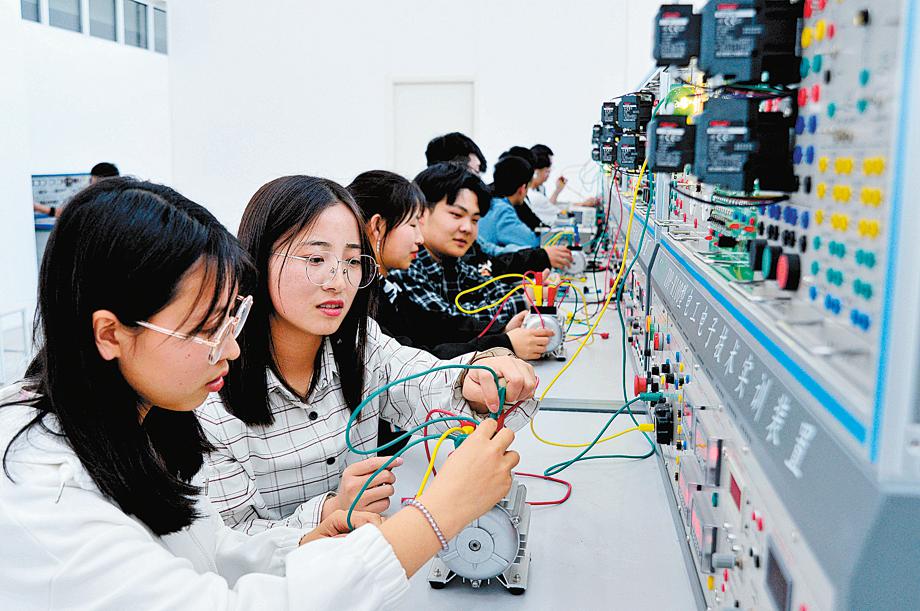 Schools must prevent COVID-19 infections detected on campus from spreading outside through prompt isolation and online teaching, an education official said at a news conference.
On Nov 13, Wang Dengfeng, head of the department of physical, health and arts education at the Ministry of Education, said schools that report new cases should immediately activate emergency plans, which include promptly delivering treatment to infected people, thoroughly sanitizing affected facilities and isolating close contacts.
If it is deemed necessary to suspend face-to-face teaching to rein in the spread of the virus, online classes should include sessions designed to guide and support the students in the transition from offline to online study, he said.
In addition to online academic courses, Wang said schools are required to provide physical education and arts classes online while providing psychological consultations.
"Virus control situations at schools are closely related to the general epidemic situation across society," he said, adding that recent infection clusters on campuses were all caused by students who were infected through contact with cohabitants at home.
"As winter is coming, local education authorities should keep track of the health condition of students, their family members and cohabitants, and whether they have travel history in areas seeing new infections," he said.
Meanwhile, the government is pushing vaccination that targets children and teenagers.
Wang said more than 95 percent of students age 18 and older had been fully vaccinated (by the time of the statement).
On Nov 13, Wu Liangyou, an official with the disease prevention and control bureau at the National Health Commission, said that nearly 84.4 million children ages 3 to 11-about half of all children in the age group nationwide-had been vaccinated.
"China is aiming to complete full inoculation of all people ages 3 to 11 by the end of December," he said.
Wang said schools across the country have started drafting plans for the upcoming winter vacation, based on local circumstances.
"In the past two years, we have accumulated rich experience of virus control measures and can swiftly roll out online teaching for different grades," he said.
The latest school-related outbreak occurred in a university town in Zhuanghe, Liaoning province.
At a recent news briefing, Pei Ying, vice-mayor of Zhuanghe, said that the virus was probably brought onto campus by staff members.
The town has now been locked down and face-to-face teaching has been suspended. More than 400 community workers and volunteers have been dispatched to provide services for students, including delivering free meals and taking out trash.