Homicide charge after parade attack
China Daily Global | Updated: 2021-11-25 09:15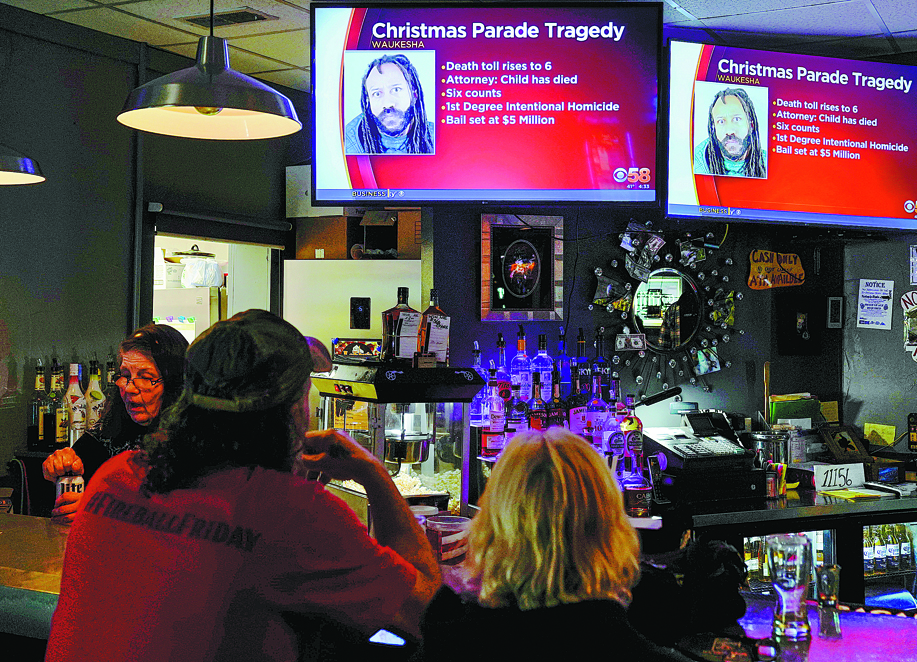 Suspect in first court appearance as child's death takes Wisconsin toll to 6
WAUKESHA, Wisconsin-The man accused of driving his vehicle into a Christmas parade near Milwaukee made his first court appearance on Tuesday since the weekend rampage and was charged with homicide.
Darrell Brooks Jr, 39, was led into court on the day the death toll from the attack rose to six.
The number of fatalities was raised after prosecutors said an 8-year-old boy had died, marking the first death of a child in the incident.
The boy, Jackson Sparks, died on Tuesday, his parents announced on a GoFundMe page. His brother, 12-year-old Tucker Sparks, was scheduled to be discharged from hospital.
The boys-among three sets of siblings hospitalized after being struck by a sport utility vehicle-were marching with their baseball team when they were hit.
Tucker has head injuries but is recovering and was being sent home, according to Alyssa Albro, the niece of the boys' parents, Aaron and Sheri Sparks. Jackson had suffered a more serious brain injury.
"The entire family is devastated," Albro wrote on the GoFundMe page.
Brooks appeared in Waukesha County Circuit Court and the court commissioner set the bail at $5 million. Authorities said Brooks deliberately drove the SUV through police barricades on Sunday and the annual parade in the city of Waukesha, about 30 kilometers west of Milwaukee.
The high bail came after Brooks was released from custody in another case after posting a $1,000 cash bond on Nov 11, an amount that the Milwaukee County district attorney's office now says was "inappropriately low in light of the nature of the recent charges" against him.
Brooks on Tuesday was charged with five counts of first-degree intentional homicide, according to prosecutors, who said he has a criminal history in three states. The charges were set before the death of the 8-year-old was disclosed. Prosecutors said more charges were pending.
Conviction on first-degree intentional homicide carries a mandatory life sentence.
In addition to those killed, more than 60 people were injured.
Brooks, a Milwaukee resident, was arrested near the scene of the carnage on Sunday. Police have ruled out terrorism as a motive and said Brooks, whose bail had been granted in a domestic abuse case, acted alone.
'A lot more than $1,000'
John Kulich, whose wife, Jane, was among the people killed in the Christmas crash, reacted with anger to the bail revelation. Jane Kulich, 52, was a mother of three and grandmother of three.
"I think my wife's life and our children's future are worth a lot more than $1,000," he told The Washington Post.
A young girl who was in a dance troupe struck by the SUV, a moment captured on cellphone videos, woke up on Monday and told doctors, "just glue me back together", according to a GoFund-Me fundraising page organized by family friend Oscar Luna.
Luna said: "She is not fully aware of the severity of her injuries but managed to say, 'just glue me back together'. Only a child could reference themselves as a little doll in this situation."
The victims killed ranged in age from 8 to 81, and included some members of the "Milwaukee Dancing Grannies" parade group.
The injured included at least 18 children, who suffered facial abrasions, broken bones and serious head injuries, and were taken to Wisconsin Children's Hospital in Milwaukee. Some were listed in critical condition, officials said. At least two of the children have been discharged from the hospital.
The incident drew the attention of US President Joe Biden, who called the attack "horrific".
At one of several vigils and services on Monday, Jeremy Wittig, 39, an information technology professional, said: "Waukesha is strong. That's why we are out here."
Videos of the incident posted on social media showed a red SUV racing alongside the parade route and then into the procession, appearing to run over more than a dozen people before bystanders raced from sidewalks to help.
"I saw children who were run over," Brian Hoffman, 33, a Waukesha resident, recounted on Monday. "I am still totally shocked."
The $1,000 bail in the previous case was set after Brooks was charged on Nov 5 with obstructing an officer, reckless endangerment, disorderly conduct and felony bail jumping in the domestic abuse case, prosecutors and state court records show.
Brooks has been charged with crimes 16 times since 1999 that include arrests for sexual abuse, drugs, battery and domestic abuse, records showed.
Agencies - China Daily