Beijing backs Teheran's legitimate rights
By Zhou Jin | China Daily | Updated: 2021-11-26 07:18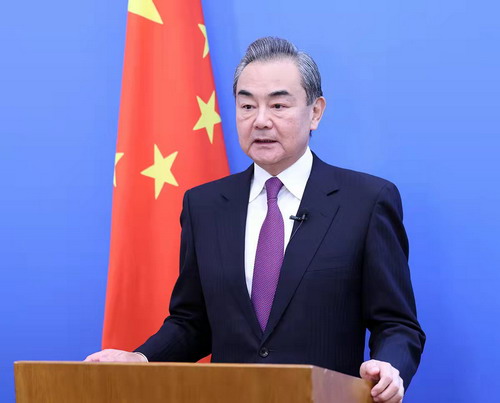 China supports Iran in safeguarding its legitimate rights and interests on the nuclear issue and calls on parties involved to jointly stay committed to negotiations, State Councilor and Foreign Minister Wang Yi said on Wednesday.
Wang made the remarks in a video meeting with Iranian Foreign Minister Hossein Amir Abdollahian, days ahead of the resumption of talks in Vienna on Monday aimed at reviving a 2015 Iran nuclear deal, also known as the Joint Comprehensive Plan of Action.
Six rounds of negotiations have been held in Vienna since April to iron out steps Iran and the United States must take in terms of nuclear activities and sanctions, respectively, to return to full compliance with the JCPOA.
Iran has urged the US to lift all sanctions in a verifiable process and provide guarantees that Washington will not abandon the deal again if the talks to revive it succeed.
China understands Iran's reasonable demands on the nuclear issue, Wang said.
The upcoming talks have brought new opportunities to pull the JCPOA back on track, but at the same time there are severe challenges, Wang noted, adding that he hopes relevant parties will jointly strive for an agreement in the Vienna negotiations.
Abdollahian appreciated China's constructive role in resuming the Vienna negotiations and said that Iran is willing to participate in the negotiations with a positive attitude.
Iran thanks China for upholding justice in the Iranian nuclear issue and international affairs, and is willing to continue to strengthen communication and coordination with Beijing, he said.
On bilateral ties, Wang said that the Chinese government has decided to donate another batch of COVID-19 vaccines to Iran.
Wang stressed that China has no intention of exporting its development model, but hopes that its experiences could be used as reference for Iran and other countries that want to speed up development while remaining independent.
China is willing to work with Iran to oppose unilateral and bullying practices, uphold the principle of noninterference in other countries' domestic affairs and champion international fairness and justice, he said.
As for the so-called summit for democracy proposed by the US and scheduled to be held in December, Wang said that it aims to instigate division in the world under the banner of democracy, encourage camp confrontation with ideological lines and carry out US-style transformation of other sovereign countries to serve the strategic needs of the US itself.
This practice goes against the trend of the times and is doomed to fail, he said.
Iran condemns politicization of sports events and believes the 2022 Beijing Winter Olympics will be a complete success, Abdollahian said.
Xinhua contributed to this story.