Asia-Europe Meeting carries multilateral way forward toward shared recovery with connectivity
By YANG HAN in Hong Kong | China Daily | Updated: 2021-11-27 00:55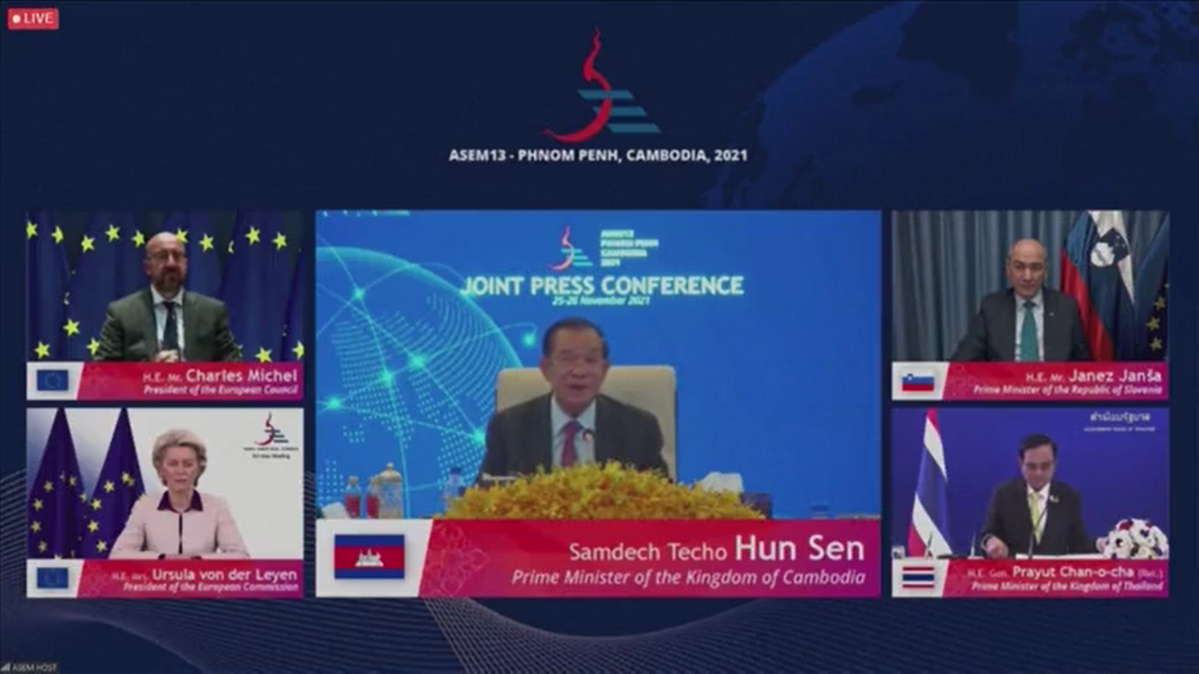 Leaders from Asia and Europe, in a Nov 25-26 summit, reaffirmed the importance of partnership and engagement for shared economic recovery from the COVID-19 pandemic.
The 13th Asia-Europe Meeting, or ASEM13, was held via video conference by Cambodia, which served as this year's chair.
Under the theme Strengthening Multilateralism for Shared Growth, leaders exchanged on a wide range of topics, including COVID-19 cooperation and post-pandemic socio-economic recovery, multilateralism and rule-based international order, climate change, connectivity and sustainable development.
"Leaders reaffirmed the importance of this partnership between Asia and Europe in strengthening dialogue and fostering action-oriented cooperation…to further advance a robust, inclusive and open multilateralism capable of addressing global and regional issues, particularly the COVID-19 pandemic," said a chair's statement adopted during the meeting on Nov 26.
According the statement, there are three pillars for Asia-Europe cooperation, including advancing multilateralism to address global and regional challenges, strengthening multilateralism for sustainable and inclusive economic recovery and growth, as well as enhancing multilateralism for social and cultural links.
The ASEM13 also adopted two other main outcome documents, including the Phnom Penh Statement on the Post-COVID-19 Socio-Economic Recovery, and The Way Forward on ASEM Connectivity.
Speaking at the ASEM13 joint press conference on Nov 26 evening, Cambodian Prime Minister Hun Sen said the three documents reflect the commitment, solidarities and joint efforts of all leaders of ASEM partners to reinforce multilateralism for a better, stronger, more inclusive, and more resilient future of Asia-Europe partnership.
"Leaders of ASEM partners remain committed to the effort toward building a harmonious, competitive, resilient, and sustainable ASEM community for the people of Asia and Europe as well as a dynamic future of Asia-Europe cooperation based on ASEM's core principles of informality, flexibility, and mutual respect in the spirit of consensus and equal partnership," said Hun Sen.
Charles Michel, president of the European Council, said Europe and Asia must continue working together to tackle the global challenges, whether the persisting ones like climate change and security, or new ones like COVID-19.
Asia-Pacific is increasingly important for the EU, said Michel, noting the EU is a top investor and also a top development cooperation and trading partner in the region.
Ursula von der Leyen, president of the European Commission, said the pandemic has highlighted the importance of having open and solid supply chains, in terms of access to vaccine and medical equipment as well as keeping factories running and workers employed.
"This is why it is so important to have a strong, mutual commitment, from the European Union and from Asia, to an open and stable trading environment," said von der Leyen.
Noting the pandemic has increased the digitalization of the economy, Slovenia Prime Minister Janez Jansa, representing the rotating European Council presidency, said while using digitalization as an accelerator of economic growth, a safe digital space should also be created where the fundamental rights of users are protected.
The Phnom Penh Statement on the Post-COVID-19 Socio-Economic Recovery reaffirmed ASEM members' commitment to reform, effectively embrace the digital economy, and harness technological transformation, said Jansa.
Established in 1996, the ASEM is an informal platform for political dialogue and cooperation between Asia and Europe. It is participated by heads of state and government and high-level representatives of 51 ASEM countries from Asia and Europe as well as representatives of the European Union and the secretary-general of ASEAN. It is held every other year, in Asia and Europe alternatively.
The ASEM13 was originally scheduled for Nov 16-17, 2020 in Phnom Penh but was delayed till this year and held via video conference due to the pandemic.
Recalling the first ASEM summit held in Bangkok in 1996, Thai Prime Minister Prayut Chan-ocha said the global context and challenges facing Asia and Europe have changed significantly.
"I believe that one approach to strengthening multilateralism is to strive for a balance of all things, both in terms of international relations and addressing global challenges," said Prayut.
China has also been an active member of ASEM, supporting multilateral cooperation.
Speaking at the ASEM13 on Nov 25 in Beijing via video link, Chinese Premier Li Keqiang said upholding multilateralism is the right choice to maintain world peace and stability and ASEM partners should uphold the international system with the United Nations at its core and shoulder their international responsibilities.
Li said China will continue to support the Asia-Europe Foundation and is ready to hold an Asia-Europe youth leaders' camp.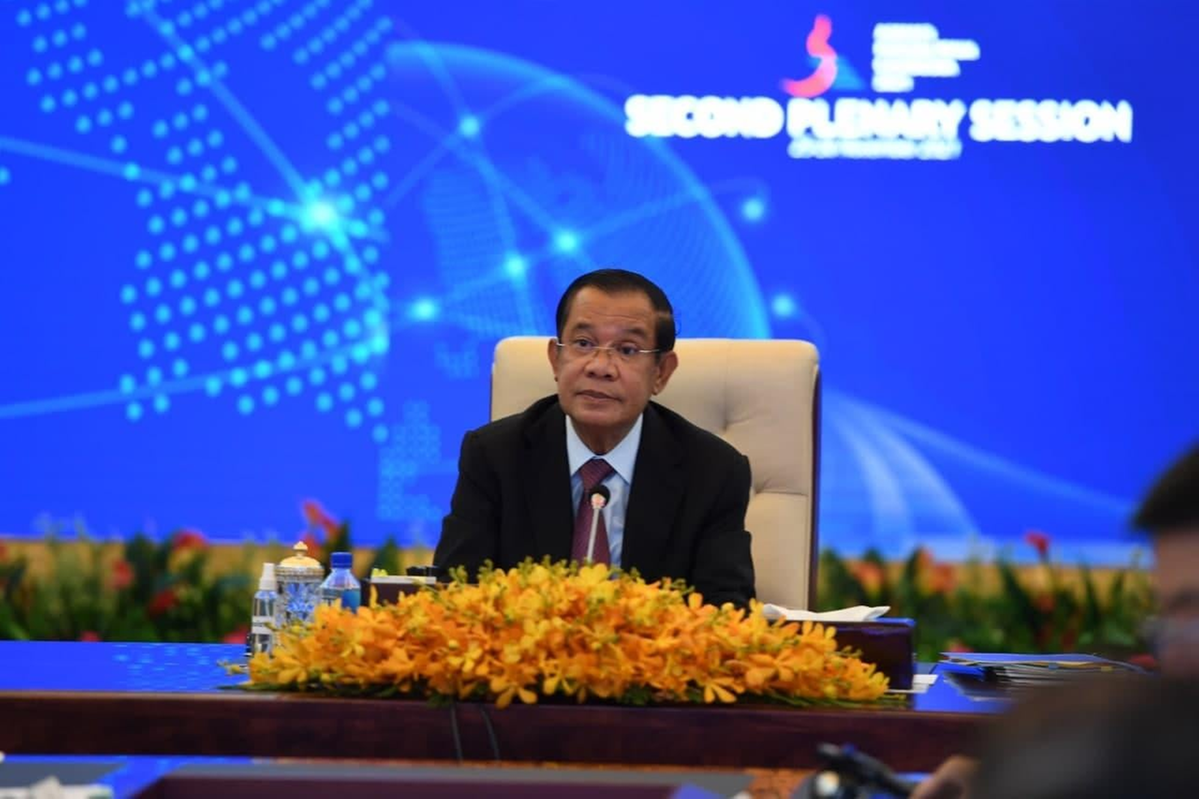 Chheang Vannarith, president of Asian Vision Institute, a think tank in Phnom Penh, said ASEM plays a critical role in global economic recovery as it represents 60 percent of global population, 65 percent of global economy, 55 percent of global trade and 75 percent of global tourism.
"(The ASEM13 chair's statement) reflects shared commitment to advance multilateralism for post-pandemic recovery and sustainable development," Chheang told China Daily.
"It reaffirms the wisdom and hope that international cooperation and multilateralism prevail within the context of ambiguous and volatile global transformation," said Chheang.
As a global great power and the world's second-largest economy, China's presence at the ASEM13 is very important, said Kin Phea, director-general of the International Relations Institute at the Royal Academy of Cambodia.
"Beyond the Asia and Europe continents, China has played a crucial role in the establishment of a new multipolar world, in promoting multilateralism and win-win cooperation for inclusive and sustainable growth and development, and in the fight against COVID-19," Phea said in an interview with Xinhua News Agency.