Tesla plans to gear up its Shanghai production line
By LI FUSHENG | CHINA DAILY | Updated: 2021-11-27 07:59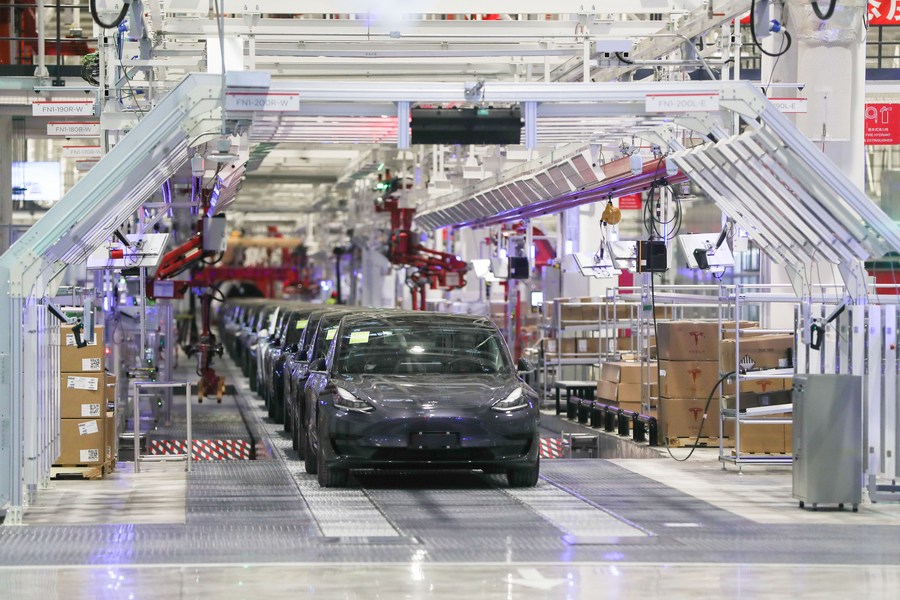 Tesla Inc is investing 1.2 billion yuan ($187.91 million) to optimize the production line at its Shanghai factory as China is rising as a major global export hub for the US electric carmaker.
The project is expected to start in December and finish in April 2022, according to Tesla's filing to a Shanghai government platform for local companies' environmental information disclosures.
Tesla did not specify the production capacity changes at the plant that currently makes up to 500,000 vehicles annually, but said it will add another 4,000 workers after the project is finished, which will increase the number of the plant's employees to 19,000.
The Shanghai plant, which started production in late 2019, is Tesla's first car manufacturing facility outside of the United States and China's first and only passenger car manufacturing facility wholly owned by an overseas carmaker.
The plant currently produces Model 3 and Model Y vehicles and sells them in China, other countries in the Asia-Pacific region, and Europe.
The facility became Tesla's major global exporter in July. In the third quarter, the plant produced 133,200 vehicles, of which 59,579 were exported, according to the carmaker's financial statement.
In the first 10 months of this year, vehicle exports from the Shanghai plant reached almost 150,000 units, and sales in China stood at around 210,000 units, statistics from China Passenger Car Association showed.
"The investment comes as no surprise, as demand for electric cars is surging both in China, where its cars are loved, and overseas markets, so Tesla needs to quickly scale up its capacity," said Roy Lu, an independent auto analyst based in Shanghai.
China is the world's largest market for new energy vehicles, including electric cars and plug-in hybrids.
Over 2.5 million new energy vehicles were sold in the country in the first 10 months of this year, and total deliveries this year could reach 3 million, according to the China Association of Automobile Manufacturers.
Besides production, Tesla is also ramping up its research and development in China.
Its research facility, which was unveiled last month in Shanghai, specializes in aspects from software and electronics to materials and charging.
Tesla said the facility, its first outside the US, will gradually develop over time to be similar in size to the one in its home country.
"The goal of Tesla's team in China is to design, develop and produce new vehicle models and products with Chinese elements and sell them globally," Tesla said in an online recruitment post earlier this year.
Tesla has also built a data center in Shanghai for local data storage. In September, Tesla CEO Elon Musk said data security is becoming even more important as vehicles are becoming smart and autonomous.