Older job seekers run into employment hurdles
By CHENG SI | China Daily | Updated: 2021-11-29 09:10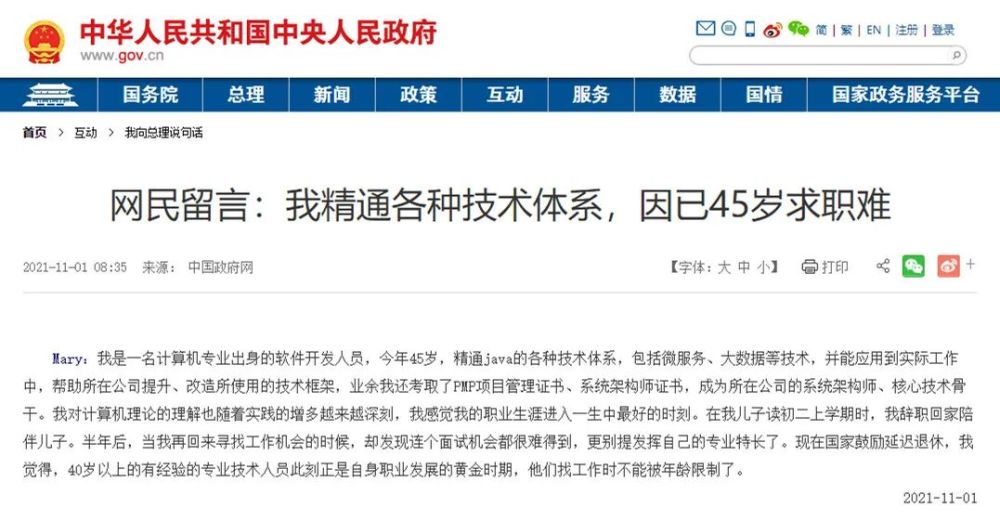 A recent post left by a 45-year-old computer programmer on the State Council's website has stirred heated debate on the difficulties older people face in landing new jobs.
The programmer, using the name "Mary", said they had professional qualifications in the Java programming language and big data, and were once part of a company's "tech backbone".
However, they were turned down by several companies before even being interviewed when they tried to find a new job after spending six months at home with their son.
"Mary" is not alone. In January, a joint report by the State Council's Development Research Center, the China Development Research Center and Zhaopin, an online hiring portal, said people older than 35 may face a higher risk of long-term unemployment.
It said their advancing years, depreciation of their work skills and resulting decline in their confidence were the main reasons they had difficulties landing new jobs.
The report said that a survey conducted last year showed the number of job seekers older than 50 rose by 32.3 percent between February and September, with more men than women looking for work.
About 80 percent of those surveyed who were older than 35 said their age was the main barrier hampering them in finding new jobs. Zhaopin said the number of resumes submitted by job seekers over 35 on its platform rose by 4.3 percent year-on-year between February and September last year, while the number submitted by job seekers under 35 fell by around 11 percent.
"I felt lucky that I finally got a new job in July," said Zhang Chen, a 36-year-old accountant in Beijing. "I didn't even think that age might become a problem for me, but I felt offended when I heard the interviewers jeering at my age and previous working experience."
He said that becoming old is an inevitable part of life and it's extremely impolite to reject job seekers because of their age.
"Working experience and ability matter, don't they? I'm sorry that people of my age or above face discrimination," he said.
Liu Yan, a customer manager at a construction company in Beijing, said that recruiting people under 35 years old is an implicit standard at her company.
"I was astonished when I heard that, because I am getting close to 40 years old, too," she said. "But I can understand why my company has such a requirement as we are a construction company that needs its employees to run around different construction sites that may be in some far away places like the Tibet autonomous region. It's really hard for people who are older or who have children to take care of."
The report said that for job seekers above 35 years old, the main pressure is not finding a new job, but finding a "good" job. For older job seekers, adjusting their requirements, learning more digital work skills and unleashing their potential to start their own businesses were much more important than getting stuck in self doubt or self criticism.
Chu Yin, an economist, said in a video posted on Douyin that those serving in high-tech positions need to think about transferring from technician jobs to becoming product managers or working in marketing positions after 30.
"Positions requiring higher creativity will need candidates who are even getting into their 60s or 70s-even 80 years old," he said. "But the fact is that most of the technical personnel nowadays are not fundamentally different from ordinary workers whose experience or skills are not that important, other than having a strong body and being able to stay up late."
Shen Jianfeng, a professor at the Law School of Central University of Finance and Economics, said that workers may face career hurdles as they get older because their efficiency might be lower and they are more likely to get injured. Joint efforts are needed to eliminate discrimination against older workers, he said. Workers need to embrace lifetime learning, while companies should shoulder their social responsibilities to train their workers and help them surmount career barriers.