Pernod Ricard prepares to distill locally produced malt whisky in China
By ZHONG NAN | China Daily | Updated: 2021-11-29 09:11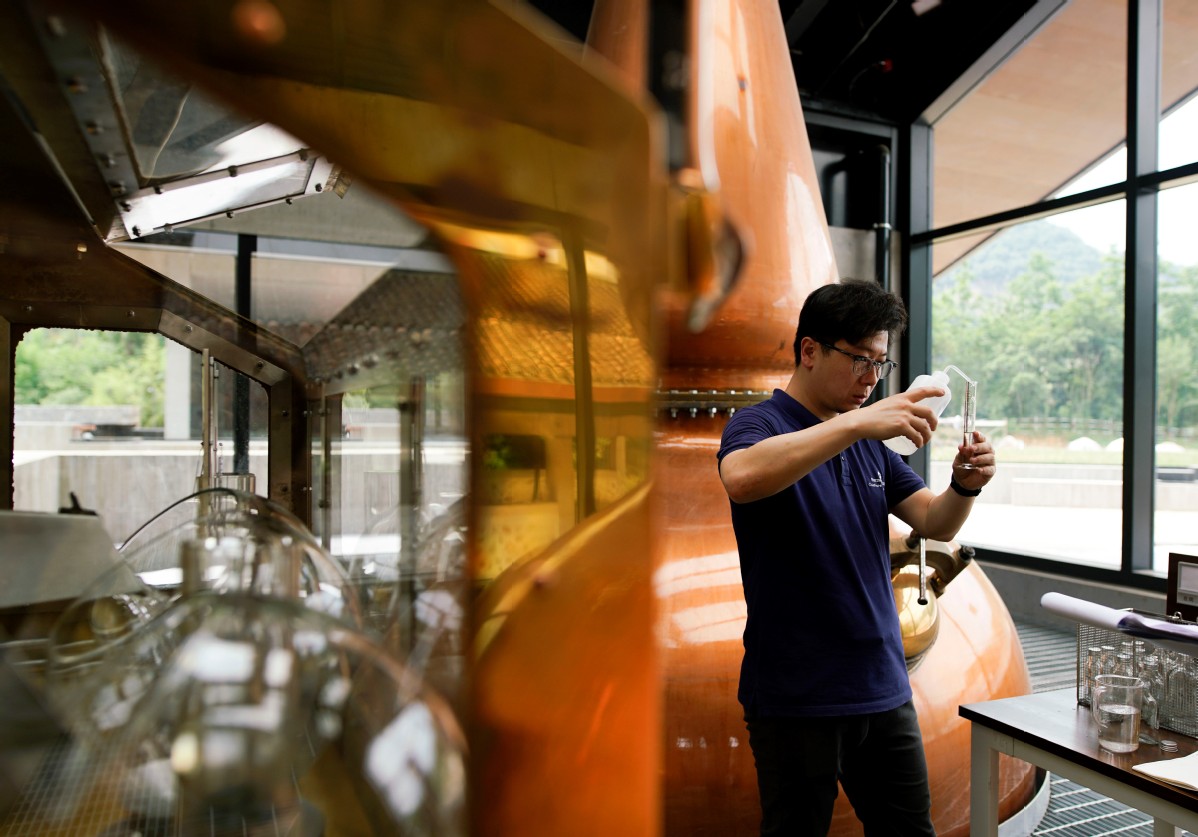 China, home to liquors like baijiu (white liquor) and huangjiu (yellow wine), is not a place where consumers would expect to find locally produced malt whisky, especially since it has a much smaller group of fans.
However, there has been a surge in China's whisky market over the past few years as Chinese consumers are not just seeking out the spirit but also looking for diversified tastes, origins and cultures. Pernod Ricard, a French wine and spirits group, will begin to supply locally produced whisky for Chinese consumers in the years ahead.
With an investment of 1 billion yuan ($156.5 million), the group unveiled a new malt whisky distillery in Emeishan, a city in Southwest China's Sichuan province, reflecting its accelerating efforts to cash in on soaring demand in the country. The group is a four-time exhibitor at the China International Import Expo, held annually in Shanghai.
Philippe Guettat, chairman and CEO of Pernod Ricard Asia, said, "The pristine water in Emeishan, which is already renowned for its high quality, will help cement our company's pioneering position at the forefront of China's whisky market."
The facility, named The Chuan Malt Whisky Distillery, will appoint spirits' expert Yang Tao as its master distiller. Yang will blend authentic Scotch craftsmanship with unique Chinese characteristics to produce a malt whisky for customers in China and other parts of the world.
Pernod Ricard aims to build this malt whisky distillery into a cultural icon for Sichuan and even for China that brings unparalleled sophistication. With a visitor center set to open in 2023, the distillery aims to draw two million tourists in its first decade, enriching Sichuan's cultural influence and promoting the local economy.
Pernod Ricard is the world's second largest producer of wine and spirits, including Absolut Vodka and Martell Cognac. Its consolidated sales stood at 8.82 billion euros ($9.9 billion) in its 2021 fiscal year. It achieved whopping growth of 44 percent in China, hitting a milestone to sate the growing appetite for high-quality wine and spirits by Chinese consumers.
The group started in China three decades ago with modest operations and its net sales today have passed the symbolic threshold of 1 billion euros.
The company believes the trend of Chinese consumers embracing more diversified categories of wine and spirits will only get stronger, especially among the middle-income group and younger generation, in the coming years.
With China setting a target to combat climate change by speeding up reductions in emissions to achieve carbon neutrality before 2060, Guettat said the distillery upholds Pernod Ricard's commitment to nurturing local environmental conditions under its 2030 Sustainability and Responsibility Roadmap.
The distillery is designed to contribute to carbon neutrality by sourcing 100 percent renewable electricity, minimizing the use of natural gas and offsetting remaining emissions in a biogas program in Sichuan. All the wastewater on the site will be processed as the distillery takes on a local preservation approach in using mostly recycled and local materials in its construction to cut its carbon footprint.
Moreover, the materials used throughout will take their influence from the distillery's location, with stone walls built from boulders extracted from the ground during leveling and roof tiles assembled by a mixture of reclaimed and new tiles in the region, to infuse history and local heritage into the design.
Eager for market share in China, global companies in a variety of sectors invested $129.26 billion in the first three quarters, up 25.2 percent year-on-year, the Ministry of Commerce said.
The implementation of the agreement between China and the European Union on the protection of geographical indications earlier this year, covering more than 270 European and Chinese agrifood names, would contribute to the world's economic recovery and support China's opening up, said Zhang Jianping, director-general of the China Center for Regional Economic Cooperation at the Chinese Academy of International Trade and Economic Cooperation in Beijing.
A geographical indication is a sign used on products that have a specific geographical origin and possess qualities or a reputation due to that origin, the World Intellectual Property Organization said.
Driven by an increasingly urbanized and high-income Chinese population and their evolving tastes, China is currently counted among many global players' main markets in terms of revenue, said Guo Xin, a marketing professor at Beijing Technology and Business University.
"The country's dual-circulation development paradigm, holiday periods and online shopping festivals, as well as the stay-at-home economy pushed by the COVID-19 pandemic, have all created growth momentum," Guo said.
Under the dual-circulation model, the domestic market is the mainstay while the domestic and foreign markets reinforce each other.