China helps light up green African future
By ZHAO RUINAN | China Daily | Updated: 2021-11-30 07:25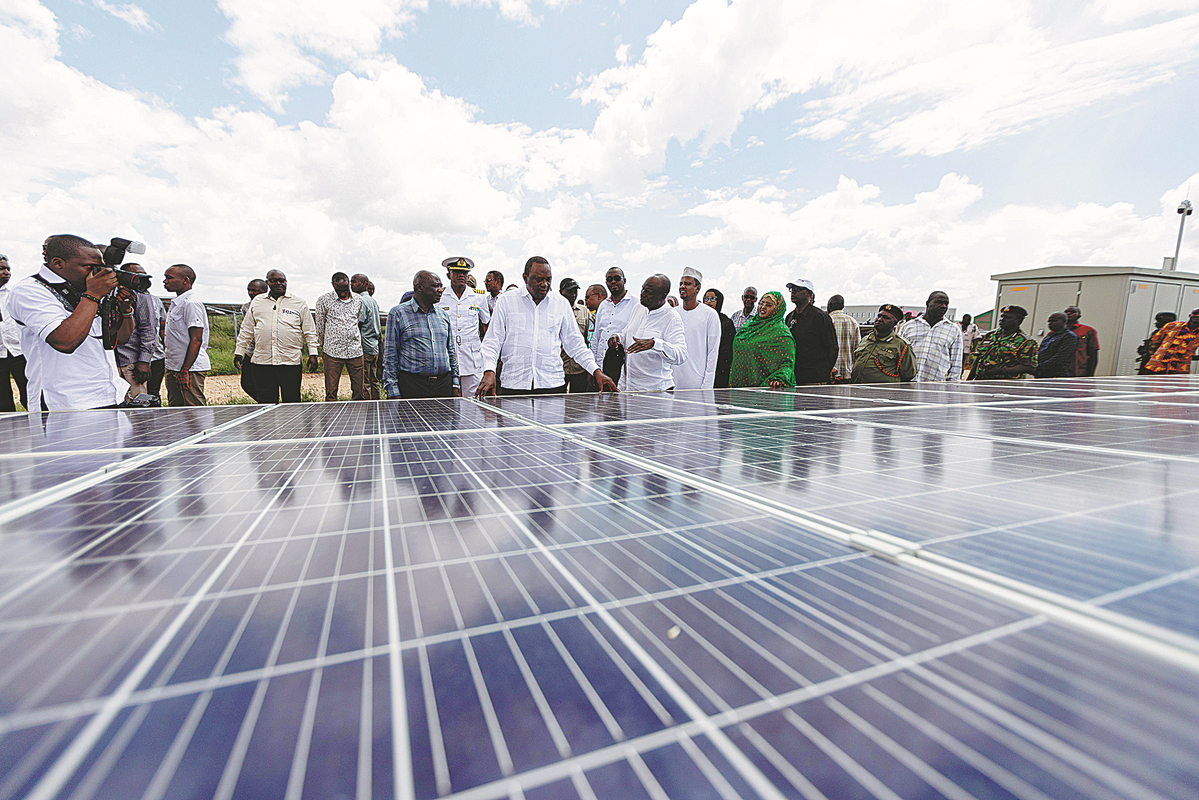 Huge bridges, desert-crossing highways and paved roads winding through vast tracts of land are just some of the images that pop up when people think about the burgeoning cooperation between China and Africa.
Those images can do with a refresh, taking on a greener hue, as the partners pick up the pace in the quest for sustainable and environmentally friendly development.
Not that China can be considered a newcomer when it comes to Africa's green energy development and industrialization. Out in the forbidding desert in Ethiopia, a Chinese company has been helping the country build a wind farm, as part of the country's strategy to build a green economy.
With a projected total installed capacity of 120 megawatts and an energy output of 467 gigawatt-hours a year, the Aysha wind power project-with work led by Dongfang Electric International Corporation-is expected to boost Ethiopia's energy output. Construction got underway in 2018.
Many other green-themed projects have sprung up in recent years on the continent.
In Kenya's Garissa county, the neat and dense solar panels installed by China have benefited thousands of families and businesses.
The Chinese-built, 50-megawatt photovoltaic power station-the largest power station of its kind in East Africa-was fully connected to the country's national power grid in 2019. It has enabled commercial activities to flourish in Garissa and other counties in the dry north as residents enjoy an uninterrupted power supply in an area once plagued by blackouts.
Adhere Cavince, an international relations scholar, said in an interview with Xinhua News Agency that China has injected vitality into the continent's quest for climate resilience.
While observing that funding and technological bottlenecks have gummed up parts of Africa's green transition, Adhere hails China's support for the implementation of renewable energy programs.
"China has been the leading partner in the continent's desire to switch to solar and wind energy," Adhere said.
According to the International Renewable Energy Agency, between 2009 and 2018, China upgraded Africa's solar capacity from 739 megawatts to 5,500 megawatts; wind energy installations during the same period jumped from a paltry 108 to 6, 100 megawatts.
China launched the BRI International Green Development Coalition in April 2019. The coalition has so far carried out environmental protection exchanges and cooperation initiatives with more than 100 countries, and implemented many biodiversity projects.
China and African countries also have accelerated their efforts to nurture talent in the green energy sphere, and engaged in technology sharing.
According to China's Environment Minister Huang Runqiu, the country has helped train more than 900 Africans in workshops on urban environmental management and water pollution control since 2015.
Last year, the China-Africa Environmental Cooperation Center, first proposed at the FOCAC Johannesburg Summit in 2015, was launched in Beijing.
Making a difference
And it's not just the big Chinese companies that are making a difference in Africa's green energy landscape; smaller businesses are also spreading their wings in the sector.
Hui Honglin, a consultant for Lighting Global, a World Bank Group initiative aimed at increasing access to off-grid solar energy for people living without electricity worldwide, said that China's private companies-especially small and medium-sized enterprises-are ramping up their efforts in Africa's green development, alongside the State-sponsored corporations.
Africa has the greatest potential to develop solar energy thanks to its geographical advantages, said Hui, who also sees a bright future for wind power.
According to the International Energy Agency, 55 percent of the continent's population lack access to electricity. And the shortfalls in power supply are also hurting its industries.
Hui talks of the role Chinese companies can play in helping to bridge the gap between the continent's rich resources and its ability to give full play to nature's gifts.
In the Lighting Africa Program, part of the Lighting Global Program, more than 40 percent of the companies participating in the project-as Lighting Global Quality Assurance members-are from China, said Hui. The number has doubled over the past few years, he said.