Sonova bullish on hearing aid market in China
By ZHU WENQIAN | China Daily | Updated: 2021-12-01 09:16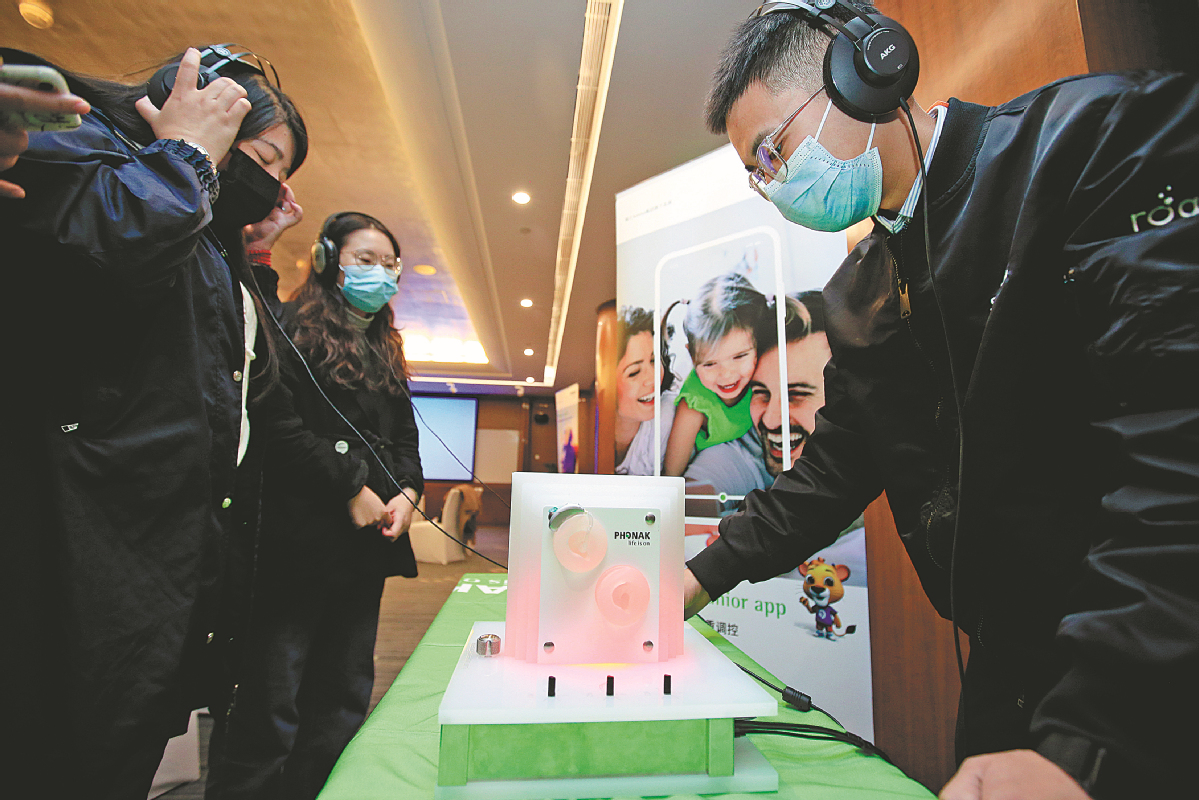 Switzerland-based Sonova Holding AG, the world's biggest hearing solutions provider, said it has seen stronger-than-average sales growth in China in the past six months, fueled by growing demand of related products in the country, especially since the COVID-19 outbreak, as the booming online interaction has spurred the demand for hearing aid devices and solutions.
Sonova said during the pandemic era, video calls and using smartphones and tablets to communicate with each other are playing a vital role. In mid-November, the company reported better-than-expected half-year earnings, citing solid recovery amid pandemic and other headwinds.
From April to September, Sonova's global sales revenues came in at 1.6 billion Swiss francs ($1.74 billion), 50 percent above its performance in the same period of last year, beating analysts' estimates.
Compared to pre-pandemic levels in the first half of the financial year in 2019-20, sales this year were up 17.7 percent in local currencies, representing a two-year compound annual growth rate (CAGR) of 8.5 percent globally. In China, Sonova said it achieved double-digit two-year CAGR, but did not disclose specific numbers.
"In China, we have built a direct-to-consumer team with about 30 people based in Shanghai, and they are working with Tencent and Alibaba to reach more people about hearing aids online and help further boost public awareness," said Arnd Kaldowski, chief executive officer of Sonova.
"For the company, there are obviously very significant opportunities to grow in China and to reach more people about hearing loss solutions. It's important for us to drive awareness on the consumer side. Besides, we need to continuously train experts who can treat hearing loss problems," he said.
Sonova said so far this year, it has opened 15 new brick-and-mortar stores in China. For those more advanced and sophisticated hearing aid products and cochlear systems, the company has seen higher sales growth in the country.
The World Health Organization had estimated there are more than 460 million people globally who have disabilities in hearing loss. By 2050, the number is expected to hit 900 million.
According to a projection by WHO concerning China's population base, the number of people aged 65 and above experiencing hearing difficulty in China is expected to exceed 50 million this year. In an increasingly aging society, the number of elderly people who might experience hearing loss may be growing further.
The utilization rate of hearing aid devices though is quite low in China. About 60 percent to 80 percent of those with hearing loss problems are not using hearing aid devices, a survey conducted by the European Hearing Instrument Manufacturers Association said.
"Our main consumer groups in China include pediatric patients who need hearing solutions, as the problem could have a profound impact on their life, and the reimbursement tends to be good," Kaldowski said.
For children, wearing hearing aid devices could provide others opportunities to make fun of them, and Sonova said it needs to be aware of the problem and take into consideration when designing related products.
Those suffering from hearing loss due to senior age usually start with mild degree symptoms. Then it could develop into moderate and profound hearing loss. The average age of those who tend to buy hearing aid devices globally is 70. After the age of 50, people should start taking hearing tests, the company said.
Sonova said it has made significant investments in China. In Suzhou, Jiangsu province, its factory exports a large number of hearing aid products to the global market. It is also developing more medical solutions around sensor technology and is assessing the integration of artificial intelligence into hearing aid devices.
In addition, Sonova said it would take a look and decide about attending the annual China International Import Expo held in Shanghai in the future.