Big plans for e-commerce growth
By ZHANG YUE | CHINA DAILY | Updated: 2021-12-01 09:48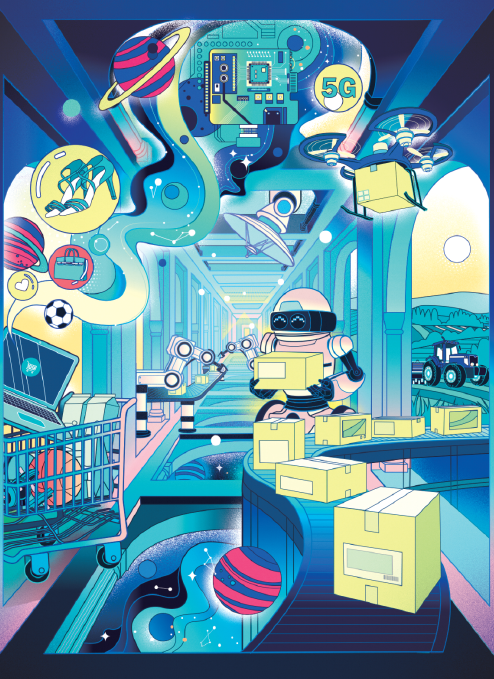 Guideline stresses need for quality as industry matures
China will prioritize quality over quantity in growing e-commerce as the sector matures and devises new indexes for its development to enable it to play a notable role in catalyzing high-quality growth during the 14th Five-Year Plan period (2021-25), experts and industrial insiders said.
On Oct 27, the Ministry of Commerce, the Office of the Central Cyberspace Affairs Commission and National Development and Reform Commission jointly released a guideline aimed at boosting e-commerce development during the 14th Five-Year Plan period, mapping out development priorities for the sector and establishing growth targets in specific areas.
Under the plan, e-commerce will be increasingly integrated with primary, secondary and tertiary industries by 2025, and the digital transformation of the industrial and supply chains will be continued, becoming a significant force for the transformation and upgrading of traditional industries and rural vitalization.
By 2035, e-commerce is expected to become an important driver of China's economic, scientific and technological strengths. It will promote the efficient allocation of resources in and be a crucial element of China's modern economic system.
The central government has been crafting five-year plans specifically for e-commence since the 11th Five-Year Plan period (2006-10), when the idea was still relatively new. Experts believe that in the past decade, particularly during the 13th Five-Year Plan period (2016-20), the e-commerce sector achieved notable progress, and issuing guidelines every five years has helped by setting a clear path for the emerging sector.
Zhang Li, head and a senior researcher of the e-commerce department at the Chinese Academy of International Trade and Economic Cooperation, said the five-year plans serve as a government-formulated guideline in promoting the stable, sustained, healthy and innovative development of e-commerce by mapping out prospects for market entities.
The guideline noted that today, e-commerce is deeply integrated and is having a notable impact on the digital transition of China's socioeconomic development.
During the 14th Five-Year Plan period, e-commerce transactions are expected to reach 46 trillion yuan ($7.2 trillion) by 2025, compared with 37.2 trillion yuan last year. E-commerce related employment is also expected to hit 70 million during the same period, up from about 60 million currently.
The plan further stated that as domestic and international e-commerce markets are increasingly interconnected, globalization will be significantly improved and the ability to coordinate global resources will also be enhanced.
Also, three new subindexes for e-commerce development were added: the industrial e-commerce penetration rate; the transaction volume for rural e-commerce; and the transaction volume for cross-border e-commerce.
Zhang said the three areas have undergone robust growth over the past five years and will be key indicators during the new five-year period, adding that their e-commerce growth will play an important role in overall growth. The introduction of the new subindexes is also a sign that the focus is shifting from quantity to quality.
Specifically, she explained that industrial e-commerce is directly linked to the integration of e-commerce and traditional industries, impacting their transition and upgrading.
"Also, e-commerce in rural areas played a notable role in poverty alleviation during the 13th Five-Year Plan period. It is expected to have a greater impact on promoting rural vitalization, catalyzing rural consumption and uplifting the modernization of the rural economy," she said.
Zhang also said she believes cross-border e-commerce is serving as a new model for foreign trade.
"During the 14th Five-Year Plan period, overseas trade is expected to grow at a rapid pace as it shifts from general trade characterized by bulk commodities, to a cross-border e-commerce model focused on smaller batches and more product diversity, which will be significant in promoting high-quality trade growth," she said.
Industry insiders believe the guideline's new subindexes and growth targets are well researched and will help drive development of the e-commerce sector.
Lyu Zhibin, head of new consumption research at Ali Research, an arm of e-commerce giant Alibaba, participated in creating the latest five-year plan as an industry insider and representative. She has worked at Alibaba for more than a decade, during which time China's e-commerce sector transformed life and the landscape of consumption, boosting growth.
Lyu said that over the last 10 years, e-commerce in China has grown from a marginal domestic industry into a sector with notable global influence and that compared with the 13th Five-Year Plan period, when e-commerce was not fully mature, the 14th Five-Year Plan period will focus on improving quality growth.
The sector is expected to see healthier development while shouldering greater responsibilities, consolidating its leading, innovative role in overall industrial upgrading.
"We believe the issuing of the new development plan for e-commerce will boost business confidence and anchor market expectations," she said.