Cosmetics samples gain more popularity
By ZHENG YIRAN | China Daily | Updated: 2021-12-02 09:38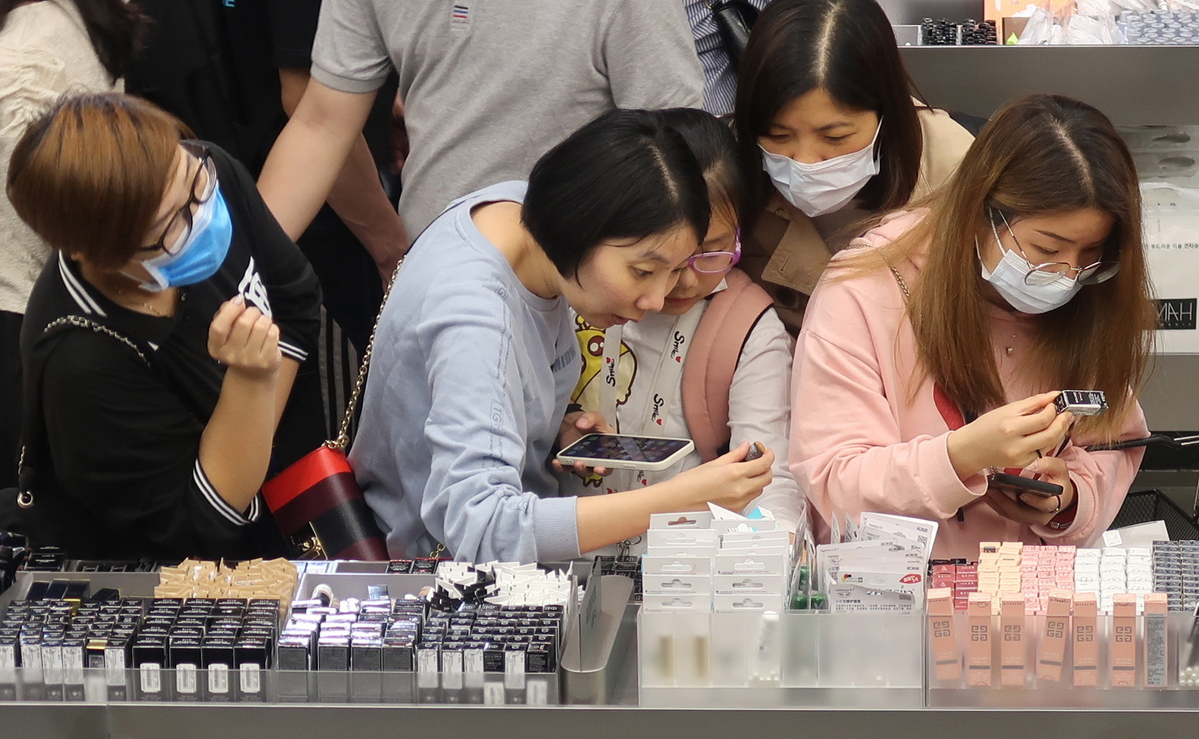 Cosmetics samples, which used to be not-for-sale products, are becoming popular items for sellers to enhance brand influence and acquire customers.
Lou Qian, a 24-year-old office clerk in Shanghai, is a customer so attracted.
"My work requires me to visit clients frequently. I need makeups for good images. As the price tags of high-end cosmetics always drive me out of the store, the samples help me out."
"For example, a 30-milliliter bottle of liquid foundation of Armani costs 950 yuan ($149). However, a 5-ml sample only costs 99 yuan. Compared to skincare products which are more frequently used, girls often buy a wide range of cosmetic products and use only a little of each at a time. In this case, buying samples is more cost-efficient," she said.
The cosmetics collection store that Lou often visits is called Harmay, which sells samples of a variety of luxury cosmetics, and the prices range from 30 yuan to 300 yuan.
The store is popular among young girls. The first Harmay outlet was established in 2017, and it just took the company four months to break even, which in normal cases for traditional offline cosmetics stores takes at least 12.
Since 2020, more and more cosmetics collection stores are putting cosmetics samples on the shelves. Shanghai-based Haydon completed a new round of financing in September. It planned to open 20 such outlets in 2021 and 50 more next year.
Hangzhou-based Only Write received over 10 million yuan of investment at the beginning of this year, and planned to use the money to expand 100 stores.
"With limited consumption power though, young consumers would like to lead an exquisite life with limited amount of money. At the cosmetics collection store, they can get a taste of luxury cosmetics from buying the samples. This is why samples are favored," said Yuan Guobao, a financial columnist and internet trend observer.
Data from secondhand e-commerce site Xianyu showed that on Nov 12, 2020, the posts of secondhand cosmetics samples surged 201 percent compared to the level of two days before. Cosmetics samples had become the most popular secondhand commodity on Xianyu during last year's Double Eleven shopping festival.
A report from industry information e-network Chyxx estimated China's cosmetics industry to top 500 billion yuan by 2022, and surge to around 549 billion yuan by 2023.
Meanwhile, in relatively mature markets, the economic benefits of the business were apparent. Data from market research firm NPD Group showed that in 2018, the sales of cosmetics samples in the United States reached $1.2 billion, up 13 percent on a year-on-year basis.
"Selling cosmetics samples raises the per customer transaction and lowers the threshold for new customers. Our overall profit rate was raised," said Wang Junchao, founder of Harmay.
Cosmetics brands have sensed the growing demand from customers for samples. Consumer products giant Procter & Gamble spends 500 million yuan on samples every year, while Chinese functional skincare brand Winona has sent out 300,000 free samples, and managed to attract 290,000 new customers.
At the beginning of this year, Tmall launched a one-yuan store in Hangzhou, Zhejiang province, selling over 30,000 samples of cosmetics of around 80 brands. The store attracted hundreds of thousands of consumers.
It also launched "Tmall U First"-a portal on Tmall that enables customers to buy cosmetics samples at low prices. Data from Tmall showed that the activity level, visitor retention and user stickiness of Tmall U First were satisfying.
Industry experts said that prices, along with the core competitiveness of a brand, are key to opening the incremental market. The less expensive samples enable brands to acquire new customers and enlarge brand influence.
"Although sample buyers are not interested in original packages, once they find a sample satisfying, they will save money to get it," Yuan said.
"Cosmetics samples help firms reach more consumers. However, for the companies, the most important thing is to raise research and development abilities, so that the products can stand out to attract more loyal consumers," said Lai Yang, an expert with the China General Chamber of Commerce.