Service corners improving life for outdoor workers
By LI HONGYANG | China Daily | Updated: 2021-12-02 10:39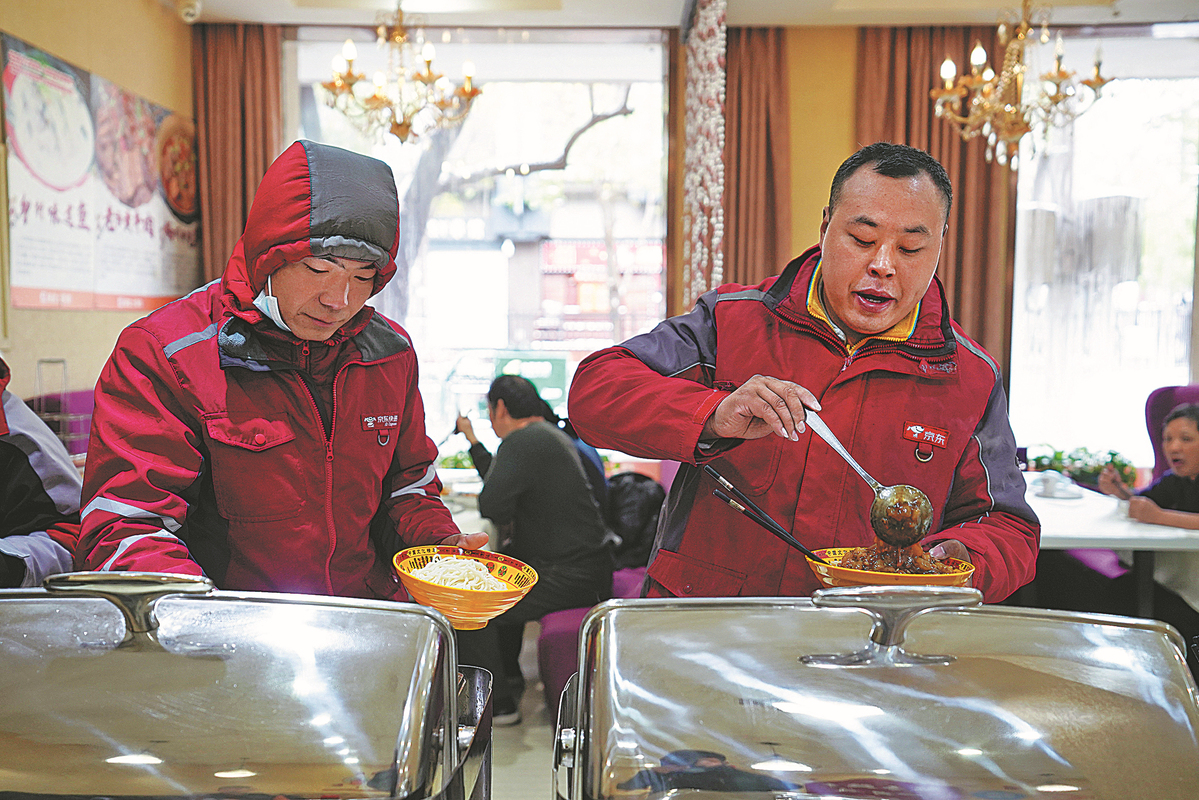 Service corners have been set up in restaurants, bakeries and supermarkets around Beijing to provide a place for outdoor workers to rest and stock up on water, medical kits, battery chargers and other basic necessities.
Deliverymen, sanitation workers, parking wardens and other outdoor workers are free to use these spaces, which are usually about 10 square meters in size.
Without them, outdoor workers are often forced to rest on their scooters, or sit by the roadside or in underground passages.
One northwestern cuisine restaurant near the Xiyuan subway station provided space for setting up a service corner in response to a campaign launched by the neighborhood office.
"I am happy to offer space and assistance to outdoor workers to pass on a positive spirit. I deal with deliverymen a lot, and I have seen how hard things can be for them," said Li Hui, the restaurant's manager.
"They buy instant noodles for lunch but sometimes can't get boiling water. As well as giving them hot water, service corners like ours will help eliminate the embarrassment they used to face. The happier they are, the better the service they will provide."
So far, about 27,000 service corners have been set up around Beijing, and there are plans to add another 3,900, the Beijing Daily reported in May. The corners are marked with a sign.
A 40-year-old deliveryman surnamed Zhang said that before the corners were created, he often thought about taking a break indoors to get warm in winter or to cool off in summer, but he usually didn't.
"Relaxing indoors is good, but the hustle and bustle in restaurants makes me uneasy. I'm also worried that customers and shop owners are bothered by our presence. I'm more used to resting on my scooter under a tree and playing with my phone," he said.
Zhang was a farmer in Siping in Northeast China's Jilin province. He left home for the capital in 2018 because he is able to earn about 9,000 yuan ($1,409) a month here, three times his income at home. He rents a room for 1,500 yuan a month with his wife, who works nearby as a waitress. Their child is in middle school in Siping.
"I have to save money for my family, and sometimes I am so busy, I don't notice the service corners, and neither do my co-workers. Maybe it will take a little time for us to get used to them," he said.
Li Na, the manager of a supermarket in Haidian district, said that her company had set up a service corner at the entrance in response to an appeal from the neighborhood office.
"We're doing this to make outdoor workers, most of whom are from marginalized groups, feel connected to society. For example, workers, especially deliverymen, who feel this warmth from society may then be more willing to volunteer to help those such as the elderly who live alone," she said.