Poll: US youth lack faith in their model of democracy
By YIFAN XU in Washington and CHEN YINGQUN in Beijing | CHINA DAILY | Updated: 2021-12-04 07:43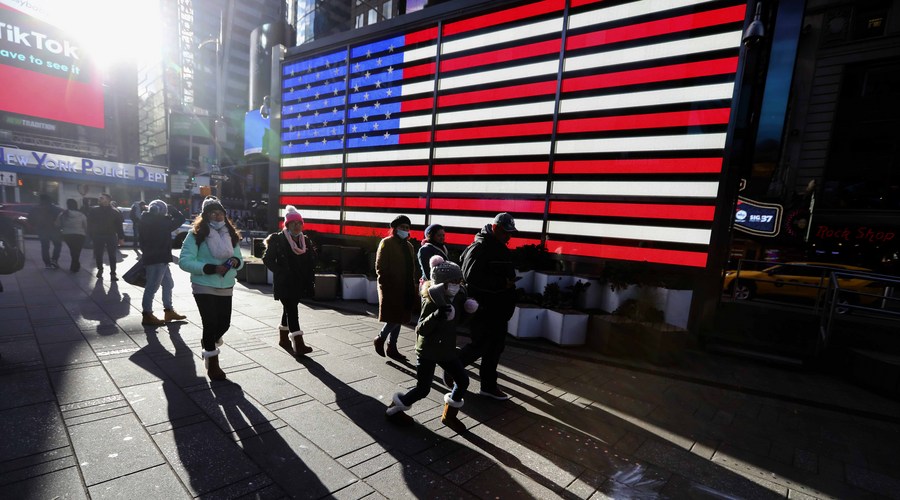 As US President Joe Biden prepares for next week's virtual "democracy summit", voters in the United States are questioning the effectiveness of their own nation's political system.
A majority of young people in the US believe that their country's political system is "in trouble" or "failing", according to a national poll released on Wednesday by the Institute of Politics at Harvard Kennedy School.
In the survey, 2,109 US citizens between the ages of 18 and 29 were interviewed.
Thirty-nine percent view the US as a "democracy in trouble", while another 13 percent described the nation as a "failed democracy". Only 7 percent believe that the US is a "healthy democracy", and 27 percent called it a "somewhat functioning democracy".
Among Republican voters, 47 percent said that the US was a "democracy in trouble", while 23 percent said it was a "failed democracy". Democrat voters were divided between 44 percent saying that the US political system was "healthy/somewhat functioning", and 45 percent saying that it was "in trouble/failed".
Fifty-one percent of independent and unaffiliated young people in the US believe that the nation's political system is in trouble or has failed.
Concurrently, there has been a 13-point drop in Biden's job-approval rating since the last Harvard Youth Poll in the spring-from 59 percent to the current 46 percent, in a group that leaned heavily toward the Democrats in the 2020 election.
Institute of Politics Director of Polling John Della Volpe said that the poll suggests young people in the US are disappointed with the nation's political leaders and concerned about the future of the country.
"When they look at the America they will soon inherit, they see a democracy and climate in peril," he said.
Joy Tanasha, a 28-year-old student in Los Angeles, told China Daily that she agreed that the US political system was in trouble, as was shown by the recent protests in her city. She suggested that "every reform attempt should begin and end with the capacity to comprehend and address the general population's needs".
Risper Faith, a 26-year-old online tutor, is among the young people in the US who view its version of "democracy" as having failed.
She said that the majority of the population has been denied access to their constitutional rights throughout the country's history. She emphasized that the COVID-19 pandemic had fueled a crisis for the political system in the US, with the deterioration of human rights.
"All segments of society, the economy, and the government must work together to tackle the challenges of power and inequality. The dream of a democratic government can never be realized if such an attempt is not undertaken," Faith told China Daily.
Cao Guangzhang, associate professor at the Institute of Contemporary China Studies at the Chinese Academy of Social Sciences, said that there are a number of important factors to take into account to see whether a particular form of democracy works.
Cao said that one needs to see whether a political system is adapted to a country's history and culture, whether it conforms to its conditions, whether it can deliver political stability and social progress, whether it can improve people's lives, whether it can win public support, and whether it can contribute to advancing the progressive cause of humanity.
In recent years, huge flaws have been revealed in the US political system in terms of how it has dealt with a range of issues, such as the COVID-19 pandemic, the Capitol Hill riot of Jan 6, and the "Black Lives Matter" movement.
"After going through all these, it is not difficult to understand why young Americans believe that the so-called American democracy is 'in trouble' or is 'failing'," he said.
A CNN survey in September revealed similar findings among US citizens of all age groups as the Harvard Youth Poll, with a considerable proportion of people in the US lacking confidence in the country's political system.
According to the CNN survey, 56 percent said that the country's political system was under attack and 51 percent said that elected officials were likely to overturn the results of a future election if their party did not win it. Only 6 percent said that "democracy" in the US was in no danger.
Another poll conducted last month by National Public Radio showed much more partisan opinions. Overall, 58 percent said that they trusted elections in the country either a great deal or a good amount.
However, while nearly 90 percent of Democrats and 60 percent of independents believe elections in the US are fair, only one-third of Republicans think so. This sharp divide may lead to more challenges to election results in the future.