Russia urges 'security guarantees' on borders
By REN QI in Moscow | China Daily | Updated: 2021-12-04 09:19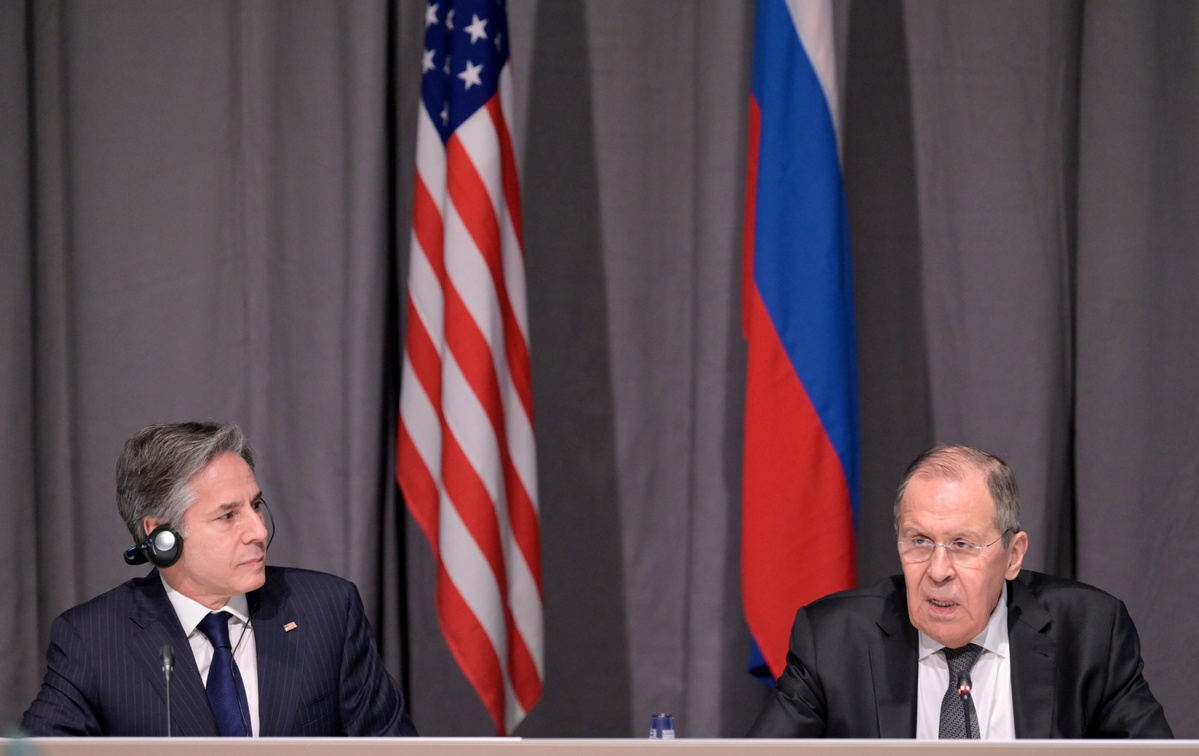 Moscow warned on Thursday that NATO's further expansion eastward directly threatens Russia's security, but said it hopes for "contact" with Washington.
During a meeting in Stockholm on the sidelines of a ministerial meeting of the Organization for Security and Cooperation in Europe, US Secretary of State Antony Blinken and Russian Foreign Minister Sergey Lavrov discussed the normalization of diplomatic missions of both countries, the Ukraine issue, items on the international agenda and bilateral relations.
"Any further NATO expansion eastward undoubtedly compromises our core security interests,"Lavrov said at the meeting.
Addressing the broader OSCE meeting earlier in the day, Lavrov urged Ukraine to abide by its obligation with a 2015 peace agreement for eastern Ukraine that envisaged a broad autonomy for the rebel regions, warning that Kiev's refusal to honor it is a "way toward a catastrophe".
He also warned the West it's "playing with fire" when it argues that Russia doesn't have a say in NATO's expansion plans.
"I want to make it crystal clear: Turning our neighbors into a bridgehead for confrontation with Russia, the deployment of NATO forces in the regions strategically important for our security is categorically unacceptable," he said.
NATO Secretary-General Jens Stoltenberg said earlier that the bloc intends to prevent a conflict with Russia but will support Ukraine.
"The task is to prevent conflict from happening. That's first of all the reason why we call Russia to stop its aggressive actions against Ukraine," Stoltenberg said.
He underscored that NATO provides "guarantees of security" to its member states, while Ukraine is not one of them.
"Ukraine is a partner we provide support and training capacity,"Stoltenberg said, underscoring that the members of the alliance can expect full protection by NATO in case of aggression.
At a news conference in Riga, Blinken also urged Russia to move its troops away from the Ukrainian border and asserted that "we've made it clear to the Kremlin that we will respond resolutely, including with a range of high impact economic measures that we've refrained from using in the past".
As Lavrov warned that the "nightmare scenario of a military confrontation was returning" in Europe, Blinken said it was "likely the presidents will speak directly in the near future".
Russia also said that it hopes for "contact" between Russian President Vladimir Putin and US President Joe Biden in the coming days.
"The date has not yet been agreed. There are difficulties in aligning the calendars of the two leaders, but contact is very necessary, our problems are multiplying," said Russia's Deputy Foreign Minister Sergey Ryabkov.
"The situation in Europe is very alarming," he added. "It's clear that this will be one of the main topics of discussion at the presidential level."
Agencies via Xinhua contributed to this story.