Pomp, punk usher Merkel out of office
By CHEN WEIHUA in Brussels | CHINA DAILY | Updated: 2021-12-04 09:24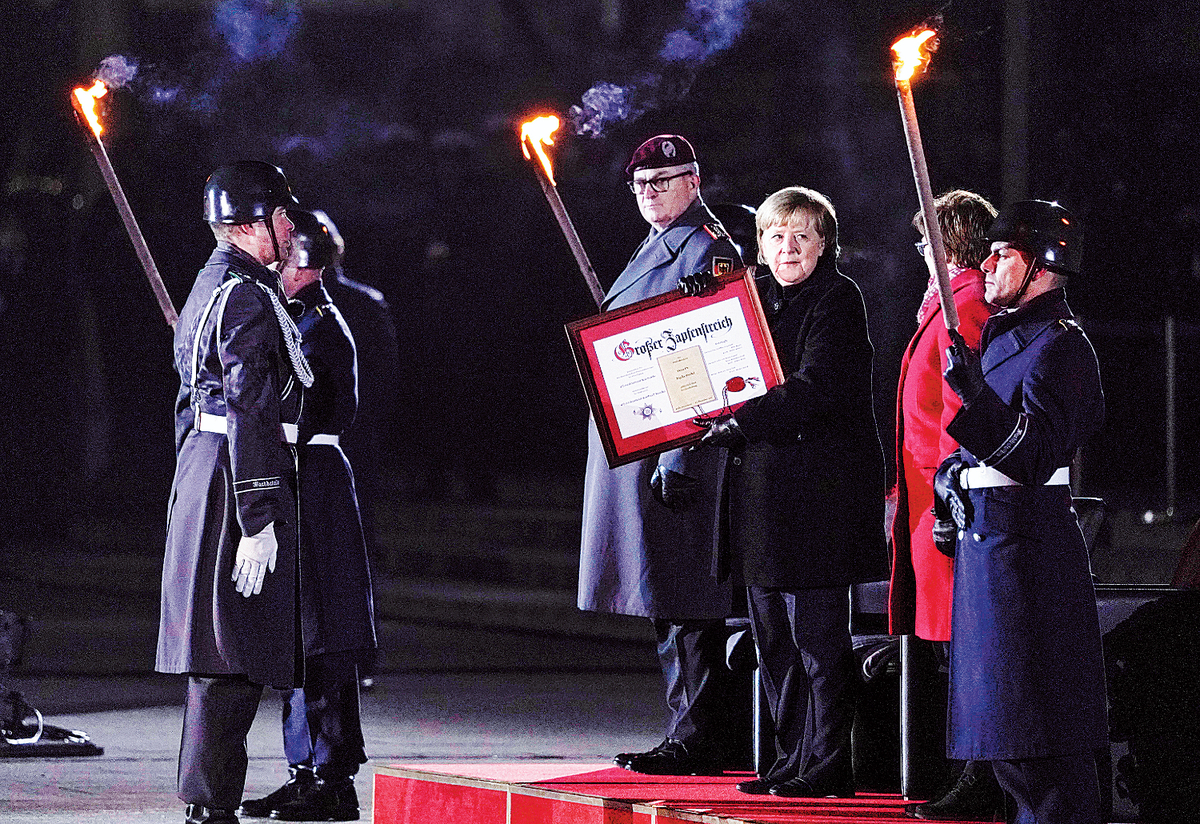 Leader honored with a traditional military ceremony
Outgoing German Chancellor Angela Merkel was honored on Thursday with a traditional military ceremony to bid farewell to the nation less than a week before German parliament is expected to elect current Vice-Chancellor and Finance Minister Olaf Scholz as her successor.
Merkel thanked fellow Germans in a short speech at the ceremony held in the Ministry of Defense's Bendler Block complex in the capital Berlin. She called on Germans to approach life with "lightness of heart" and be "optimistic" about their country's future.
"Sixteen years as chancellor of Germany were full of events, often very challenging-politically and as a human being," said Merkel.
A scientist by training, Merkel said multiple crises have shown the importance of international cooperation, while tackling the challenges that face the world.
The 67-year-old added that the last two years of the pandemic in particular has shown "how important trust in political leaders, science and public discourse really is".
"I would like to encourage you in the future to look at the world from other people's perspectives as well,"Merkel said.
Merkel has been among the most highly regarded world leaders in various global surveys over the past years.
The Thursday evening ceremony known as Grosser Zapfenstreich, or Grand Tattoo, is the highest military ceremony for a civilian and has become the unofficial farewell ceremony for presidents, chancellors and defense ministers.
Merkel is only the third German chancellor to be honored with such a ceremony, following fellow Christian Democrat Helmut Kohl in 1998 and Social Democrat Gerhard Schroder in 2005.
The military ceremony, which lasts about 20 minutes, goes back to the days of Prussian militarism when it was first established in the 16th century and became set in its structure in the 19th century.
Three songs were performed by the military band at Merkel's request. One is the 18th century Christian hymn Holy God, We Praise Thy Name. The second is a popular chanson by German singer Hildegard Knef called It Shall Rain Red Roses for Me. The third one, You Forgot the Color Film by East German punk singer Nina Hagen in 1974, drew special attention.
In the song, Hagen tells of a young woman lamenting that her boyfriend failed to take color photos of their beach holiday.
Second-longest tenure
Merkel is the first German chancellor from former East Germany. Her tenure is only slightly shorter than her mentor Kohl.
In a planning statement on Thursday, the German parliament said Scholz is expected to be officially elected as German chancellor on Dec 8 to replace the outgoing Merkel.
"Chancellor election day-expected on Wednesday, Dec 8,2021," said the Bundestag in the statement.
Scholz, which won the national elections on Sept 26 by beating Merkel's Christian Democratic Union, announced a coalition with the Greens and the Free Democratic Party.
Merkel's sending off came at a difficult time as Germany is experiencing a new wave of COVID-19 infections.
As a result, Merkel announced on Thursday to tighten restrictions for those unvaccinated.
After a meeting with Scholz and the leaders of 16 federal states, she said people who are not vaccinated will not be able to access nonessential shops, restaurants and places of culture or leisure.
"Today, we talked about an act of national solidarity," she said.
Speaking alongside Merkel, Scholz expressed his belief that mandatory vaccinations against COVID-19 should be required as the number of vaccinated German citizens is insufficient.
"Therefore we must now do this," he said. About 68 percent of Germans are now fully vaccinated.
Agencies contributed to the story.