A natural attraction
By Xing Wen | China Daily | Updated: 2021-12-04 15:25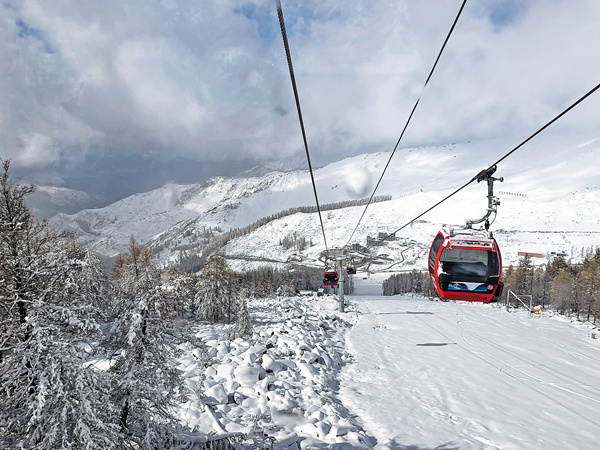 Resort offers the thrills and spills of winter sports set amid a glorious setting, Xing Wen reports in Keketuohai, Xinjiang.
Is there a place where tourists can feast their eyes on the colors of the season? A place where autumn foliage is ablaze in the vibrant colors of amber, auburn and crimson and a frozen winter world coated in white beckons the traveler.
Yes, and I've been to such a place in early October.
It's Keketuohai in Altay prefecture, Northwest China's Xinjiang Uygur autonomous region.
The Keketuohai International Ski Resort to be exact. It opened to the public on Oct 1, becoming the country's first ski resort to kick off its new ski season this year.
The resort is located perfectly on a natural hillside.
At the foot of the mountains, I could see leaves, from incandescent red to lightning gold, tinge the land and cows leisurely graze near a stretch of white birch forest.
As our car slowly climbed up the hill, the smell of winter invaded the air. It began to snow heavily. We had to drive slowly to avoid going skidding off the road.
The resort's location has already become a world of ice and snow.