Putin, Biden face off on Ukraine situation
By HENG WEILI in New York | chinadaily.com.cn | Updated: 2021-12-08 09:24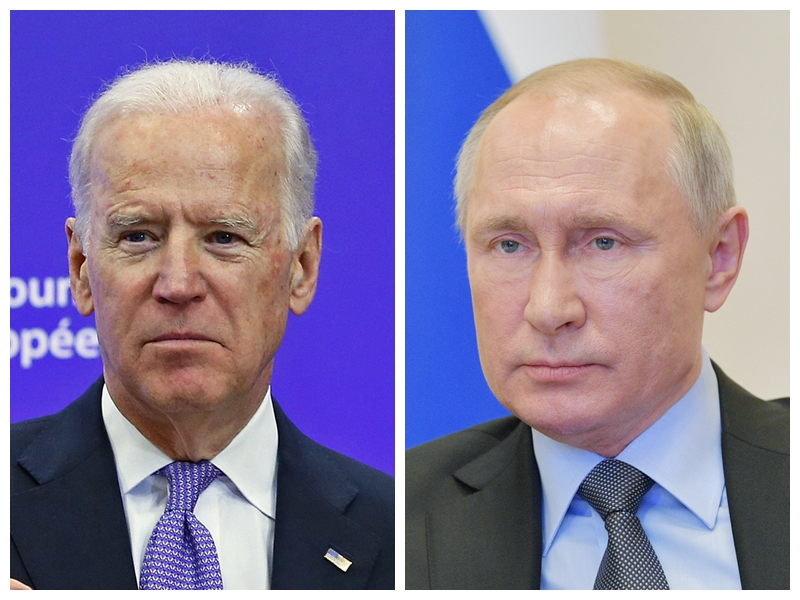 US President Joe Biden and Russian President Vladimir Putin held a virtual summit on Tuesday, with Ukraine lodged in the middle of a geopolitical chess match.
Biden told Putin during the two-hour meeting that the West would impose "strong economic and other measures" on Russia were it to invade Ukraine.
The Russian leader responded that it was NATO "making dangerous attempts to conquer Ukrainian territory" and "building up its military potential at our borders".
US officials said before the videoconference that Biden would tell Putin that Russia and its banks could be hit with the toughest sanctions yet if it attacks Ukraine.
The sanctions, which one source told Reuters could target Russia's biggest banks and Moscow's ability to convert roubles into dollars and other currencies, are designed to dissuade Putin from using tens of thousands of troops gathered near the Ukrainian border.
David Cortright, director of the Global Policy Initiative and professor emeritus at the Keough School of Global Affairs at the University of Notre Dame, wrote on The Conversation website Tuesday that, "For these or similar sanctions to be effective, the United States would need allies. Past US measures against Russia have often been unilateral and without the support or participation of other major states or the United Nations.
"Such unilateral sanctions are seldom successful," Cortright wrote. "In an increasingly globalized world economy, unilateral sanctions face huge obstacles — even when imposed by the world's largest economy."
US national security adviser Jake Sullivan told reporters after the call, "Things we did not do in 2014 we are prepared to do now," referencing Russia's annexation of Crimea from Ukraine. That year, Barack Obama was US president and Biden was vice-president.
"[Biden] told President Putin directly that if Russia further invades Ukraine, the United States and our European allies would respond with strong economic measures," said Sullivan. "We would provide additional defensive material to the Ukrainians above and beyond that which we are already provided. And we would fortify our NATO allies on the eastern flank with additional capabilities in response to such an escalation."
Russian Foreign Minister Lavrov noted the day before the call that "significant units and armaments from NATO countries, including American and British, are being moved closer to our borders", RT.com reported.
In Tuesday's call, Putin told Biden that Russia shouldn't have to withdraw troops from its own territory when "they do not threaten anyone", Yury Ushakov, a Russian presidential aide said. "Putin said that you, the Americans, are worried about our battalions on Russian territory thousands of kilometers from the United States."
Moscow has voiced irritation over Western military aid to Ukraine, a former Soviet republic that has leaned to the West since a pro-Russian president was toppled in 2014, and what it calls creeping NATO expansion. Shortly after the 2014 coup, Russia annexed Crimea, which contains the vital Black Sea port city Sevastopol.
The Kremlin said Putin told Biden he wanted legally binding guarantees against NATO expansion and complained about the alliance's attempts to "develop" Ukrainian territory.
Putin also called for guarantees that offensive weapons systems would not be deployed in countries near Russia, the Kremlin said.
Moscow has questioned Ukrainian intentions and said it wants guarantees that Kyiv will not use force to try to retake territory lost in 2014 to Russia-backed separatists in eastern Ukraine.
For the Kremlin, the growing NATO embrace of Ukraine — and what it sees as the unacceptable prospect of alliance missiles in Ukraine – is a "red line" it will not allow to be crossed.
Biden responded previously that he wouldn't accept anyone's red lines.
"Let him (Biden) try to cross them. ... The Armed Forces of the Russian Federation remain in a state of military readiness and are ready to carry out any orders of our commander-in-chief," Andrei Kartapolov, State Duma Committee on Defense leader, said on Russian public TV Monday, adding: "Don't play with fire. Don't mess with us."
US officials have told members of Congress they have an understanding with Germany about shutting down the Nord Stream 2 gas pipeline if Russia invades Ukraine, a senior congressional aide said.
"If Vladimir Putin wants to see gas flow through that pipeline, he may not want to take the risk of invading Ukraine," Sullivan said Tuesday.
Ukrainian Defense Minister Oleksiy Reznikov, in an interview with The Daily Beast on Monday, said that the only way to deter Russia would be for NATO to help bolster Ukraine's military.
"The [only] guarantee would be the West's practical steps towards strengthening Ukraine's defense capability and our army," Reznikov said. "So that the price of a possible escalation would become unacceptable for the Kremlin's military plans, and also, a clear preventive signal to Russia that the escalation of the war would destroy Russia economically. Only such an approach would be a guarantee."
Russia has repeatedly denied allegations that it will launch an offensive against Ukraine. Kremlin press secretary Dmitry Peskov has called the accusations "hysteria" fanned by the Anglophone and Ukrainian media, RT.com reported.
Where the situation heads is unclear, but the US may not be willing to escalate the situation in Eastern Europe beyond economic sanctions, particularly with stark political divisions and surging inflation domestically.
Washington's last foreign-policy adventure ended in an abrupt, chaotic withdrawal from Afghanistan in August, with a loss of military personnel and billions of dollars of weaponry.
Reuters contributed to this story.