Graduates from Laos contribute to railway project
By CAO CHEN in Shanghai | China Daily | Updated: 2021-12-09 07:07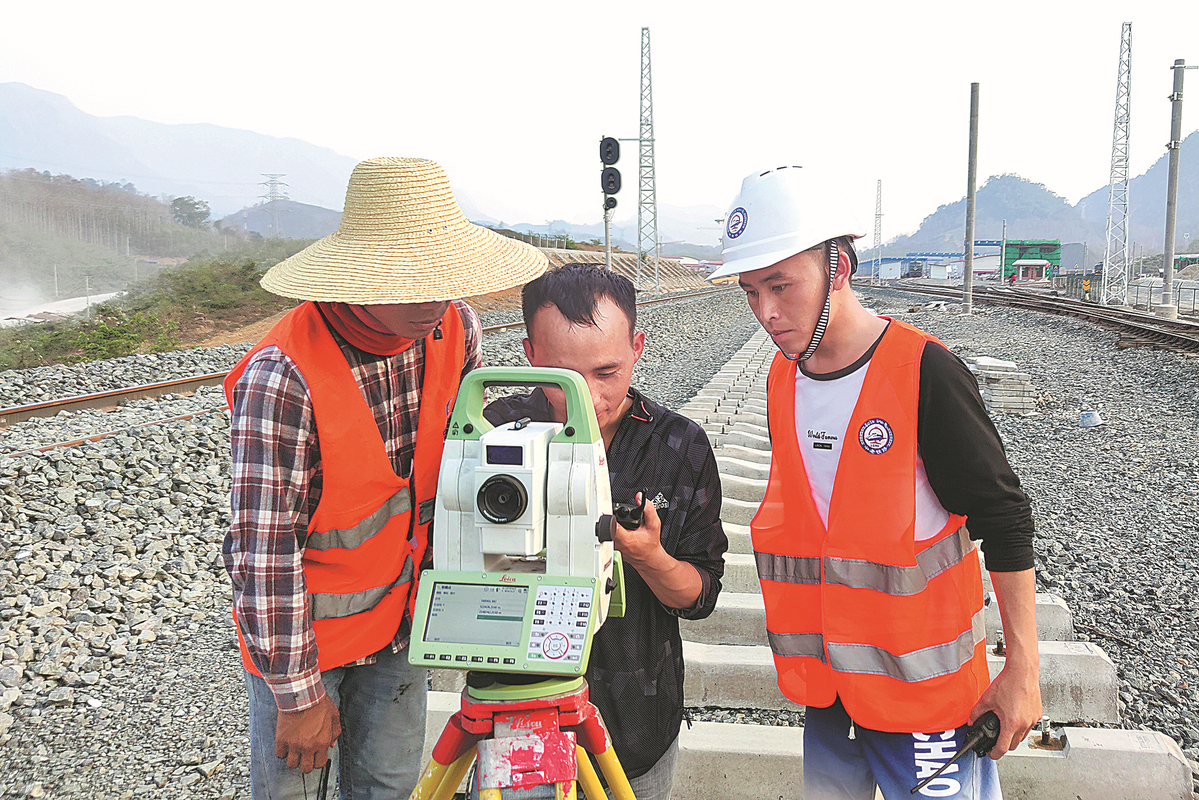 The opening of the China-Laos Railway on Friday marked the start of a new phase in Laos' strategy to transform itself from a landlocked country to a land-linked hub.
The completion of the railway was made possible by the combined efforts of various groups of professionals and experts, including Laotian railway engineering graduates from the Shanghai Institute of Technology.
They are part of the first group of Laotian students who pursued undergraduate studies at SIT for three years after completing their freshman year at Souphanouvong University in Luang Prabang, Laos.
One of the graduates, Vongthor Chonglao, said the courses at SIT were practical and included topics ranging from the history of materials to steel structures, mechanics and math, all of which were applicable during his internship at China-Laos Railway Co. The company was involved in the construction of the railway.
Chonglao, 24, is one of the first nine students to graduate from the cooperative program, which was launched in 2017 by SIT and Souphanouvong University. They have since found jobs at China-Laos Railway Co, whose headquarters are in Vientiane, the capital of Laos, and China Railway Kunming Bureau Group Co in Yunnan province.
Li Peigang, director of SIT's Institute of Railway Engineering, said the program was initiated after research at universities in Laos.
"When the construction of the China-Laos Railway began in 2016, we believed that it was necessary to cultivate local specialists in the field," Li said.
"Shanghai has the world's largest subway system and a comprehensive high-speed railway network. As such, we were sure that the city would offer a good environment for the training of Laotian students."
Thirty-one engineering students from Souphanouvong University have pursued bachelor's and master's degrees at SIT since 2018.
Aside from academics, cooperation between SIT and institutions such as the Shanghai Railway Administration and the Shentong Metro has helped students hone their skills through visits, lectures and other activities.
"The graduates will foster international exchanges between the two countries and share their knowledge with their peers and local residents," Li said.
La Thor, a graduate of Luang Prabang, took charge of a team at China-Laos Railway Co's second bureau during his training. He assisted with the management of railway construction plans and the laying and maintenance of tracks from Vientiane to Boten, a Laotian town bordering China.
"It takes around four days to travel from the south of Laos to the north," he said. "With the China-Laos Railway, it will take us less than half a day. This will enhance the economy, tourism and life in my home country."
Thor said the language barrier was the first challenge he faced in China, and he overcame it by using translation tools as he learned Chinese. He now holds an HSK Level IV Chinese proficiency certificate.
"I'm excited the railway has been opened to traffic, and what I've learned through the program in Shanghai will benefit my career development," he said.
Li said a China-Laos railway engineering laboratory dedicated to the monitoring of infrastructure, equipment, data sharing and analysis was established in September. Based in Shanghai, it is a joint venture between Souphanouvong University, the National University of Laos and enterprises such as China-Laos Railway Co and CHC Navigation.
"The lab will cooperate with local companies to carry out research in matters such as flood prevention monitoring and disaster prevention based on the environmental characteristics and geological conditions of Laos," Li said. "Supported by technology including the Beidou Satellite Navigation System, we hope the lab can be useful in improving Laos' new infrastructure and contribute to talent cultivation."
Li Wenju, Party secretary of SIT's School of Railway Transportation, which houses the railway engineering institute, said the Shanghai institute expects to cooperate with more countries involved in the Belt and Road Initiative, such as Thailand and Myanmar, through academic programs in the coming years.