Europe moves closer to integrated forces
By CHEN YINGQUN | China Daily | Updated: 2021-12-10 09:53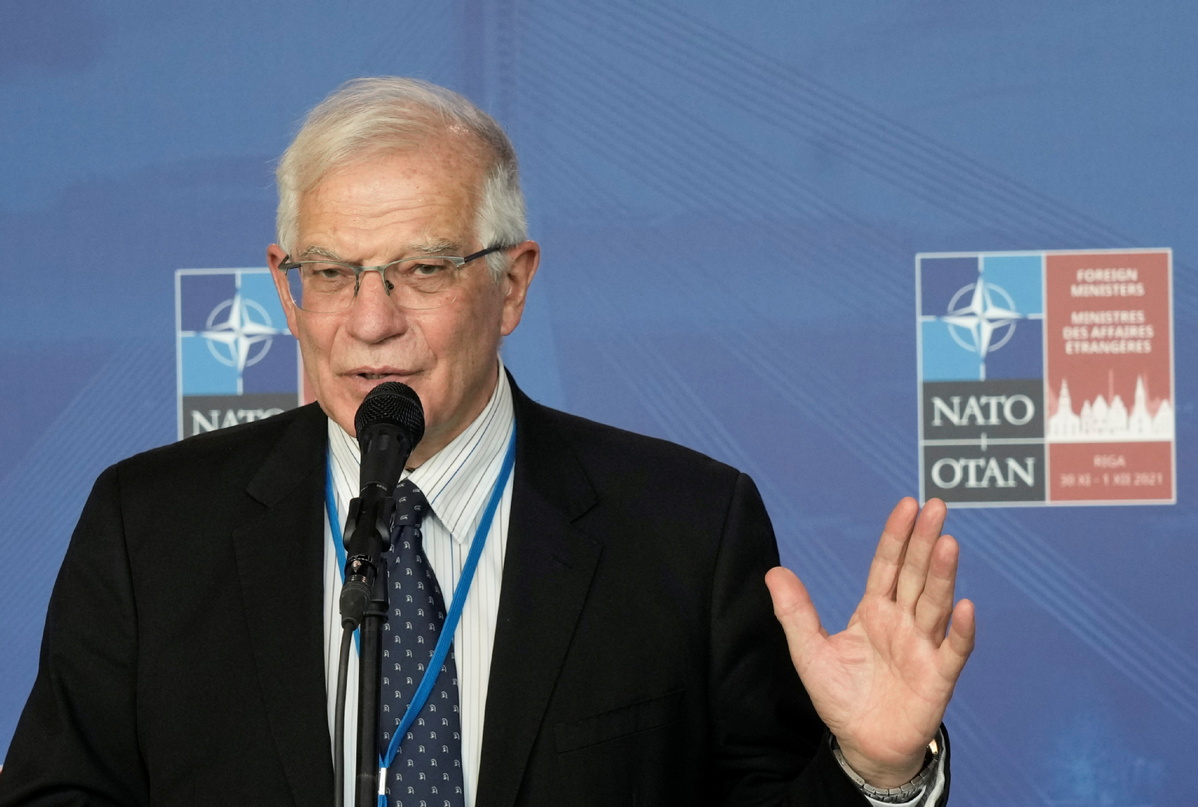 Doubts raised by US actions serve as spur for combined defense strategy
European countries are feeling an urgency to move toward integration of their defense forces and reduce their reliance on the United States, analysts say in noting the significance of a proposed defense strategy aimed at preparing the bloc for a range of crises.
The new strategy, called the Strategic Compass, was "not just another policy document" but a guide for action with concrete measures and timelines", Josep Borrell, the EU's high representative for foreign and security policy, said last month.
Under the proposal, the EU's member states would create a rapid-reaction force of 5,000 personnel by 2025. The force would be made up of land, sea, and air components that could be swapped in and out of any standing force, depending on the crisis, Borrell said.
Not all 27 EU member states would need to take part in the strategy, although approval of any deployment would require their consensus. Italy and France, two of the bloc's military powers, have welcomed the draft.
Sven Biscop, director of the Europe in the World Program at the Egmont-Royal Institute for International Relations, a think tank in Brussels, said the EU is pushing member states to link up their defense efforts to enable their forces to constitute a coherent whole. In doing so, they would be capable of all types of military operations.
The EU is set to adopt the Strategic Compass for its security and defense policy in March next year.
"To be credible, that needs to be accompanied by a real capability initiative," he said.
Zhao Yongsheng, a professor at the Academy of China Open Economy Studies at the University of International Business and Economics, said that since the end of World War II, Europe has relied on the US-led North Atlantic Treaty Organization, or NATO, for its security.
But then came the US' abrupt withdrawal of its troops from Afghanistan, the row between France and the US after Australia walked out on a multibillion-dollar submarine deal with Paris in favor of an alternative one with Washington, in addition to the tensions arising from the US' policy of maximum pressure on Iran. These issues have sharpened awareness among European countries, especially France, of the urgency to strengthen the bloc's strategic autonomy, the scholar said.
"The main reason for the EU's rapid-reaction force entering the substantive preparatory stage is because many EU member states, including France, have increasingly felt that they should reduce the reliance on the US for ensuring the continent's security," Zhao said.
'Brain death'
Due to historical reasons, Germany has been cautious about building EU military forces, but French President Emmanuel Macron has repeatedly called for the creation of a European army. He famously declared in 2019 that NATO was experiencing "brain death".
Zhao said that the EU has long been mired in crises, including those triggered by migrant inflows and the Brexit wrangling with Britain. Compounding its problems is the rise of unilateralism, protectionism, and regional instabilities around the world.
"The EU needs to make moves to safeguard its interest and maintain global influence," he said. "Linking defense efforts will also boost cohesion within the bloc, which has been ravaged by the COVID-19 pandemic."
Zhao said the EU has set a timetable for the establishment of a rapid-reaction force, which means it has taken an important step toward achieving strategic autonomy. However, it remains to be seen how practical the force could be, as member countries are in conflict with one another on a number of issues.
NATO chief Jens Stoltenberg said in September that he welcomed more European efforts on defense but warned "that can never replace NATO and we need to make sure that Europe and North America band together".
Biscop said that Europeans are in no way giving up on NATO or the US, but they are trying to make the alliance more balanced, by increasing their military capabilities.
"Consequently, Europeans themselves will increasingly have to deal with instability around Europe, particularly in North Africa and perhaps the Middle East," he said.
But they do count on the US in case of a "NATO Article 5 scenario", which relates to a direct attack on the European homeland, he added.