China jab peps up tourism in Colombia
China Daily | Updated: 2021-12-20 09:12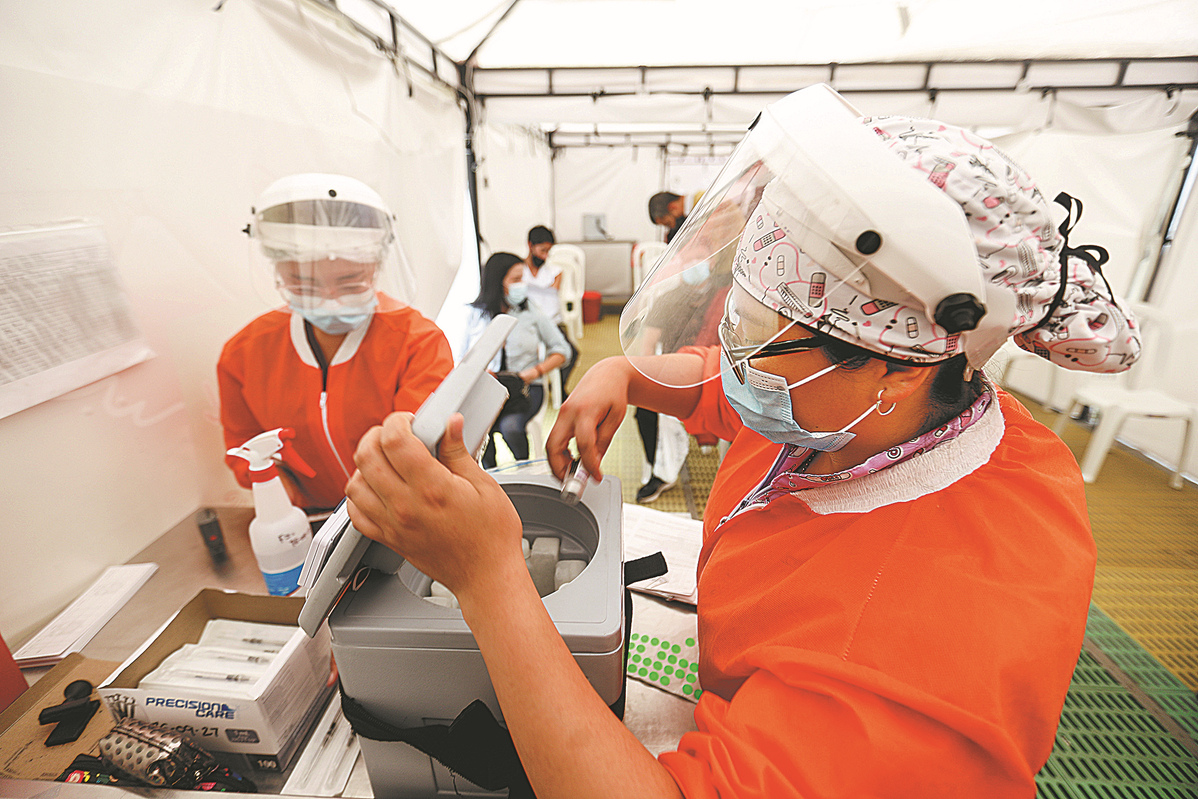 LETICIA, Colombia-The use of a COVID-19 vaccine developed by the Chinese biopharmaceutical company Sinovac Biotech has helped reinvigorate tourism in southern Colombia.
The ease of handling and administering of the shots has made them popular in the Amazonian area of Colombia, which is home to popular tourist destinations during end-of-year holidays.
Such is the case of Puerto Narino in the department of Amazonas, known for its lack of infrastructure, isolation and its numerous indigenous communities.
The Sinovac vaccine has led to low incidence of COVID-19 infections in both this municipality as well as in the rest of the department of Amazonas, offering a glimpse of hope for tourism.
"While in 2019 we had 101,000 tourists staying in the department of Amazonas, in 2020 we had only 23,000 tourists, between nationals and foreigners," said Adolfo Sarmiento Manchola, an administrative official at the Amazonas Department of Tourism and Culture. "This is because at that time we still did not have any vaccine against COVID-19.
"That year was really fatal for tourism entrepreneurs and for commerce in general."
After the Sinovac vaccine arrived in March, a huge vaccination campaign began in the municipalities of Leticia and Puerto Narino, the two largest towns in the department, which resulted in a rapid fall in serious complications from the illness.
"Between February and March many people died in the department," Sarmiento said. "Every day four or five ambulance flights departed carrying intubated people to the interior of the country, since (intensive care) services could not be provided here.
'A true blessing'
"The Sinovac vaccine was a true blessing. With its arrival, infections, deaths and the obligation to refer patients to the interior of the country decreased. With all this, tourists also began to arrive … as it (the department) has more than 70 percent of its population immunized."
Those in the tourism industry also pointed to the benefits that Sinovac vaccine has brought to their sector after the department suffered 14 months without tourist activities due to the closure of Leticia Airport.
"With the appearance of the Sinovac vaccine in the department, we saw the possibility of creating an epidemiological cordon, since our population is relatively manageable for this purpose, and thus we were able to open the door to tourists again," said Rafael Clavijo, manager of the Mundo Amazonico ecological park in Leticia.
"In a few months Leticia and the other municipalities of Amazonas reached a high percentage of vaccination with Sinovac. This generated confidence in the population and allowed us to resume the activities that today, with our high season coming in January, are reaching the figures that we had before the pandemic."
The most recent report from the Ministry of Health and Social Protection shows that by Thursday 99,503 vaccine doses had been administered in the less populated Amazonas Department, with a total of 61,722,515 doses for the whole country.
Xinhua